Liverpool unveiled Jurgen Klopp as the club's new manager on Friday, read on to find out what he had to say and watch the full news conference in the video above.
Why Liverpool?
"The intensity of the football. The people live football in Liverpool, around Liverpool, all Liverpool fans all over the world. It's not normal club, it's a special club. I had two special clubs. This is now a perfect next step for me.
"It's the biggest honour I can imagine, for me at one of the biggest clubs in the world. To be given this opportunity to try to help a situation that's not so difficult as people here think. It's not that perfect moment of course but it's a good moment to come here. I feel really proud."
Can Liverpool win the Premier League?
"This is one of the biggest problems you have here at Liverpool. The Premier League is one of the most difficult leagues in the world because five, six, even seven teams can win, in the end only one can be the champion. The rest will be disappointed. 
"The most important thing is to develop, not because of the situation now but because of the situation in the last years. This would be a good moment for a restart. It's not important at this moment who is the winner of the Premier League at the end of the season, no one knows. It's only important that we play our own game and the players feel the confidence and the trust of the people.
"It's really important that the player feels the difference. They have to think they can reach the expectations of the fans, of the press. You have to change from a doubter to a believer. We have to start together new and then we will see what will happen this year. We have to change performance of course because nobody is satisfied in this moment.
"Sometimes you are not satisfied because you do not see the big steps in developments you wait for, because of the money they spend. Don't think about money, only think about football. If you want to enjoy the game you have to be prepared for this. You have to come to the stadium to see something; fighting spirit, sprinting, lots of shots, all these things."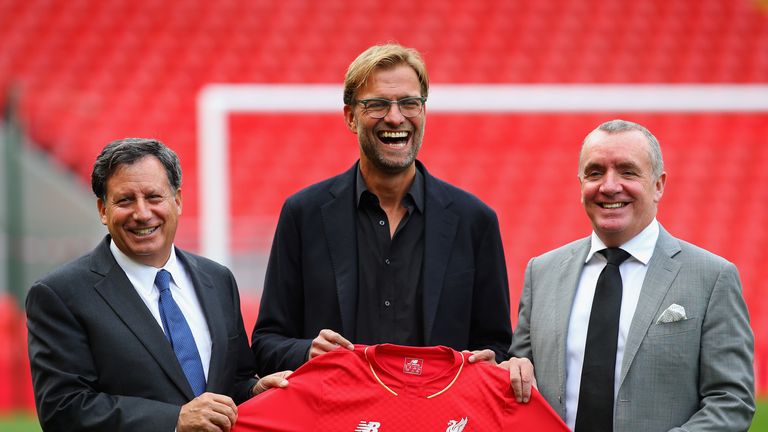 On Liverpool's wait for a Premier League title. 
"25 years ago, it's a long time. All this time people try to get better to improve and to take the next title. History is only the base for us. But you're not allow to carry around your big history with you in a backpack.
"Many people sit here last year on this chair and it always depends on expectation. We have to start, I want to see the first step next week but not always compare with other times. This is a great club with a good team and big potential. Fast players, strong players, good defenders, flexible, creative. Everything is there, some players are injured but that's normal. Let's try and start a new way. This is the perfect moment to do this as everything is different.
"Here is a German guy, for the first time. Let's try and use this. I don't know everything, but I'm a good listener. I want to listen now. I will see what will work and what doesn't work. We have to think about it and then play football. We want to play emotional football, it is important at Anfield. The best atmosphere, I come from Dortmund so I'll have to hear it first. But the best atmosphere in the world and then we play like this, it doesn't work together.
"All the world are talking about possession football, the best teams in the world play possession football, that's the truth. But we cannot change the rules of the game, 50 per cent chance they have the ball 50 per cent chance we have the ball. We have to have a plan for both and that's what we have to do. But we have to work together."
On his own expectations and how he would describe himself, considering Jose Mourinho's 'special one' claim.
"I don't want to describe myself. Does anyone in this room think I can do wonders. No? I'm a very normal guy, I came from the Black Forest and my mother may be sitting in front of the TV, watching this press conference and has said no word until now. But she is a very proud. So I'm the totally normal guy. I'm the normal one, maybe, if you want this...
"I was a very average player and became a manager in Germany with a very special club Mainz - if you've never been in Germany to watch them try and do it and get a ticket, it's really special there. And then I had a great opportunity to take Dortmund, a very special club. After seven years, for both parts it's best to leave. Now I'm here. I hope to enjoy my work, all the people told me about the British press and it's up to you to show me they are all liars."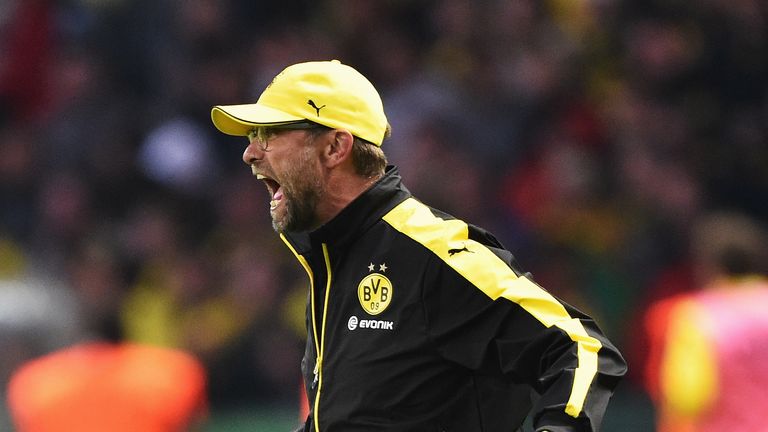 On transfers and the transfer committee.
"It's a crazy discussion and I heard about it and it was not a problem. Yes we talked about it but I'm not an idiot and I don't want to be. For me it's enough that I have the first and last word and in the middle we can discuss everything. It won't take a long time because we only want to discuss very good players. I'm not a genius, I don't know more than the rest of the world, I need other people to get me perfect information and when we get this we will sign a player or sell a player.
Dortmund played Liverpool at Anfield last season; did you feel as though you could make a return at some point?
"Yes of course but I'm a football romantic. I love all these stories and all the histories. Of course Anfield is one of the best places in the football world, it was my first time and I thought a bit about it how it would be. Now I'm here and I'm a really lucky guy. It's a really good moment for me. I'm really looking forward to training with the players for the first match. I am prepared. I am absolutely relaxed, I had a four month holiday. Everything is perfect." 
On his four month period away from football.
"I had a normal holiday. I'm 48. Most of the time in my life I had no money to have a holiday. And then I had no time. And now I had four months, so it was really cool. I got to get away with the family, I watched many things, played tennis, spoke to many people, I watched football all over the world."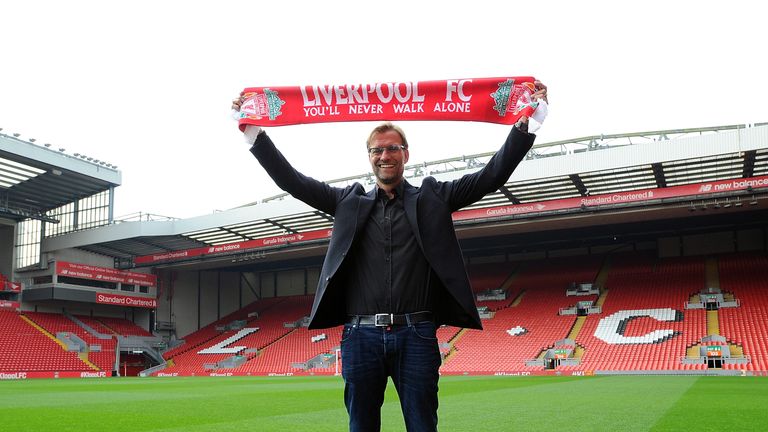 What style of football do you want Liverpool to play?
"I'm not here today to speak too much about our football. I didn't meet my team until just now. First of all I want to talk to them about football, but not here. Everyone knows me, it's about emotion, it's about speed. All the things that make football interesting for me I want to see on the pitch. We will have to see how much time we will need to bring this.
"In this time we will have to get points and win games but not promise today some style of football. I said full throttle football in Dortmund but my God I cannot always say the same things. But it will be full throttle football. Let's start to work and lets speak next week from what I see in training and how fit the players are coming back from national teams. Let's start normal work and stop making photos of me in hotel, for instance. It would be nice to leave me and concentrate on football."
On links to Bayern Munich.
"I don't think about things like this. When I left Dortmund I said I will see what happens and if somebody calls me and I think this could fit and then we will speak. That's what I did. We had very good feeling with all the guys. Everybody knows in Liverpool what cool guys they are with John [Henry], Tom [Werner] and Michael [Gordon]. It was really cool and Ian [Ayre] was there. We had a good meeting and it was clear, OK stop making holiday and start to work and now we are here.
Has the last week been surreal?
"Yes it's surreal but I have to accept this. Yesterday night we signed the contract and this morning I was manager of Liverpool FC. 
"I don't care too much about things like this. I don't think too much about the press, I am normal football manager. I want to work with the team and I want to work on the pitch. That's similar all over the world, of course some things are different, but I'm prepared for this. My experience at the other clubs and my experience as a player of course it is crazy. When I left Dortmund my last statement was; it's not so important what people think when you come in its much more important what people think when you leave. Please give us the time to work on it, to think much more positive then you do today about me and about everyone at LFC. 
"This could be a really special day if you want and if you work for it and if you are patient enough. We start today in a difficult league against opponents who are bigger and bigger but in a special Liverpool way, we can be successful. We can wait for it, I don't want to say we have to wait for 20 years but when I sit here in four years I'm pretty sure we will have won a title."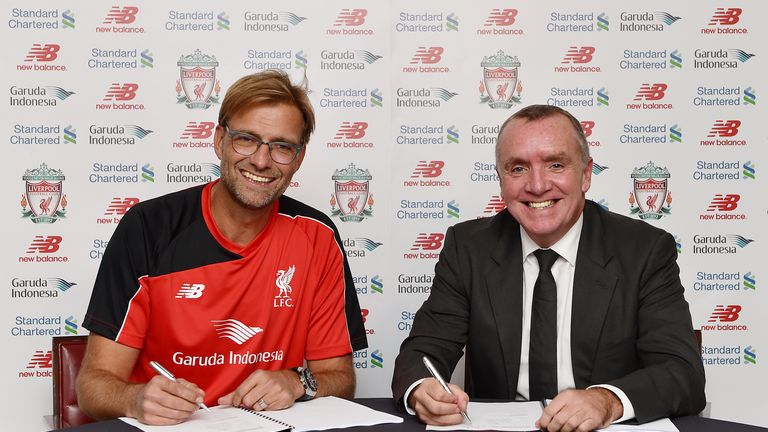 Similarities to Dortmund? 
"I think it's too difficult to compare two clubs. It's similar situation, nobody is satisfied at the moment, and we're in a similar position in the table. But of course it's different - we don't have a pre-season. We are nearly in the middle of the season. Some matches are played that's very different but it's not important. We did in Dortmund what we had to do to improve the players, to work together with them. To work for a common idea of play. The same thing we will do here. But they are not the same players, these players in Liverpool are more experienced, better, in some cases, and in other cases they are younger.
"But everything is OK here. I believe in the potential of this team. We have four or five strikers which we can really work with when they are not injured, the midfielders are really good, the defenders experienced and really young, our goalkeepers are really good. Everything is there.
"The problem with football is you can be as good as you want, you always have to play against another team. You don't have any influence over how good they are before the game. In the game if they are better you have to bring them on your level and on your level you can kill every team. If they are not so good you have to win against them. That's football. That's what you have think about when we know who is in squad for Tottenham and all these next matches."
On comparisons to past Liverpool managers. 
"I'm a normal guy from the Black Forest and I don't compare myself to these genius managers in the history of Liverpool. It's cool that you are looking forward to the work of the next few months and years with me. Not one of these great managers said in his first press conference that his target was to be a legend at the end, so I don't think about it."