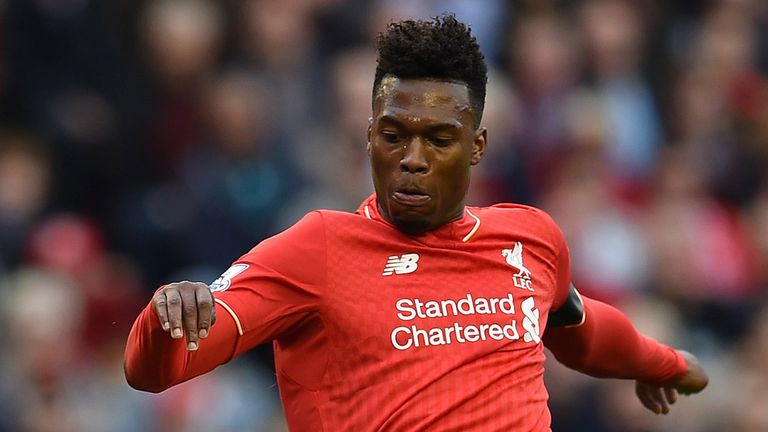 Jurgen Klopp is tempted to unleash Daniel Sturridge's "outstanding quality" on Manchester City - even if it just for five minutes.
Sturridge has declared himself fit for the Saturday Night Football trip to his first club after more than a month on the sidelines with a knee injury.
Klopp is less convinced Sturridge is ready, but the Liverpool boss has hinted he could find a way to include the England striker for the first time since he replaced Brendan Rodgers as manager.
"He's as fit as he can be after his long break," Klopp said. "He trained with us, of course he's not at 100 per cent and now we have to see.
"I don't know what I'll do. I have to think about it. His quality is outstanding - we don't need to talk about that - but everybody needs training and today was the third full exercise with the team after four, five weeks' break.
"But as a striker sometimes five minutes are enough, so we have to see. I'll start thinking about this after the press conference."
Saturday evening also brings a reunion with Raheem Sterling, whose tactics in forcing through a record £49m move to City in the summer brought heavy criticism from some Liverpool fans and former players.
Klopp said: "It's normal and nothing special. I don't know how many friends Raheem has here, but he's a good player.
"He played here, had a good time here, I've heard no bad word about him. Friendly, shake hands, then it's football."
James Milner moved in the other direction in the close season and is fit to return missing the home defeat to Crystal Palace before the international break.
There were promising bulletins, too, on Mamadou Sakho and captain Jordan Henderson, who has not featured since breaking a bone in his foot in September.
Klopp suggested the midfielder could be back in training next week and said Sakho's knee injury was "not that serious", without giving a timescale for his return.