As Jurgen Klopp prepares to take Liverpool to Wembley for Sunday's Capital One Cup final against Manchester City, he sat down with Sky Sports to discuss fan expectations, cup finals, why he's not Santa Claus and his own take on his first five months at Anfield...
Such is Jurgen Klopp's charisma, you sense he could get his message across with only glares, glances, screams and smiles. But his English is impressive too. And yet, just occasionally, even he's reminded that this is not his native tongue.
There was the time at his opening press conference when he spoke of delivering 'titles'. In Germany, the word title and trophy are interchangeable. He was not promising the Premier League but rather the sort of trips that will take Liverpool to Wembley on Sunday.
Live Capital One Cup Final


Another example came earlier in this competition when, after the semi-final victory over Stoke, Klopp told Sky Sports that Liverpool "will win the cup" regardless of their opponent in the final. "Sometimes I don't use the words will and want in the right way," he explains.
"The German word will is the English word want, so that's a little bit of the problem. Of course, I am not sure that we will win this but we want to, for sure. That's the only reason you are part of a competition like this."
Liverpool haven't been part of these occasions enough. While it's only four years since the club won the Capital One Cup under Kenny Dalglish, Klopp is still able to call it "a long time" without fear of contradiction. Expectations are always there at Liverpool.
Raising those expectations can be a delicate balancing act. Roy Hodgson paid the price for dampening them, while Brendan Rodgers brought hope before crushing disappointment. Klopp feels like the man to unleash them, but he too acknowledges the scale of the task.
"The whole situation is a challenge," he says. "Liverpool is a club with a big, big, big history and all the clubs in the world have a big history if the present is not too successful. If you have never had success then nobody knows how it is but in Liverpool everybody knows how it was. That's part of the problem.
"There is a lot of pressure on the situation. That's normal. The challenge is to stay cool enough to handle the pressure in the moment so that you can succeed in the future. It needs time, nobody wants to hear it but that's the truth, if you want to have success in the future you have to be ready to work now. That's the job."
There are many reasons why Rodgers lost that job. But for all the transfer follies, a final-day thrashing at Stoke, the loss of key players and Premier League matches, for Liverpool fans returning to Wembley, it's memories of an FA Cup semi-final that will flood back on Sunday.
The sight of a disjointed team tactically outwitted by Tim Sherwood's Aston Villa ended Rodgers' hopes of delivering silverware and crystallised the situation at Anfield. If that brings bad memories, Klopp's own return to Wembley sparks mixed emotions.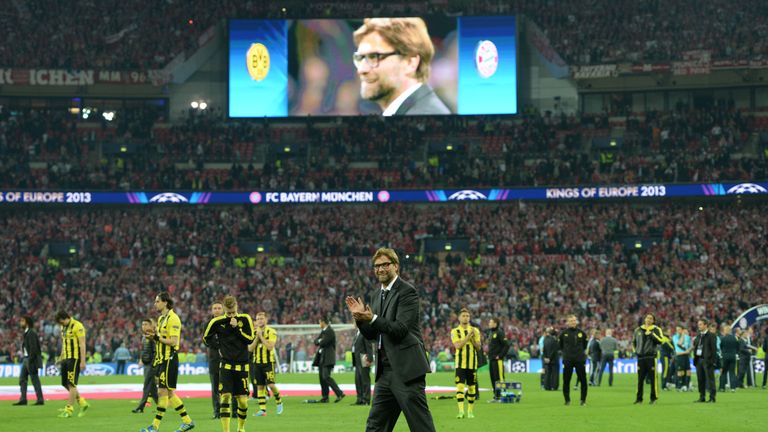 The 2013 Champions League final between Borussia Dortmund and Bayern Munich could've been his crowning glory. But Arjen Robben's late goal denied his side. "It was two things, one of the best days in my life and one of the worst days in my life," he admits.
"That's how it is if you go to a final and can't win it. The qualification for the final was a great journey and to lose the final is not the best thing, of course. But it's a great stadium so it was not because of the stadium. Everything is okay with me and Wembley."
Although Klopp won the double with Dortmund in 2012, cup finals haven't been particularly kind to the 48-year-old German. He still recalls Mats Hummels being denied a second-half goal that would have given his side the lead over Bayern in the 2014 cup final.
"It was a goal and everybody saw afterwards that it was a goal at a very important moment and it would have decided the game," he recalls. "But the referee disallowed it and then they make the goal so you lose the final."
Even his final match as Dortmund boss failed to provide the perfect ending - beaten 3-1 by Wolfsburg. So any empathy with his Manchester City counterpart Manuel Pellegrini, a man looking to bow out with a trophy, comes with a caveat. "I lost my last final with my former club so it's not a guarantee," he says.
"Just because you want to give a present doesn't mean you can give a present. I have maximum respect for the work Manuel did but we are not Santa Claus, they have a few other opportunities and if they want they can take one of these."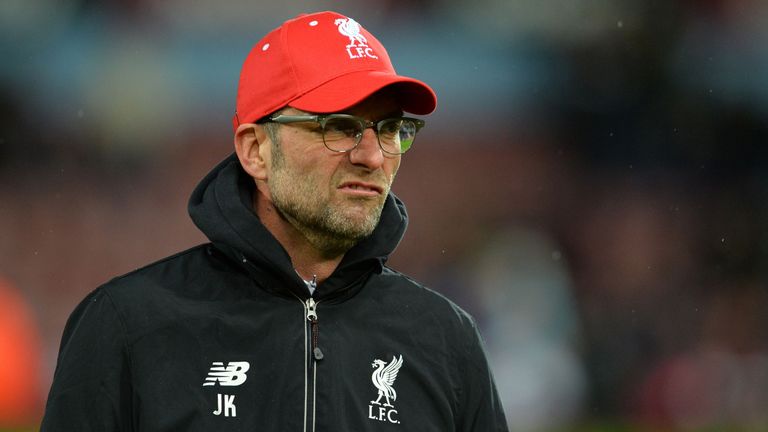 I have maximum respect for the work Manuel did but we are not Santa Claus.
Klopp gives the impression that he fancies his chances against Pellegrini and it's easy to imagine why after that 4-1 away win in November. Liverpool overwhelmed City that day with an energy that brought the worst out in their hosts. They seemed sluggish by comparison.
"It was really good," says Klopp. "It was one of our best games, for sure, but it was necessary against Man City because you can't play at 60, 70, 80 or 90 per cent, you have to bring your best on the pitch. That's what we did in this game.
"Usually you use the last two or three games before to analyse but in this case when you have already played against each other you use that game too. We will do the same but it's different. More important is the moment. That was long ago.
"Of course, in that time the style of Man City didn't change, they break the rhythm all the time, they play really cool and slow until they speed up and they accelerate and they have outstanding individual quality.
"You have to try to give them as many questions as possible in the game, so they cannot do what they want to do, what's easy for them, what's their plan. So we will be prepared, no doubt about this, and we have to show our best performance."
Those performance levels have fluctuated more than he would have liked since arriving to much excitement in October. So what's Klopp's verdict so far? "Not great," he says. "It could have been better, it could have been worse. But we feel in a good way, that's the truth.
"We know about all our problems. We know about all our good things that we have done until now. Of course, at the end we can say it is not enough points, that's how it is, but there are always reasons for this, that's all we can say.
"What I recognised since I've been here, every one of the players is obviously keen to win titles, to win cups - it's not possible for us this year in the league to win something so we have to be fully concentrated in this tournament. We have to handle the pressure.
"If you want something with all you have, it sometimes makes the pressure too big. Football is a game and you have to act like you're in a game, you have to gamble, you have to be cheeky, enjoy the game, if you only feel pressure then you cannot play your best football."
How cheeky he'll be on Sunday remains to be seen. There won't be a repeat of the infamous 1996 FA Cup final - "I heard about this, one time in the past there was one Liverpool squad who came in white suits" - but his squad will be suited up. And they will be ready.
"It's a final so it's not important how good you are usually, it is only important how good you are in this game so it's a big chance for us. It's a chance and that's all I need. You should not waste opportunities of winning titles and cups and I'm ready for winning something.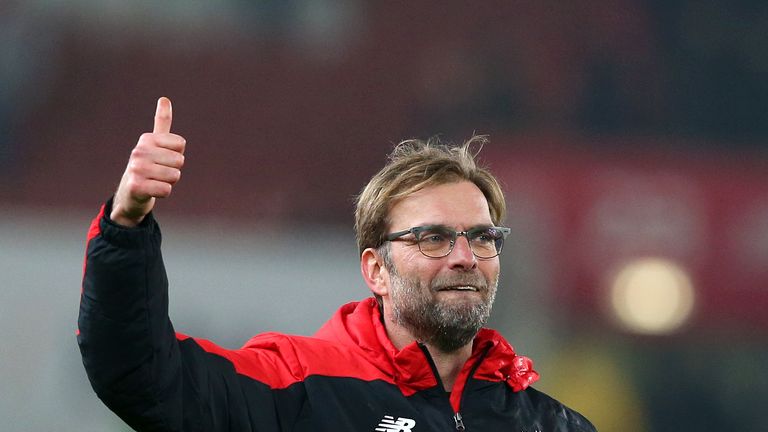 You should not waste opportunities of winning titles and cups and I'm ready for winning something.
"I'm not the guy to sit here and say 'for sure, we will win it' because I know football. [But] for all the effort of our supporters - the time, money and kilometres - they put in to go to the games, it would be really nice if we could celebrate this big thing together."
And in the perfect setting? "The name is a really good sound. Wembley," Klopp adds, appearing fascinated by the very word as it tumbles from his lips. "Going there is one of the best things you can do in life - sports life - and one time is not enough.
"I'm there for a second time… hopefully with a better ending."