Liverpool manager Jurgen Klopp will not panic buy after Burnley defeat
By Jefferson Lake
Last Updated: 22/08/16 5:58pm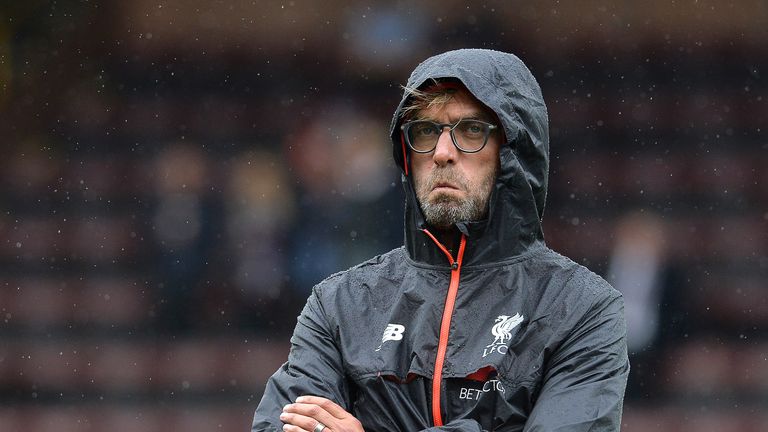 Liverpool manager Jurgen Klopp says he would be "a real idiot" to buy players on the basis of his side's weekend defeat to Burnley.
The Reds were beaten 2-0 by the newly-promoted Clarets as they failed to build on an impressive opening-weekend win at Arsenal.
Klopp said his side were missing the "last punch in the decisive moments" at Turf Moor but was defensive when asked about whether the loss would lead to an increase in his urgency to add to his squad.
"If one game should change my mind then I would be a real idiot," he said. "I know you would all buy a left-back but a midfielder?
"Emre Can was on the bench, he had a back problem, Lucas Leiva is injured and you ask me for a hard midfield player. The answer is I don't know - we will see."
Liverpool had 80.6 per cent of the possession at Burnley but failed to translate the dominance of the ball into a goal.
Klopp refused to put that factor down to his team simply having an off-day and criticised his team for making bad decisions when in attack.
"Losing games are never off-days, but of course we have to take it," he said. "We have 36 games left that is a big number. It is information I did not want - but I knew it before. Losing the ball in the build-up makes no sense.
"We can react better but I saw a lot of good things. If you tell me last year we could have played at Burnley this, not perfect of course, I would be really surprised. They could not defend against us like they wanted. It was not a day off, it was an experience we don't want.
"It is not a defending problem it is an offensive problem. We should be ready in our development and these mistakes shouldn't happen anymore, but our training drills did not include us playing the ball at the wrong time to the opponent. We put ourselves under pressure."