Philippe Coutinho is in the form of his life and Liverpool are flying. But how's it happened? Here, the Brazilian lifts the lid on how Jurgen Klopp's training tips have the team playing with more belief than ever and explains why Liverpool should be dreaming of the title…
Liverpool's star player isn't a natural extrovert. It's only on the pitch where Philippe Coutinho really feels comfortable as the centre of attention. But that's exactly what he's become at Anfield this season with the Reds just one point off the top of the Premier League table.
The team's creator-finisher, Coutinho is the only player in the division to have both scored and assisted five goals so far this season. Now 24, he's taking on added responsibility and is loving the challenge. "I'm so happy when I'm playing football," he tells Sky Sports.
"That's what I like to do the most. When I come onto the pitch, that's when I'm able to get into that zone and forget about everything else other than just doing my job. But even then, it's not a job. It's playing football and that's something I love."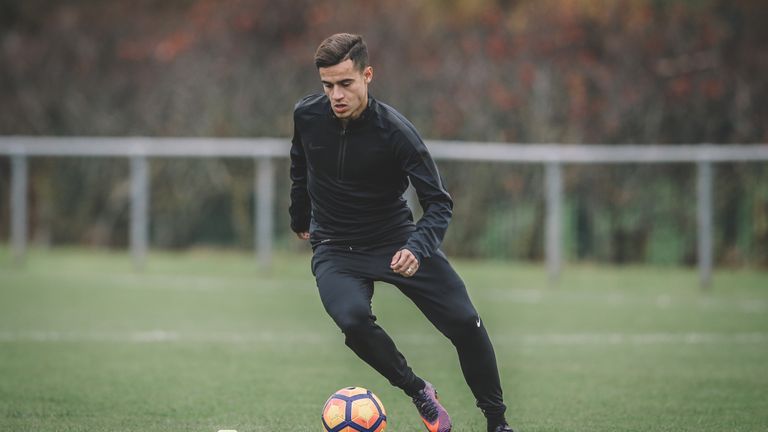 He's always been at home with the ball at his feet, something which becomes very clear as he runs through a series of speedy drills in Nike Football Training gear. The youngest of three brothers, he was just another boy in Rio who loved to play - and futsal was his introduction. "It definitely helped me," he says. "It's so quick. There's less time to think in those smaller spaces."
But where Coutinho has really grown as a player is off the field. A shy youngster, he arrived at Inter soon after his 18th birthday and found himself in the dressing room of the European champions. A team packed with experience, it would've been daunting for anyone.
"It was definitely difficult," he admits. "I was really shy when I was back in Brazil so coming to Europe was very tough. I was arriving as a kid fresh from Brazil into a big team like Inter with a lot of star names.  But I feel so much better now."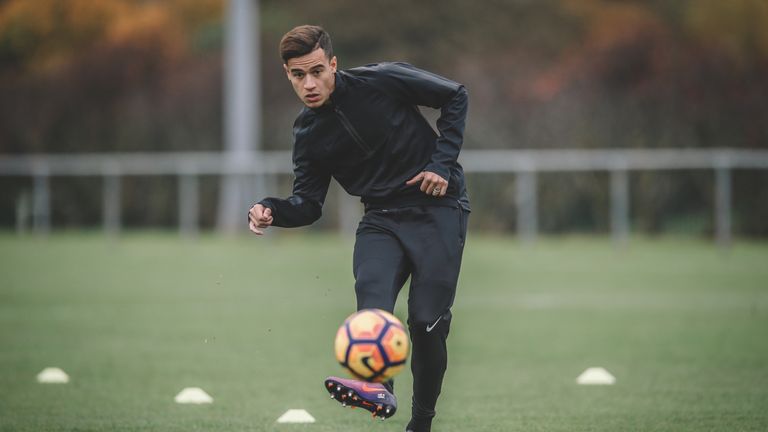 He speaks warmly of compatriot Lucio's influence in those first months - "a big help to me" - just as he acknowledges the help of Lucas, Luis Suarez and Sebastian Coates in welcoming him to Liverpool. But it was at Espanyol that he first showed he could flourish in Europe.
Life at Inter was a struggle even with the support of Rafa Benitez. Much was made of the ex-Liverpool manager's role in Coutinho's development when he joined the Reds in 2013 but it was arguably Mauricio Pochettino's role in his progress that has proved more significant.
Pochettino was Espanyol's manager during Coutinho's brief loan spell in 2012. Not only did his encouragement help him to score five goals in 16 games - until last season, the best haul of his career - but his commitment to a pressing game prepared him for Jurgen Klopp.
"My confidence has been really building since my time at Espanyol," he explains. "The two coaches are actually very similar on the pressing side of the game. They spend a lot of time on that side of it and it's a lot of hard work."
Klopp and hard work. It's the trait everyone talks about. And Liverpool's lighter schedule while out of Europe has only exposed the team to more of it. "There's definitely more time now to work on our tactics in training and for the coach to get to know us," says Coutinho.
"I like the tactical training we are doing. But yes, there is a lot of it. He is teaching us to press when we don't have the ball and keeping that pressure up. Then we have to keep possession when we do have the ball. It's about putting that mentality into us. 


"It's all about the confidence and the mentality that the coach has given us. This used to be a team that didn't really believe in itself. Now the players feel more comfortable and this comes from the coach. That's something that's reflected on the pitch and in the results."
Liverpool have won 10 of their last 13 matches in all competitions, drawing the other three, and are the Premier League's top goalscorers too. Coutinho has played his part with two on the opening weekend at Arsenal and goals in three of Liverpool's last four home games.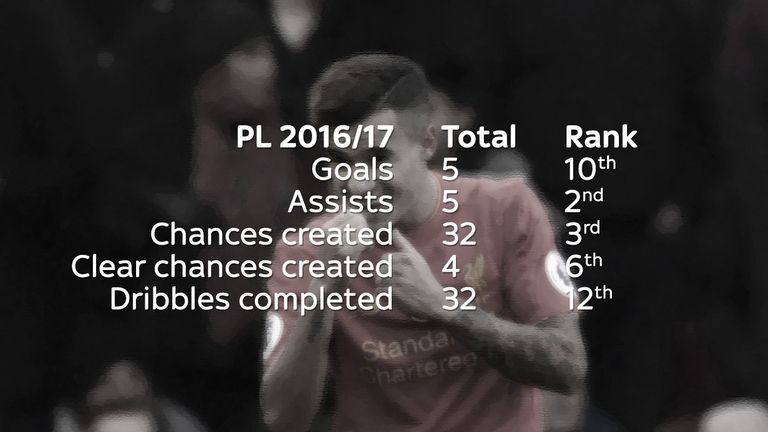 His long-range heroics have become a feature. Nobody has scored as many Premier League goals - seven - from outside the box in the past two seasons. "I work hard on the precision of my long shots but you can't plan it in games," he says. "Sometimes it all just opens up for you to give it a try."
There are echoes of his hero Ronaldinho - "definitely the best I've ever seen play" - in the way that Coutinho cuts in from the left wing onto his favoured right foot. But it's also a product of being given the opportunity to play the game as he sees it under Klopp.
This used to be a team that didn't really believe in itself.
"I like the position that I'm now playing at Liverpool," he says. "What I like most about it is that I don't have to just stay in one place. I have the freedom to move around. The manager is comfortable with me doing it and that's given me the confidence to go and play."
As well as Klopp's non-negotiable work rate that's seen the team cover more ground and make more sprints than any other side, the flexibility for Coutinho to swap positions with countryman Roberto Firmino has brought added Brazilian flair to Liverpool in the final third.


"I have a great relationship with him on and off the pitch," he adds. "We are good friends. But it's not just him, I am linking up well with all of the players on the pitch. And when the team is playing well, the individuals in the team look like they are playing better."
That's the Klopp mantra, but how far can it take them? Coutinho acknowledges it's a work in progress - "we know that we need to get better, especially against those teams that are harder to break down" - but he's not afraid to talk about the team's title chances.
Having been a key figure in the side that went so close to winning it under Brendan Rodgers, Coutinho is now daring to dream once more of Liverpool's first title since 1991. "That's obviously the dream," he says. "And that's what we've got to do. We have to dream it."
Philippe Coutinho trains fast in Nike Football Training apparel, built for speed with revolutionary AeroSwift technology. Visit nike.com to explore the collection.