Jurgen Klopp's Christmas interview with Sky Sports' Jamie Redknapp
By Stephen Mills
Last Updated: 25/12/16 7:43pm
To celebrate Christmas on Sky Sports, we sent Jamie Redknapp to interview Liverpool manager Jurgen Klopp at the end of a big year at Anfield.
The German was in great form, discussing the highs and lows of his Anfield tenure so far, the challenges of being a manager in the Premier League and his hopes of beating Chelsea to the Premier League title.
He also spoke about the busy Christmas schedule and what he and the players will be doing on Christmas Day.
Read on to read what happened when Redknapp met Klopp…
Klopp on… his first year at Liverpool
"I was always really interested in the Premier League and being involved now is great. It's intense, but great. Being at Liverpool shows I'm a really lucky guy.
"For the third time it's an unbelievably good decision, the perfect club for me. Obviously we don't fit too badly to the club too and that's really good. We like working together here, we have a really good atmosphere at Melwood. The club is already a great club, but there is still space to develop.
"Everything is better than we could have imagined and living on Merseyside, Formby close to the sea, is much better than I could have imagined before. When you think about England from Germany you think it rains 364-and-a-half days a year! It's not like this, so all good."
Klopp on… his highlight of 2016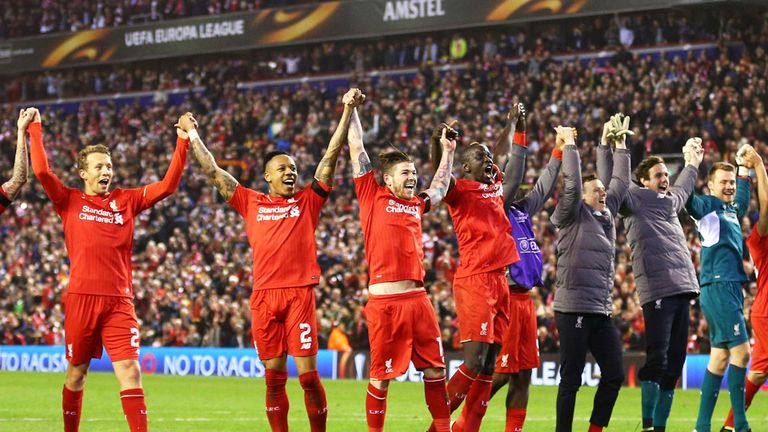 "Obviously the last half-an-hour against Dortmund (4-3 win at Anfield in the Europa League quarter-final). It's not only my highlight of 2016; I've said it a few times but it was the best half-an-hour I ever had in football.
 "I believe in atmosphere and this was the perfect proof of what atmosphere can create. Without noise and without a crowd there was no chance in this game, even though we were good. We were 2-0 down and 3-1 down, but we were good.
"What happened was a really magic night."
Klopp on… his low point of 2016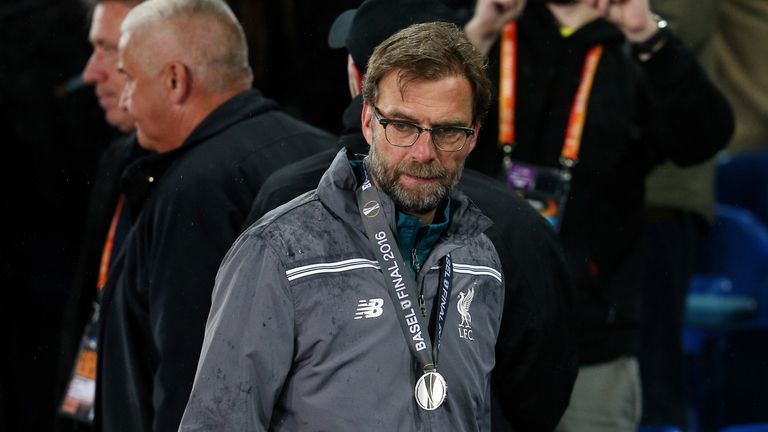 "The [Europa League] final in Basel of course. What can I say? It's like this in big finals. We will go to other finals, I'm sure, with this team and I know everyone will remind me then that I lost my last five or six finals.
"When I think about the Sevilla final we were good in the first half. We deserved in the first half to win the game. We scored a second goal which was disallowed and we had one or two penalty situations. With a little bit of luck we have a penalty. If we were 2-0 or 3-0 up then Sevilla has no chance because it was an intense season for both teams.
"But in the second half after one minute…. Ok, we made a mistake but other teams made bigger mistakes in other games and the opponent didn't score. That changed the game. We couldn't strike back and on that night nobody in a Liverpool shirt - no supporter or anyone - could strike back.
"It was the opposite of the Dortmund game. The crowd stopped believing immediately, we had no petrol in the engine any more, so it was a really disappointing night."
Klopp on… Premier League v Bundesliga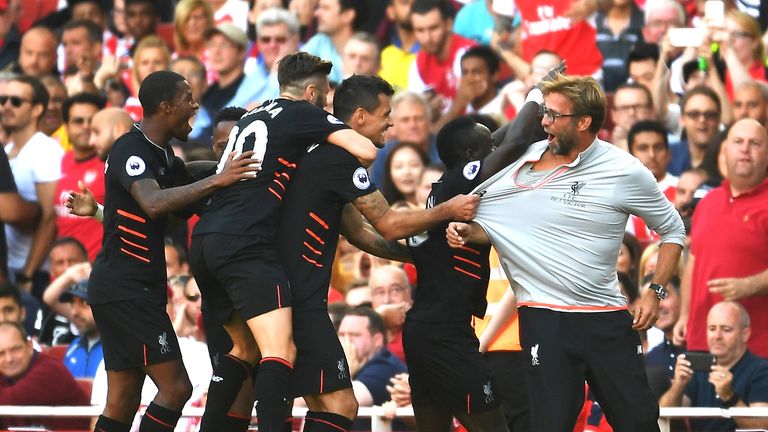 "I love it. It's the most challenging league in the world, one hundred percent. There is six teams always who really can be champions here. You have this in no other country.
"In Spain in a very good year it can be three. In Germany it's always two; Bayern and somebody else. Maybe in France there's a few teams, but it's really a challenge to be involved in this.
"It's really a challenge because you usually don't lose the points against the big opponents, you lose against all the other teams. They are all strong with individual quality in England because of the money. A lot of teams have real individual quality.
"On the tactical side I would say Germany is the better league at the moment because they have to find different solutions all the time because they don't have the money. Maybe that's different, but what's tactics? You need to win games."
Klopp on… title dreams with Liverpool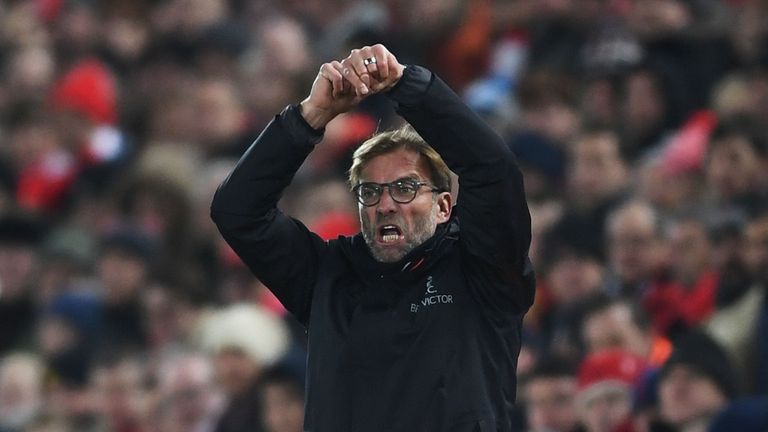 "We are not the last 25 years. We are now. We are this generation. As much as we love all the guys from the past which created this club, we cannot make their job. We have to do our job.
"Let's do it and let's try it. We are good enough and the club is big enough. We have the owners we need because they don't want to sell players. Nobody should leave here because of money. We are not the best-paying club in the world, but we can pay enough to stay.
"This moment at Liverpool is fantastic and we have to use it. We are in the present really good and the future is bright, so go for it."
Klopp on… how to stop Chelsea
"There is no perfect system in world football, but when they go on like this they are the deserved champions, nobody could have a doubt about this.
"I am pretty sure that until now Chelsea are maybe the team that have had the most luck with injuries. We lost Phil (Coutinho) and Daniel (Sturridge) and Danny Ings in difficult moments when you really could use them.
"If it's Hazard and Costa at Chelsea, is it the same afterwards? It's a long season and they all have to play us again and not only us, they have to play Arsenal again and all of the others.
"Of course they are the team to beat because they are very experienced, maybe the most experienced team in the top flight at the moment."
Klopp on… his rivalry with other Premier League managers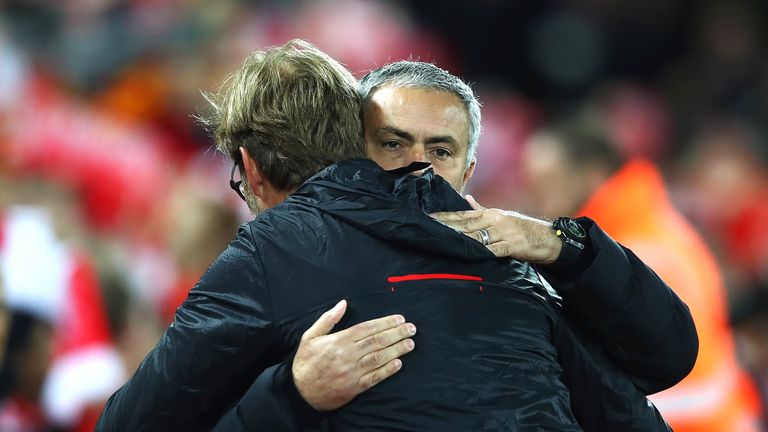 "If you would have told me 10 years ago that you would say all of these names and one of the names would have been Jurgen Klopp I would have said 'crazy guy'. No chance, of course not. Not with my player legend, starting with a second division club in Germany. That's not really likely.
"First of all I maybe enjoy it most of all of them because I really love to battle with the best. They are the best, probably and they are all around. A lot of them are in the north of England, so pretty close. That's cool."
Klopp on… playing over Christmas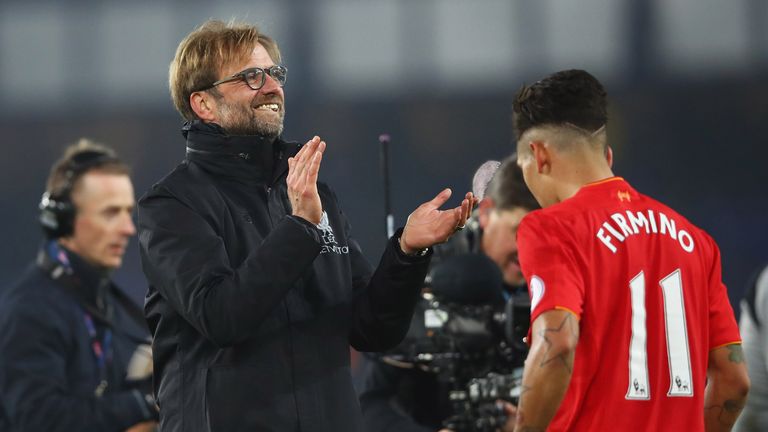 "I like the fact we have games over Christmas. I have no problem with it, Boxing Day is wonderful.
"I don't like the game on January 2, that's the truth. I know what people think: 'we work the whole week' - but the players work the whole week too. They are better paid, but it's not about working it's about being able to work. Two days after playing a game against Man City, playing another Premier League game, I don't think if anybody of all the pundits like it. You have to come through and hopefully nothing happens.
"But Boxing Day is great and I have no problem with New Year's Eve."
Klopp on… Christmas for the Liverpool squad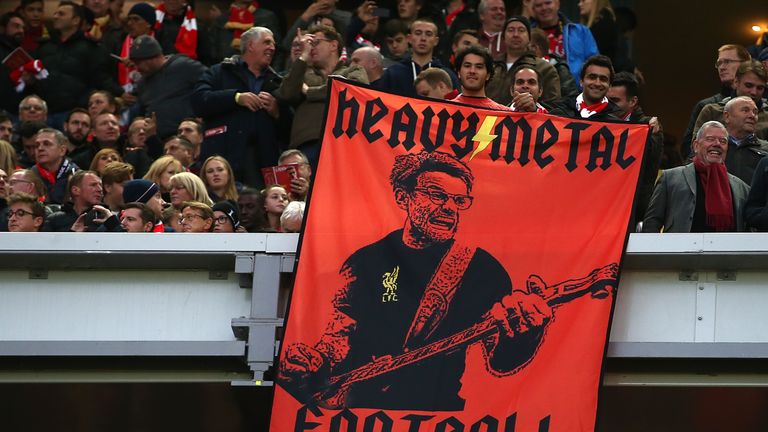 "In Germany we celebrate Christmas on the night of the 24th and we have a lot of players who do the same, so we train at 11am so the boys can go home and have Christmas with their families.
"We train again at 11am on the 25th because the English players obviously have to get up anyway. We asked the players to decide the time because they have to get up at 6am or 7am anyway with the kids.
"They do their Christmas thing and then go for training and then they go back and can have a nice Christmas lunch. That's how our life is. "
See more from Jamie Redknapp's interview with Jurgen Klopp on Sky Sports News HQ on Christmas Day and don't miss Liverpool v Stoke live on Sky Sports 1 from 5pm on Tuesday December 27.