The speed stats that highlight the gradual decline of Liverpool striker Daniel Sturridge.
Jamie Carragher knows better than most how devastating Daniel Sturridge can be at the peak of his powers. In the 11 games that the two men started alongside each other for Liverpool, Sturridge not only scored nine goals but the team never lost.
So the Liverpool legend's verdict on his former team-mate following Liverpool's EFL Cup semi-final exit to Southampton at Anfield on Wednesday night would not have been made lightly. Sturridge missed some good chances. But the long-term issue is his pace.
"Sturridge is a completely different player now to when he first came to Liverpool," Carragher told Sky Sports. "The whole point of Liverpool buying Sturridge under Brendan Rodgers when I was at the club was that he gave us penetration in behind, he had pace.
"But there was one occasion in the game tonight where he fell over into the hoardings in front of The Kop and I thought he had to get that ball. I don't know if his pace has completely gone or whether he's that worried with injuries that he pulls out of something."
The Premier League tracking data supports the argument that Sturridge's pace is now a problem and the numbers are alarming for anyone hoping that the player of old will ever be seen again. His top speeds have been declining for each of the past four seasons.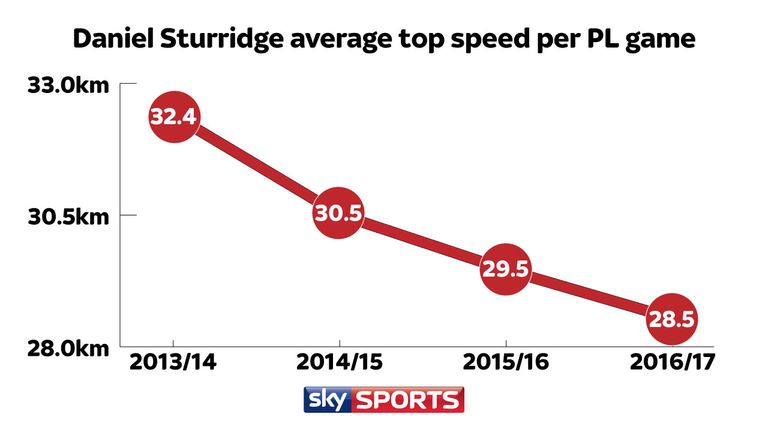 Sturridge enjoyed the form of his career during Liverpool's title tilt of 2013/14, scoring 21 goals in 29 Premier League games. Only Luis Suarez outscored him, but Sturridge showed he could lead the line during his strike partner's suspension, scoring in four games in a row.
His pace was a key feature of his game and the figures back that up. In 13 of his appearances that season, he produced sprints in excess of 33 kilometres per hour. He was Liverpool's quickest player in eight Premier League games and the fastest man on the pitch five times.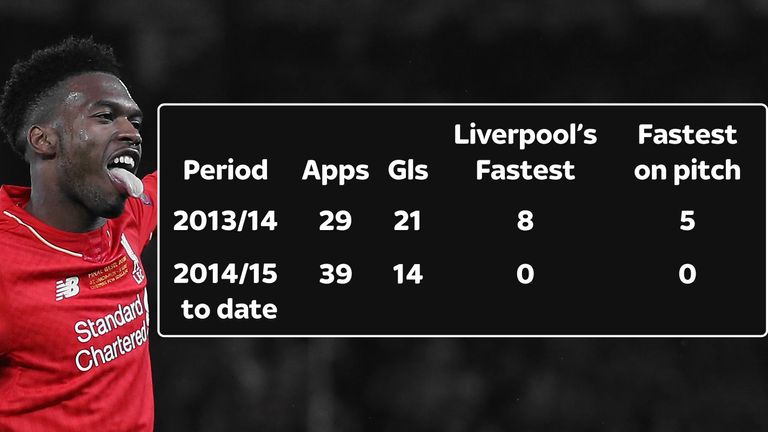 But in the three seasons since then, it has been a very different story. Not once has Sturridge hit speeds of 33 km/h in a Premier League game. Not once has he been the quickest player for Liverpool, let alone on the entire pitch. Injuries have taken their toll.
While the hamstring has been a recurring issue, it was thigh and calf problems that saw Sturridge miss 32 consecutive games in the winter of 2014. In fact, he has not been clocked at over 32 km/h in a Premier League game since that autumn.
His latest hip injury hampered his preparations for the current campaign and Sturridge's top speeds are down once more. Indeed, in a complete about-turn, he has had the lowest top speed of any Liverpool starter in three of his five Premier League starts this season.
Of course, his knack for scoring goals remains formidable. Even over the past three injury-hit seasons, Sturridge's 14 goals have come at a rate of one every 161 minutes - putting him among the top 10 finishers in the Premier League in that period.
Clearly, he is still a force when the chance presents itself, much like Robbie Fowler and Michael Owen in their later years. But the player who is able to stretch the play and fashion those opportunities for himself appears to be only a memory now.
"When you look at his Liverpool record - his finishing and goal-to-game ratio - it's fantastic," added Carragher. "But I'm talking about his pace and overall game because when he doesn't score it's like playing with 10 men."
The stats suggest that problem will not be going away.