Georginio Wijnaldum: Liverpool can handle top-four pressure
By Peter Gilbert
Last Updated: 05/03/17 11:29pm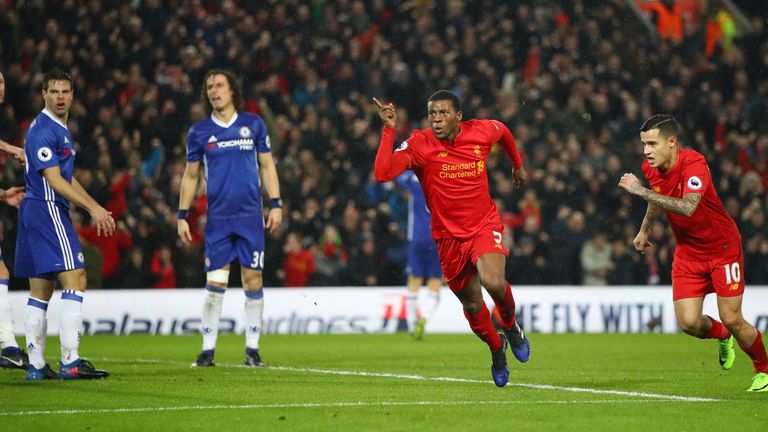 Georginio Wijnaldum is confident Liverpool can handle the pressure of having to deliver in their remaining 11 matches to secure Champions League football next season.
Jurgen Klopp's side have only Manchester City left to play of their top-six rivals after Saturday's 3-1 home win over Arsenal lifted the club back in the top four.
However, all five of the Reds' Premier League defeats this season have come against sides in the bottom half of the table, and with six of their remaining matches against teams in similar positions, there is every chance there are more upsets to come.
"Is it about pressure? You have more pressure in the bigger games than the smaller ones and we deliver in the bigger games," said midfielder Wijnaldum.
"We have to make sure at the end of the season, we are there (in the top four).
"We have to have a good run and be confident we can finish in one of the spots but if we are going to do it like we did before, playing well and then playing bad again, then it is going to be tough for us to come in the top four.
"You can't afford to lose games. It is always possible that you will not win but it is the way you play the game.
"You must play with the same intention: to win the game and give everything you have."
After last Monday's woeful 3-1 defeat at Leicester, Klopp said everyone was playing for their futures.
Wijnaldum, who sealed victory over the Gunners with an injury-time strike, said this did not come as a surprise to the squad.
"It doesn't matter what the manager said, you play for Liverpool so everyone has to perform," he added.
"Of course, it is a young group who can develop more during the time we are together but on the other hand, everyone expects a lot from us.
"Every game we have to deliver and that is what we must think about."