Will Daniel Sturridge accept bit-part role or seek top-billing elsewhere?
Last Updated: 07/05/17 12:36pm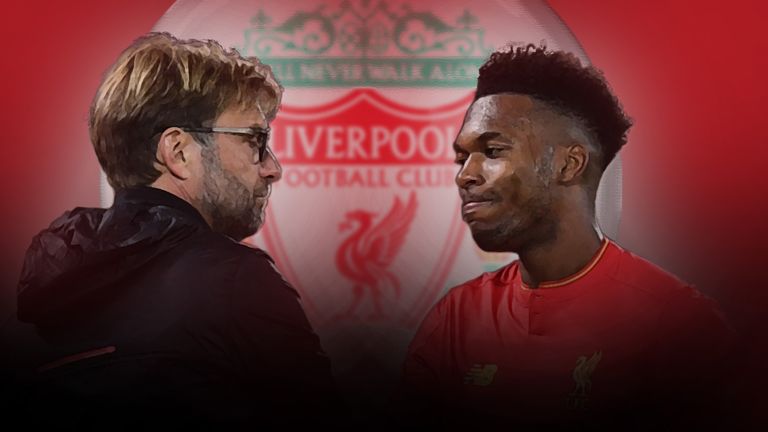 Should Daniel Sturridge accept a bit-part role at Liverpool or drop down to be the main man elsewhere? Adam Bate looks at the conundrum facing Liverpool, potential suitors and the player himself.
Public sympathy for footballers has long been a scarce resource but few find themselves the subject of as much derision as the perennially injured. Such is Daniel Sturridge's reputation that one national newspaper has taken to depicting the Liverpool forward as Mr Glass - a character from the 2000 film Unbreakable, notable for the extreme fragility of his bones.
Some even seem convinced that Sturridge is somehow to blame. He's certainly become accustomed to the criticism. "It hurts inside when you're not available to help your team-mates win games and be successful," he told Sky Sports earlier this year. But the empathy at Anfield will be tested this summer as a decision needs to be made on Sturridge's future.
"I believe I'm the best striker Liverpool has, that's my opinion," says the 27-year-old and it's an opinion not without substance. Sturridge's spectacular spell in the club's 2013/14 title tilt saw him score 21 goals in 29 Premier League games. No other Liverpool player has come even close to that in the three seasons since. The problem is that neither has Sturridge.
Even within that period, he has continued to boast an impressive goal ratio, finding the net every 164 minutes. That's better than, for example, Romelu Lukaku. "My goals-to-game ratio is pretty good," argues Sturridge. "I was brought here to score goals, that's a striker's job, and I've delivered that. I've delivered the number the club have bought me to do."
The problem is that this assessment is flawed. It really needs a caveat. Sturridge has delivered the number the club bought him to do when on the pitch. And that has not happened nearly enough in the last three seasons. In fact, he has scored only two Premier League goals this season, featuring in less than half of Liverpool's 35 matches.
"It's not about whether you're injured or not, it's about what you do when you're on the pitch," adds the man himself. But this interpretation starts to feel utterly misguided when considering the fact that he has netted only 14 Premier League goals in three years. Harry Kane has 67, Sergio Aguero 68. Even Everton's Kevin Mirallas has outscored Sturridge.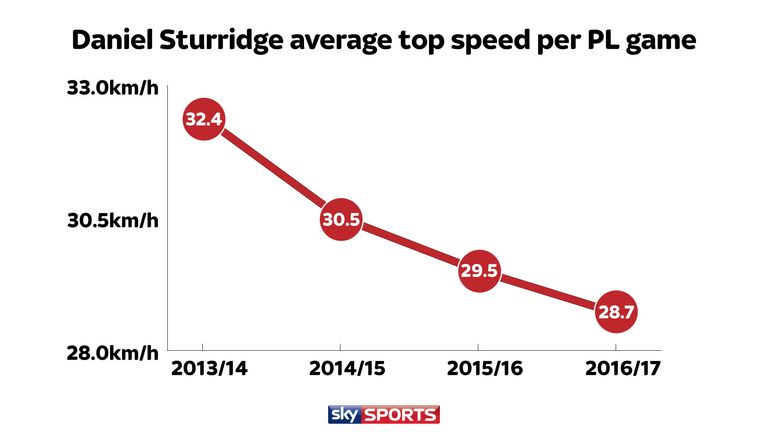 Sadly for Sturridge, his fitness issues are not only a devastating personal blow but a fundamental factor in determining his usefulness to Liverpool or any other club, not least because there are concerns his pace is not what it was. All of which makes the assessment of what happens next in the career of this formidable finisher a complicated one.
Jurgen Klopp knows what Sturridge can do. He not only sees it in training but also had the perfect angle to watch the striker's superb strike against Sevilla in the Europa League final last May, an example of his big-game credentials. But Klopp has other options too. Frankly, despite Sturridge's frustrations, he has had little choice but to explore them.
Roberto Firmino possesses the mobility that his manager favours up front and led the line well in the recent wins over Tottenham and Arsenal. Divock Origi, meanwhile, is still improving. It's a matter of finding the right blend and with Champions League football likely to return to Anfield next season, a larger squad will no doubt be required.
Many Liverpool supporters appear open to the idea of keeping Sturridge at the club on a pay-as-you-play option but he is already in possession of a lucrative contract that runs through to 2019. It's how Jurgen Klopp plans to use him in the meantime that is likely to shape his future. As Sturridge himself puts it: "If I'm on the bench I'm an unhappy man."
Stuart Pearce, the man who took him to the Olympics, believes Sturridge needs to "feel the love" and that might mean dropping down to a club where he would be a guaranteed starter. Perhaps former Liverpool boss Rafa Benitez might feel his goals could help Newcastle on their top-flight return? Maybe West Ham could build their attack around him?
But the problem is that the issue of fitness is even more important to clubs with tighter budgets who are planning to play him every week. Relying on someone who has played only 23 per cent of Liverpool's Premier League minutes over the past three years would be a risk. Particularly for a team such as West Ham with Andy Carroll already on the books.
As a result, Sturridge might be better suited to the bit-part role at a bigger club; one where ratios matter as much as minutes. "I want to be the best, to be known as the best striker and help my team win trophies," says Sturridge. Whether he's really ready to embrace a squad role at the age of 27 is the decision both player and club need to make this summer.