Liverpool manager Jurgen Klopp remains determined to land his top summer transfer targets but urged fans to be patient.
The Reds have already signed Mohamed Salah from Roma and Dominic Solanke, after his contract expired at Chelsea.
Klopp is also understood to be interested in RB Leipzig midfielder Naby Keita and Hull left-back Andrew Robertson but the German admits he is having to operate in a complicated transfer market.
"We pretty much have all you need but at the end, it is still business," said Klopp.
"You go out and see the car that you have been dreaming about your whole life. "You say 'here is the money' but they say to you 'I don't want to sell the car'. You say 'but I have got the money' but they say 'I don't want to sell'.
"They say 'go for another car in another colour' but you say 'that's okay but I want this'. Things like this happen in life, not only football. It is pretty simple. You can imagine how it works.
"It is not that we are doing something that other clubs are not doing - that we are more silly or they are more smart.
"If I could decide alone, we would be complete from the last day of last season - done, shoot, there's the new team, thank you very much - but that is dreamland.
Live Premier League Asia Trophy


"I can imagine if you are not involved it is annoying for fans. They think 'oh my God! Nothing happens here! Everything happens there!' We cannot think like this.
"I would have liked to have everyone here for the first day of training at the latest. But that is not possible anymore and probably won't be possible again in the world, especially in England. So why should I moan about it?
"I read in Germany that there are still transfers in the Bundesliga for £5m. You can imagine that happening in England? No chance. Yet it is similar quality.
"You are in a circle and that is how it works here. It's not that we don't want to spend. It is all about doing the right things."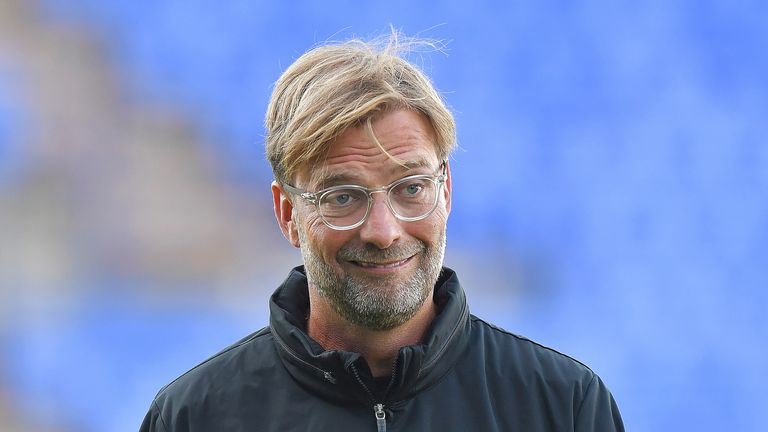 If I could decide alone, we would be complete from the last day of last season, but that is dreamland
Despite the frustrations of having to negotiate the transfer market, Klopp insists he has the financial backing of the club's owners.
"One hundred per cent," was Klopp's response was asked about the support of the owners. "Okay, I didn't ask if I could buy Ronaldo or the other guys from Barcelona but I am absolutely fine with this.
"If they could make it quicker, you can imagine they would be here and trying. It's not about money or something like this.
"It is not about a number [of players]. It is about how it fits together. We will see.
"I felt we already had a pretty good side last year, especially when everyone is fit and that gives me a good feeling."
Watch Liverpool v Crystal Palace in the Premier League Asia Trophy. Coverage begins on Wednesday on Sky Sports 1 HD at 1pm, after Leicester v West Brom.