Alex Oxlade-Chamberlain admits it was a tough decision to leave Arsenal but believes Liverpool is the right club for his development.
The England midfielder made a Deadline Day move to Anfield for a fee of £35m, penning a long-term deal with the Reds and leaving the Gunners after a six-year stay.
Despite the rumoured interest from Chelsea, Oxlade-Chamberlain insists that he only ever wanted a move to Liverpool but only after he made the difficult choice to leave Arsenal.
"The first thing was the tough decision to leave Arsenal. That was the only thing that was really tough for me and the deliberation but Liverpool was the only option for me in terms of where I thought I would be playing," he exclusively told Sky Sports ahead of Saturday's showdown with Man City live on Sky Sports Premier League.
"The team and the feel of the whole football club in general just sat right with me. I think there are really exciting things to come here and especially with this manager so I felt it was right for me to push to be a part of that. I'm delighted that I finally got the opportunity to."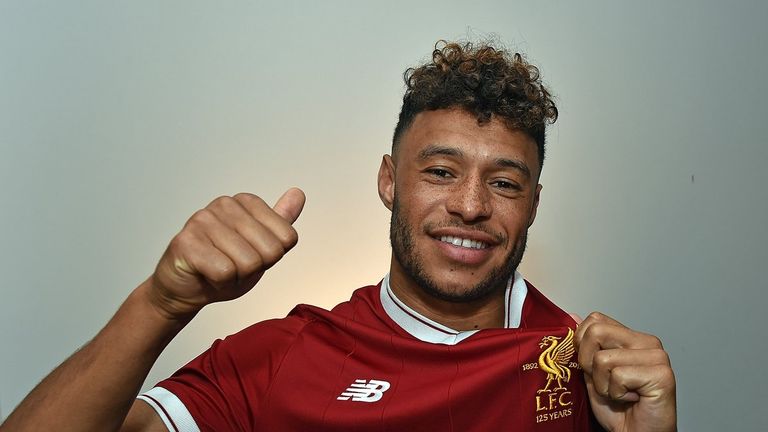 Oxlade-Chamberlain joined Arsenal at the age of 18 from Southampton after coming through the youth ranks at St Mary's, going on to make 198 first team appearances in all competitions for the Gunners.
He scored 20 goals for the North London side and won three FA Cup and Community Shield titles, and admits that it is a strange feeling to now be called a Liverpool player.
"It's very exciting but obviously a bit surreal at the same time. When you're at one club for so many years, you become accustomed to that so any change is a bit weird and odd and difficult at first but looking forward, it's something that really excites me for sure.
"I'm 24 now and some may say it's still young but in football years, when you've been in a team for six years, it seems like you are quite old.
"I just felt like I really wanted to push on with my career and it felt like now was the right time to take myself out of my comfort zone, push myself and go and see what I can really achieve with a team like Liverpool.
"I had so many great years at Arsenal and I grew to love the club, the fans, my team-mates and the manager so it was a really difficult decision but it was definitely one that I felt was right and it was an honour to have the opportunity to come to a club like this.
"It's a club I've admired for years, the players that have been here and now the manager. The way the team has been playing for a few years now is something that's really excited me, even when I was a neutral.
"To be a part of that now, it's a massive honour. You don't have to mention the fans at Liverpool, I've seen them over the years as an away player and they blow you away so to think that they're now my home fans is really exciting."
Oxlade-Chamberlain is targeting success and silverware with his new club, and while he admits that his progress has stalled over the last few years, it is the need to challenge himself that spurred his Liverpool move.
"I know I can do more. I've been trying to push and get that out of myself for a good few years and down to whatever reasons plus a few injuries, it hasn't quite clicked yet and I'm the first to admit that," he added.
"I've made strides forward though, especially last season and I've learnt a lot through my experiences but there is definitely more to come from me.
"One of the main reasons I took myself out of my comfort zone was to try and push myself and really see how far I can push those boundaries. Ultimately, I want more from myself and they're the reasons why I did it.
"Success is always the first thing I've come to help the team with. Hopefully we can go and win things. At the start of the season, it's been very positive so that's the first thing to try and add and help that.
"I want to help myself as well, I've got aspirations of improving myself and I know how much I want to develop and I'm looking to do that here and give the best years of my career to this club."
His first game in a Liverpool shirt could come on Saturday as the Reds travel to Manchester City live on Sky Sports Premier League and Oxlade-Chamberlain is focusing on helping the squad prepare for the game having only arrived for his first day of training on Wednesday.
"I would be over the moon to be involved but I haven't even had a proper session yet so that's up to the manager," he said.
"I realise it's a short turnaround from my first day to the game but, most importantly, it's a massive game for the boys and for the club so it isn't about me, as much as I'd like to be involved in some capacity, it's about the boys going there and getting the best result possible.
"That's what the team will be doing and I'll be doing everything I can to help prepare the boys to do that."
See if Oxlade-Chamberlain makes it into the Liverpool squad when they travel to Man City this weekend live on Sky Sports Premier League from 11.30am.