Who should be Liverpool's first-choice goalkeeper and why is Jurgen Klopp rotating? We take a look...
For the fourth match in a row Jurgen Klopp made a change in the Liverpool goal for the 1-1 draw against Burnley as he continued his policy of rotating between Simon Mignolet and Loris Karius. While it has become common to use different goalkeepers in different competitions, Klopp's selections have not been quite that rigid.
Karius was brought in for the big Premier League game at home to Arsenal. "Simon is rested, that is all," Klopp explained. "He won the race and was really strong for us but we need the other two boys also. For a goalkeeper it's a different intensity. He is in the stadium, we had no argument and I told him a rest makes sense. He didn't want to have to rest."
Karius kept a clean sheet, albeit an unconvincing one, in that 4-0 victory over the Gunners but Mignolet returned for the 5-0 defeat at Manchester City. The Belgian was back out of the team for Liverpool's return to the Champions League in the 2-2 draw against Sevilla but he was recalled once more for the next fixture against Burnley.
While it was a disappointing draw, Mignolet made a number of good saves, denying Ben Mee a winner inside the final 10 minutes at Anfield. As Klopp suggested when recalling Karius against Arsenal, it is Mignolet who has won the battle to be first choice. But that does not mean he will be the one playing in the Carabao Cup tie against Leicester on Tuesday.
"I did it and I will do it again," said Klopp of his changes. "Simon Mignolet is No 1. At the end of the season he will have played 85 to 87 per cent of games. We need strong goalkeepers and every year we cannot find a new No 2 or No 3. We have young goalkeepers at the best age and all are ready to play so we have to use this situation for the good of the club."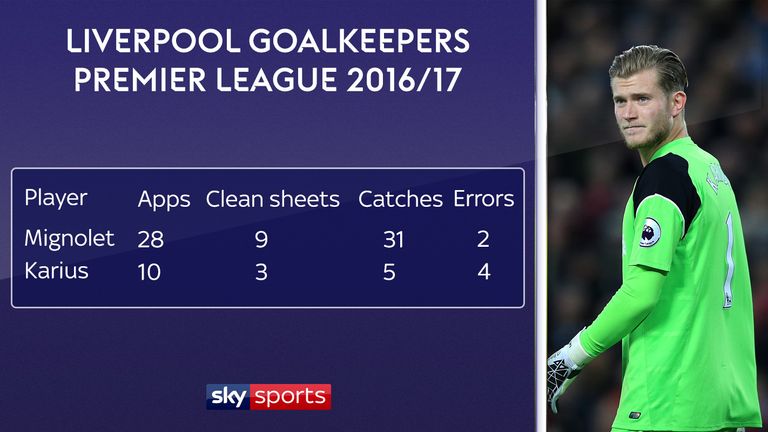 Even so, it seems apparent given Klopp's initial decision to give Karius a run in the Liverpool goal last season that he had hoped it would be his compatriot who would make the position his own. Unfortunately for Klopp, despite Karius arriving from the Bundesliga with a fine reputation, that initial period proved a steep learning curve for the player.
Karius did boast the better save percentage from outside the box last season (88.9%) - an indication of the talent and athleticism that Liverpool identified when bringing him in from Klopp's former club Mainz. However, his decision-making abilities came under scrutiny as he struggled to command his area and was guilty of sloppy mistakes.


Karius made more errors leading to goals in his 10 appearances last season than Mignolet made in his 28 matches. Those errors even cost Liverpool valuable points in back-to-back games against Bournemouth and West Ham. He also made more mistakes in sweeping up behind his defence and came off his line to deal with things less often than his rival, making fewer catches and punches.
Given that Karius is five years younger than his goalkeeping rival, there is time for the balance of power to shift again. Danny Ward will also be pushing hard for a place having impressed in Huddersfield's promotion-winning campaign last season. Whether any of them can satisfy supporters that they are the one to take the team forwards remains to be seen.