Jurgen Klopp said he is "sick" of the way Liverpool are conceding "easy goals" after their 2-0 Carabao Cup defeat to Leicester on Tuesday.
Having failed to win any of their last three matches, Liverpool started brightly at the King Power Stadium and dominated the first half.
However, they failed to take any of the chances they created and were punished as Shinji Okazaki and Islam Slimani scored after the break to send the Foxes into the fourth round.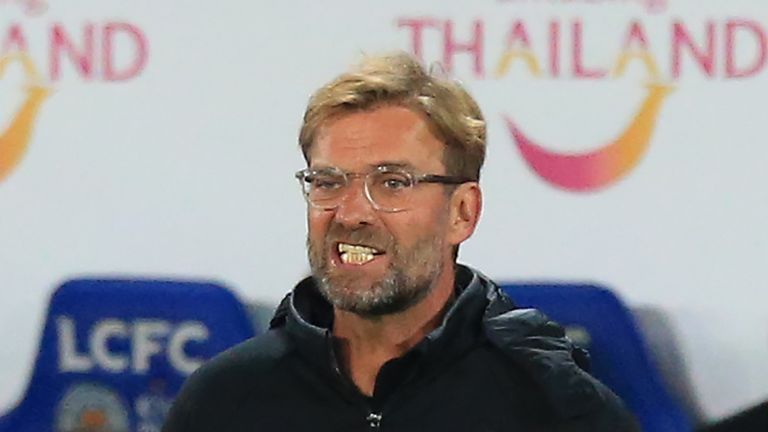 "We played really good football in the first half and should have decided the game early," said Klopp. "We had big chances. But that's football, it's 90 minutes, at least.
"Leicester somehow survive because we are not clinical enough, sometimes it's like that, but you need to stay concentrated until the end and not allow them to score. They scored too easily.
"The second ball after a corner, and a throw-in… I am sick of goals like this. You cannot play football. First goal we don't push up together, you can say it one time or 1000 times, it's not nice to concede these goals, and today it's again because of these."
Liverpool have kept just two clean sheets this season and have now conceded 10 goals in their last four matches.
Klopp added: "After the first goal you saw the heads from Leicester went up, that was a bigger difference. The game changes in moments like this, you have the chance to do it by yourself or sometimes you are on the wrong side and that's how it is.
"But that we concede like this, that makes me really, really sick.
"We are still a good football team, I see it, but unfortunately it doesn't feel [like that] at the moment because it's a cup competition. We wanted to go into the next round and nobody is interested who plays the better in the first half.
"The story of this game is really easy to tell, we were the much better team in the first half, we played good football, we didn't score, that's sometimes part of football.
"But as long as we concede goals like we conceded today, then it is quite difficult."
Liverpool return to the King Power Stadium on Saturday to face Leicester in the Premier League.