Jurgen Klopp says his Liverpool side were punished for making 'one mistake' during their 1-1 draw with Newcastle on Sunday.
The Reds dominated possession at St James' Park and had a number of chances to win the match, but failed to add to Philippe Coutinho's stunning first-half strike as the points were shared.
After the game, Klopp was disappointed that his side was made to pay for its defensive mistake for Newcastle's equaliser, and says Liverpool need to start helping themselves.
"As you can imagine, it is not the nicest moment. We create and create and we made one mistake - a real mistake - and we got punished for it. I think the opponent made a lot more mistakes that were forced by us and did not get punished for it," he told Sky Sports.
"At the end, the man of the match is from Newcastle and we have 80% possession or whatever it was. That's the situation and that's how the world looks on it and we just have to carry on. It's what we do.
"Obviously, if you don't help yourself, nobody else helps you so we have to score in these situations. That's clear. We had the big moments, unbelievable big moments, and scored only once. The opponent didn't have too many chances and also scored once and that's the fact.
"I hope the boys come back healthy from the international duty and we'll go again."
Former Liverpool midfielder Jonjo Shelvey picked out the run of Joselu in between central defenders Joel Matip and Dejan Lovren for Newcastle's leveller, with a challenge from the former seeing the ball rebound off the legs of Joselu and roll into the back of the net.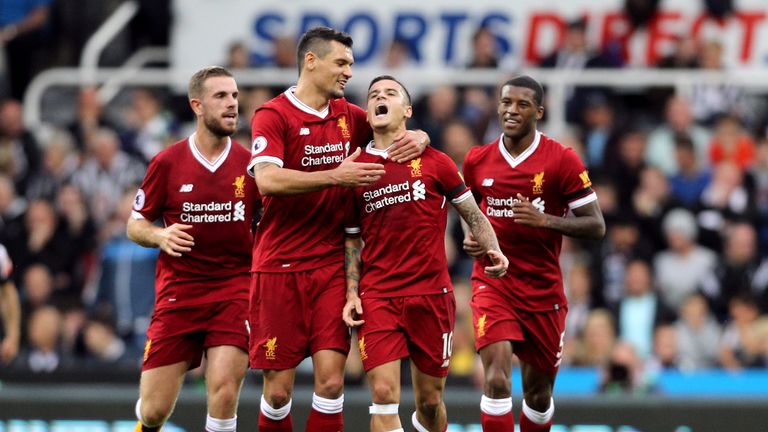 While Klopp admitted that his defense could have done better, he was not placing the blame entirely at the door of his two centre-backs.
"Yeah, of course [Liverpool could have done better]. It is a surprising situation, it is between the centre-halves - I'm not sure if it is offside or not - and you either step up or stay in the right situation," he added.
"It is obviously unlucky but I'm not sure we could have avoided the pass [from Shelvey]. I'm not sure if the centre-halves could see it because there were two or three players in between. So if you see it, you have to push up, if you don't see it then you can't push up and you have to stand differently in the situation so the striker cannot make the advantage.
"In the end, it is not very important how we concede the goals. We conceded one and that was enough for today."