Jurgen Klopp at Liverpool: His first two years at Anfield assessed
Last Updated: 06/10/17 4:50pm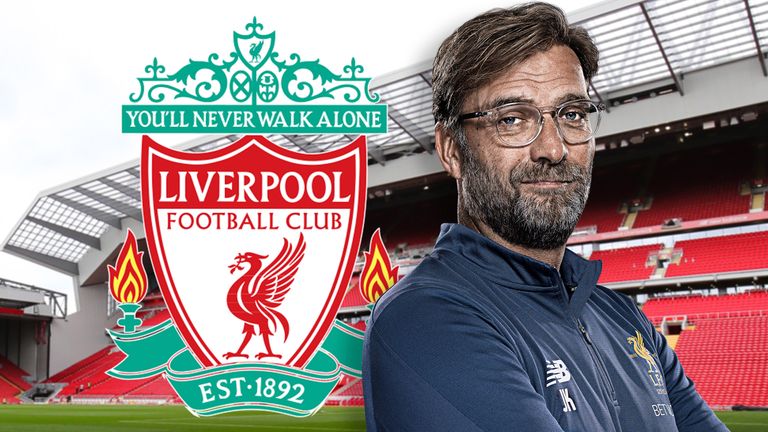 This weekend marks the second anniversary of Jurgen Klopp's arrival on Merseyside, so how should his first two years in charge of Liverpool be assessed?
Klopp heads into next Saturday's meeting with Manchester United under pressure after just one win in seven games, but are the Reds on the right track under the German?
Here, we take a look at the signs of progress, the lingering problems, and what happens next…
The progress
When everything falls into place, Klopp's side are a formidable force capable of matching anyone. Their tireless off-the-ball pressing and devastating counter-attacking can be exhilarating to watch. Klopp's philosophy has given Liverpool the kind of identity and direction they previously lacked.
It has also significantly improved their record against their direct rivals. In 20 Premier League meetings with Manchester United, Manchester City, Chelsea, Arsenal and Tottenham since Klopp's appointment, Liverpool have only lost twice. In games between those sides, they have amassed eight more points and scored eight more goals than anyone else.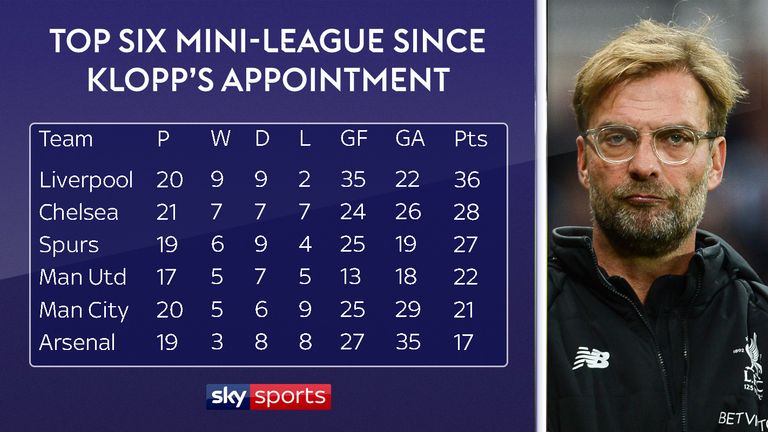 Sky Sports pundit Jamie Carragher described their first-half performance in their 4-1 thrashing of Manchester City in November 2015 as one of the best he had seen in the Premier League. Fast forward two years, and they have delivered plenty more like it. Liverpool have scored three or more goals against top-six sides nine times in total.
Their unrivalled record in those games shows exactly what can be achieved with Klopp's style of football. Last season they returned to the Champions League places with their second-highest goal total (78) in the Premier League era.
Klopp has not yet mounted a title challenge to rival Liverpool's 2013/14 campaign under Brendan Rodgers, but a comparison between the final 14 months of the Northern Irishman's reign and the last 14 months of Klopp's shows their progress. Liverpool's win rate has jumped from 46 to 56 per cent. They have scored considerably more goals and conceded fewer.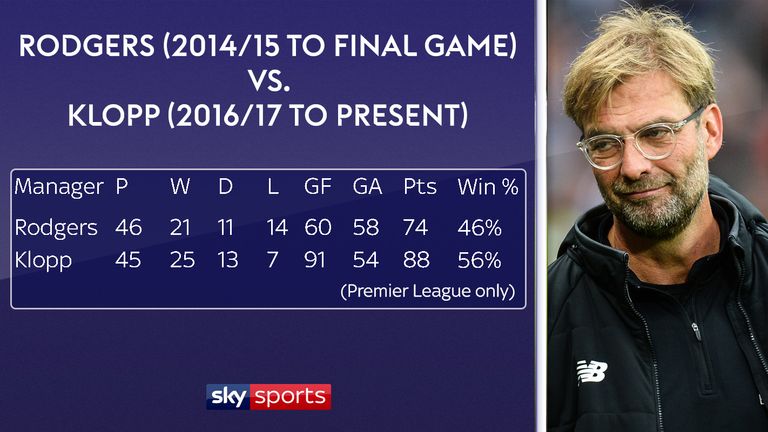 Much will depend on whether Klopp can take the next step and turn Liverpool into genuine title contenders, but those statistics suggest they might be heading in the right direction.
The problems
For all their progress in the big games, Liverpool remain maddeningly inconsistent against the Premier League's lesser sides. They have already dropped points to Watford, Burnley and Newcastle this season, and the issue dates back to the start of Klopp's tenure. According to Opta, they have a win rate of just 53 per cent against sides outside the top six under Klopp.
It's holding them back. "When teams come out against them and are expansive, they're OK because they can play the combinations and they are quick on the break," said Sky Sports pundit Gary Neville last season. "Their Achilles heel is that they can't beat the lesser teams at home."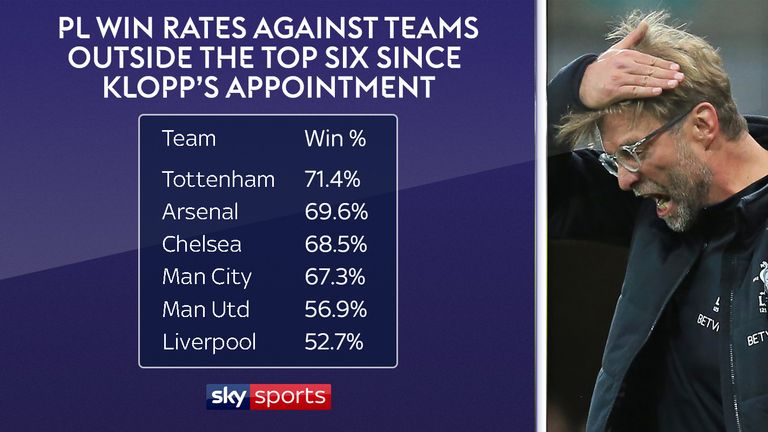 Liverpool struggle to break down teams who defend deep and they are not helped by wasteful finishing. The absence of a reliable out-and-out goalscorer is an ongoing issue. Since the sale of Luis Suarez - who hit 31 goals in his final Premier League campaign - Liverpool's top scorers have been Steven Gerrard (nine goals in 2014/15), Roberto Firmino (10 goals in 2015/16) and Philippe Coutinho and Sadio Mane (both scored 13 goals in 2016/17).
The No 9 role is not the only area of the squad which seems to have been neglected. In fact, Liverpool have spent £150.1m on midfielders and forwards since Klopp's appointment compared to a meagre £17.8m on defenders and goalkeepers.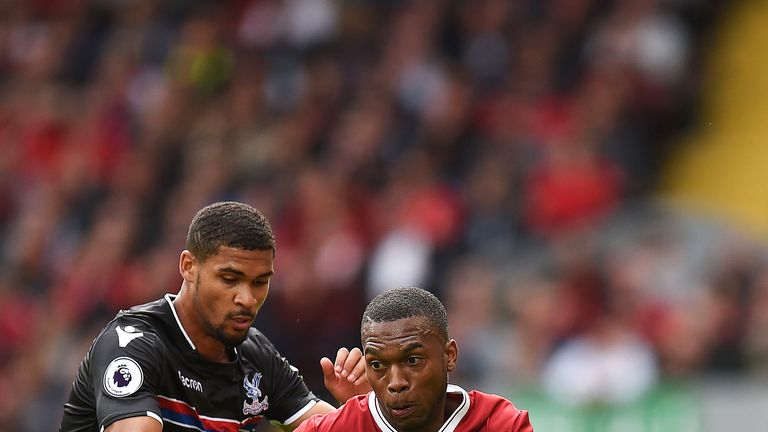 The German believes in attack as the best form of defence, but injuries have repeatedly exposed a lack of investment in their backline. Liverpool have conceded more goals (93) than United, City, Chelsea, Tottenham and Arsenal since Klopp's arrival at Anfield - and it's not just down to personnel.
A deeper look at the stats reveals systemic problems. Only Watford, Stoke and Crystal Palace have conceded more goals from set pieces than Klopp's side (28) since October 2015. "Liverpool are awful at zonal marking," said Carragher after their 3-3 draw with Watford on the opening day of this season. "The way Liverpool are set up - set piece wise - they will always concede goals."
Liverpool have issues with concentration as well as organisation. According to Opta, they have made 18 errors leading to goals since Klopp's appointment. Only Palace and West Ham have made more. "Even at 2-0 or 3-1 teams think they have a chance because history has shown in the last few years they always concede goals," added Carragher.
The near misses
Liverpool finished the 2015/16 season in eighth place with their lowest points total since 2011/12, but the entire complexion of the season - and, perhaps, of Klopp's reign as a whole - would be very different had they not come up short against Manchester City and Sevilla in the League Cup and Europa League finals.
Winning the club's first silverware since 2012 would have represented tangible progress under Klopp. It would have hastened their return to the Champions League and provided a platform to build towards the bigger prizes. Instead, the pressure has ramped up as the wait for trophies continues.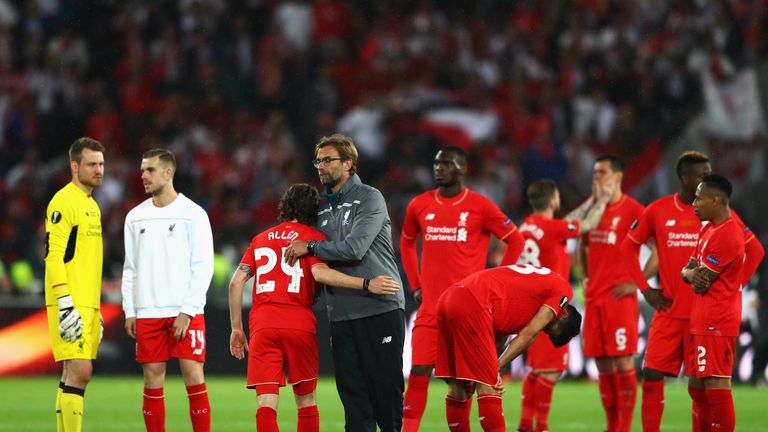 What next?
Klopp's first priority is to arrest their poor run of form when they face old rivals Manchester United live on Sky Sports next Saturday. The German has found Jose Mourinho a frustrating foe in recent games - drawing both of their meetings last season - but another big-game victory would change the mood around the club and lift them back into the top four.
In the longer-term, Klopp must also address the imbalances in his squad. Liverpool possess a thrilling attacking quartet in Philippe Coutinho, Sadio Mane, Roberto Firmino and Mohamed Salah, while RB Leipzig midfielder Naby Keita looks like a perfect fit for central midfield, but issues in other areas need attention.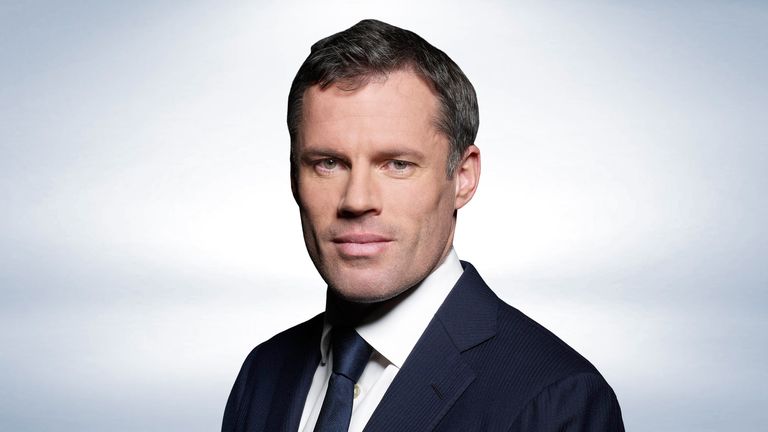 I still look at Liverpool and think they didn't fix the problems in the summer that needed fixing and that is the big problem.
Jamie Carragher
Klopp has been loyal to many members of the squad he inherited from Rodgers, preferring to improve his side through coaching rather than transfers, but is it time to be ruthless? Carragher voiced the widely-held suspicion that Daniel Sturridge may never return to his best last weekend, and there is little evidence that Alberto Moreno, for example, is capable of ironing out his flaws.
"I still look at Liverpool and think they didn't fix the problems in the summer that needed fixing and that is the big problem," said Carragher. "I feel like every time I do a Liverpool game, I'm going to be saying the same things."
The January transfer window gives Liverpool another opportunity to bring in someone like Virgil van Dijk - who reiterated his desire to leave Southampton this week - but if Klopp's top targets prove unattainable, it might necessary to look at alternatives.