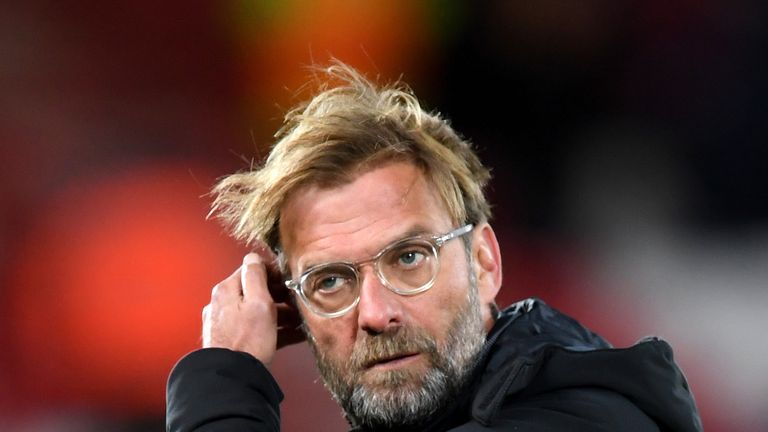 Jurgen Klopp was left frustrated after being unable to make a substitution before Chelsea scored their equaliser against Liverpool on Saturday.
Leading 1-0 late in the game at Anfield, the hosts were looking to make a change with Adam Lallana ready to be introduced for his first appearance of the season.
However, even though the ball did go out of play with Lallana seemingly ready to come on, they did not make the switch before Willian levelled in the 85th minute.
Explaining what happened, Klopp said: "Maybe ask the ref. I don't know. People can say we are not really smart, but if you want to change the system and bring on a player you need to give advice.
"I wasn't happy about it because we wanted to change. In my mind, Ragnar Klavan would have been exactly in the position where Willian would have crossed the ball, so we would have blocked the cross.
"So that doesn't feel too good because we couldn't change the system because the ref thought maybe let's time play or something else, I have no idea why he said no, go and play.
"My assistant was prepared, I was prepared, the player was prepared, but the ref said go on play, and it was around four minutes. That's what he said to me after the game, 'the goal was four minutes after you wanted to change'. That didn't make me feel much better."
Liverpool enjoyed the majority of the possession in the game and looked to be heading for victory after Salah's strike, his 10th of the season in the Premier League.
But they were denied by Willian, who scored with a chipped cross that went into the far corner.
"It was a good game, very intense game," said Klopp. "Very difficult for us against a very strong Chelsea team with quite a different approach.
"Deep defending and then giving the ball to Eden Hazard. Wow, not too bad to be honest. It was not the most thankful job to defend him alone, with a second player a little easier and then with a third you had more of a chance.
"Then Alvaro Morata running around, that's quite difficult. We had to work really hard and stay cool, play football and we did it. I am happy about big parts of the performance and really proud of the attitude. Everything was good until Willian crossed the ball, still most parts of the game were good but it doesn't feel as good."