Alex Oxlade-Chamberlain: More suited to Liverpool than Arsenal?
Last Updated: 22/12/17 7:07pm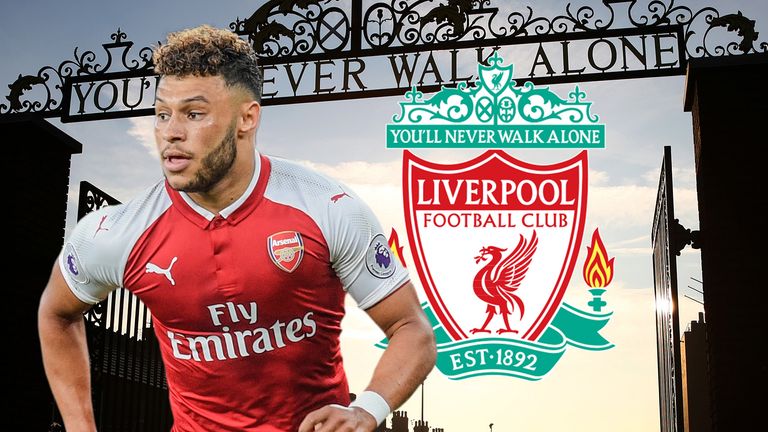 Alex Oxlade-Chamberlain returns to Arsenal on Friday as a Liverpool player and there are signs that the move could prove a good one for the midfielder. Adam Bate examines why Oxlade-Chamberlain looks better suited to playing for Jurgen Klopp than Arsene Wenger…
He spent six years as an Arsenal player but Alex Oxlade-Chamberlain can expect a mixed reaction upon his return to the Emirates Stadium with Liverpool on Friday. His line about Liverpool's "good form" soon after signing, in reference to a 4-1 win over an Arsenal team that had included him, did not help his cause. But there is more to it than that.
Many Gunners supporters were content to collect a fee that could rise to £40m for a player whose progress had stalled. Oxlade-Chamberlain wanted to leave for much the same reasons. But recent evidence would suggest that the player's relief will be matched by the fans' frustrations. Oxlade-Chamberlain is showing signs of improving under Jurgen Klopp.
The 24-year-old midfielder is winning new admirers at Anfield - and not just because of the way that he handled the post-match interview following the 4-0 win over Bournemouth, deflecting the awkward questions aimed at team-mate Philippe Coutinho. Deployed in his favoured central midfield role, his performance in that game was one of his best in years.
As well as providing an assist, Oxlade-Chamberlain created four chances in total and made four tackles too. He has not bettered either of those numbers in a single game for Arsenal in any of the past three seasons. "I have been doing better and it has been coming but there's definitely more to come from me," said the England international.
The obvious reason why Oxlade-Chamberlain can get even better in a Liverpool shirt is that he is still adapting to the team's style of play under Klopp. When the two teams meet on Friday, Liverpool and Arsenal will be separated by only one point. But their styles of play are as different as can be. Oxlade-Chamberlain has gone from passing to pressing.
"He needs to get used to the intensity that we ask," Klopp explained. "It's not that Arsenal didn't, they play fantastic football. But we are really on it with these counter-pressing things and the switch immediately to make the break. If you are not used to it, and you defend differently and you drop when they get the ball, that is a different thing."
That might explain those tackling stats and it might also explain why Klopp is so excited about what he calls the "wonderful package" that he is only now beginning to unwrap. Perhaps Oxlade-Chamberlain is familiarising himself with a style he was born to play. "I learned a big change in the style of play under a new manager," he told Sky Sports recently.
"Arsene [Wenger] is a great manager and he's proved that for many years. His philosophy and style of play is based on the 'Arsenal way' of playing, with his passing game, which is brilliant and works very well for him. 'Jurgen is very demanding and he makes clear to us our roles and responsibilities, and the intensity that he wants out of us."
The great attraction of Oxlade-Chamberlain at Arsenal was that he offered something different to the other options at the club. That was useful at times but it also hinted at the problem. This was not a side set up to play his way. Controlled passing is something that he can do but it is not his strength. High tempo football brings the best from him.
Consider the Premier League tracking data that shows Oxlade-Chamberlain made 77 high-tempo sprints in the win over Bournemouth. That is more than he produced in a single game for Arsenal in his last three years at the club. His 80 sprints in Liverpool's draw with Chelsea last month was the most he has made in a game in any of the last five seasons.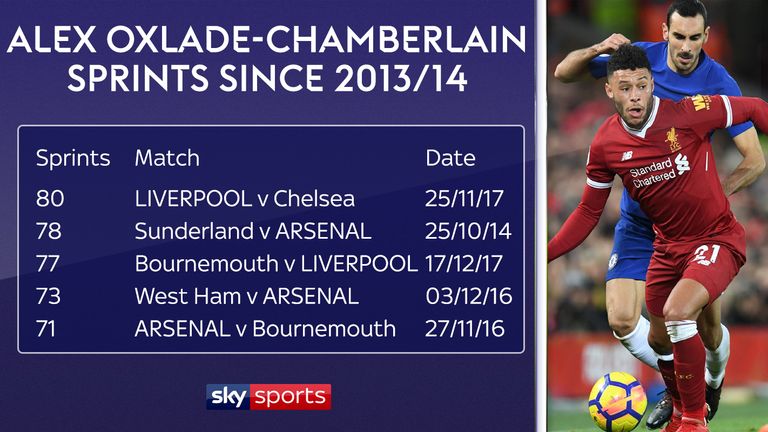 It helps to explain why he looks a better player - "dynamite" according to Klopp - and justifies his own decision to move clubs. "There are vast improvements in his game," Jamie Redknapp told Sky Sports. "When he went to Arsenal, for years I felt he stood still. What I am seeing here is that he is becoming a real player under Jurgen Klopp."
Arsenal get a look at the new and improved Oxlade-Chamberlain when he returns for Friday Night Football and a game that could see his new club move four points clear of his old one. "It will be a special occasion for me," said Oxlade-Chamberlain, "full of emotion, I'm sure." A special occasion. But a return without regret, only excitement about what lies ahead.