Liverpool's defeat to Tottenham in October sparked a defensive shift that has had a dramatic effect on their season. With the help of Jamie Carragher, we explore the changes that were made and the statistics that show just how effective they have been.
"Tottenham was the worst game we played this season," said Liverpool boss Jurgen Klopp in October. "You cannot ignore it, you have to work on it." He was speaking after seeing his side bounce back with a 3-0 win over Huddersfield at Anfield. Klopp had named the same defence. But do not mistake that for inaction.
Liverpool made four errors leading to shots in that 4-1 defeat to Spurs at Wembley. That is twice as many mistakes leading to shots as they have made in the nine games since then. The transformation was instant. Against Huddersfield, Klopp's men not only did not concede a goal but they did not even allow their opponents a shot on target. So what changed?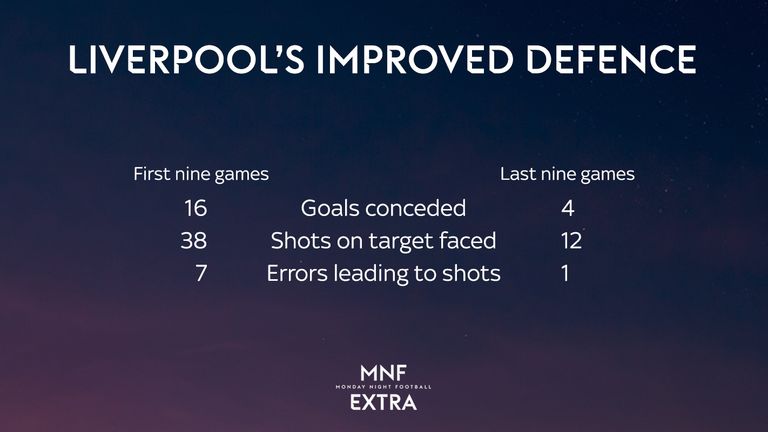 "Since the Tottenham game, there has definitely been a change," Jamie Carragher told Sky Sports. "The next game was Huddersfield and you are thinking that is a game that you just go and win. Liverpool won 3-0 but it was evident right from the start of the game that the positions of the full-backs were different and it stayed like that."
Alberto Moreno is a left-back whose greatest asset is his energy in getting forwards. One would expect his average position in a three-goal win over Huddersfield to have been far higher up the pitch than in a three-goal away defeat to Tottenham, but Moreno was actually deeper. "You are not seeing the full-backs playing as wingers," Carragher pointed out.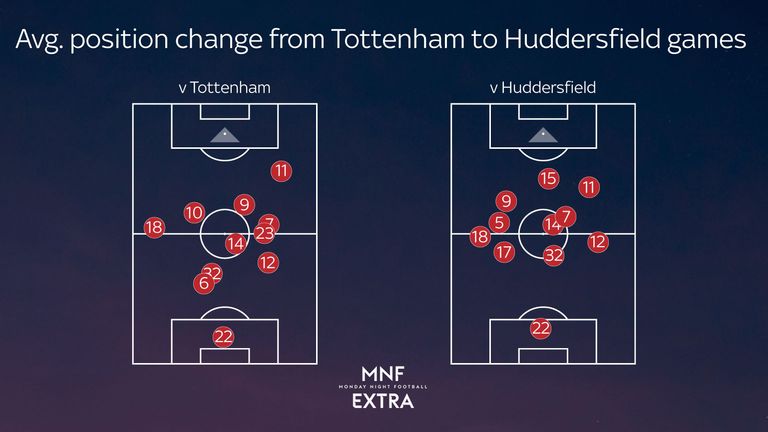 The impact of a more solid defensive line has been dramatic. After conceding 16 goals in their first nine games, Liverpool have let in only four in the last nine games - a better record than both of the Manchester clubs in that time. It is not luck either because they have only faced 12 shots on target in those matches compared to 38 in the nine games prior to that.
"I don't know if it's something just to get the confidence back or if it's here to stay but it certainly hasn't stopped them in terms of scoring goals so I think that's the right way forward," added Carragher. That is a crucial point. Liverpool have actually scored more goals in the last nine games than they did in the first nine.
The Reds have won all four of their away games since going to Wembley. They put four past West Ham, won 3-0 at Stoke and have since beaten both Brighton and Bournemouth by four clear goals. Moreno's injury against Spartak Moscow has allowed Andrew Robertson his opportunity but the lesson of this change is that personnel is not the primary issue.
Dejan Lovren has faced criticism and Ragnar Klavan's limitations are apparent. But recent form suggests their weaknesses can often be masked if the positions of those around them are adjusted. The added cover might explain why errors have rarely led directly to shots on goal since the change. "We are critical of Liverpool's centre-backs and I get asked that question a lot because of the position that I played," said Carragher.


"But I always think how difficult it would be to play for Jurgen Klopp at centre-back. I don't think there's a top-class holding midfielder and if your full-backs are leaving you isolated as well then it's not easy. So there has definitely been a change there and that has helped them not only results-wise but also defensively."
The trip to Arsenal for Friday Night Football will be Liverpool's toughest test away from Anfield since losing to Tottenham. But the hope is that they return to north London two months to the day after that defeat with a defensive setup that can give them a far better platform to get a positive result this time around.