Jurgen Klopp says Liverpool needed to be more clinical in defeat at Chelsea
Last Updated: 06/05/18 9:29pm
Liverpool manager Jurgen Klopp believes his side's performance in their 1-0 defeat at Chelsea was good enough to earn a point but admitted they needed to be more clinical.
Olivier Giroud scored the only goal of the game in the 32rd minute as Chelsea claimed a win that keeps Antonio Conte's team in the race for a top-four finish.
As such, Liverpool need to beat Brighton on the final day of the season to be sure of a place in next season's Champions League.
"I hate the result but the performance, it wasn't our best of the season but good enough to get a point here usually," Klopp told Sky Sports.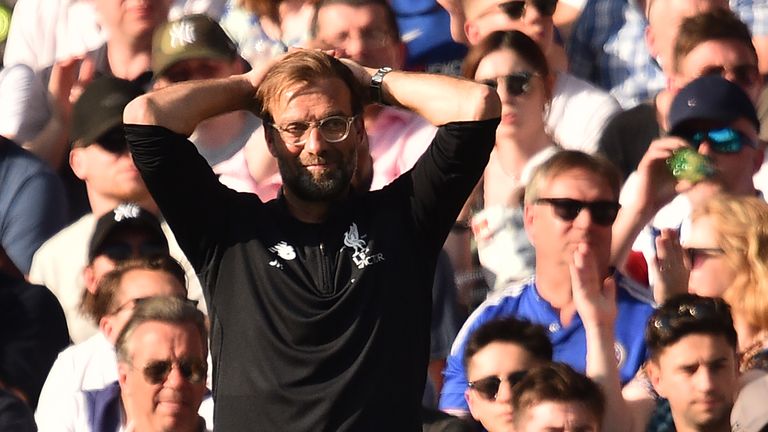 "It is clear against Chelsea that you have to avoid crosses and in that situation - I'm not 100 per cent sure but if I'm right - we were two versus one but not close enough. We couldn't avoid the cross and then it's there and it's difficult against Giroud.
"Chelsea is strong but then we had the ball, we had to create, we did our best, we had a few really good moments but in the end we were, for sure, not clinical enough.
"Like I said, the performance was OK with all the games we've had so far but the result is absolutely the opposite of what we wanted.
"They have quality and a defensive plan. You saw it, they played with eight people in and around the box and then two very, very good offensive players, that's a very smart plan, to be honest."
After an intense game in Rome on Wednesday, Klopp is looking forward to having a full week to prepare for next weekend's Premier League finale.
"Before the game we didn't mention it but, of course, it is physically intense and with what we've done so far, the longer the game is going, of course, it is more difficult," he added.
"You cannot go to Chelsea and be shocked afterwards if you lose against Chelsea. That's always possible, that's no problem. Now we have one full week that will help massively.
"We don't have the squad, we have injury problems and it doesn't help [that] the boys play nearly constantly.
"The 11 or 12 players play constantly and that never helps. That's why I am so happy that we now have one full week and then we can show our full strength."