Vitali Klitschko says he is working to solve the Kiev travel issues affecting Liverpool fans
Last Updated: 25/05/18 2:43pm
The mayor of Kiev Vitali Klitschko says alternative arrangements have been made for most of the Liverpool fans whose flights to the city were cancelled on Thursday.
And the former world heavyweight champion says work is underway to get the remaining fans to Kiev in time for the Champions League final on Saturday night.
Three flights were cancelled on Thursday, leaving almost 1,000 fans in danger of missing the match.
And Klitschko has been working with Liverpool mayor Joe Anderson to alleviate the situation.
He told Sky Sports News on Friday morning: "I talked with Joe a couple of minutes ago.
"We will try to fix the problems. our main task as mayor of the cities is to make people happier.
"We have a problem with 870 fans, we find the planes, and they are landing in Kiev.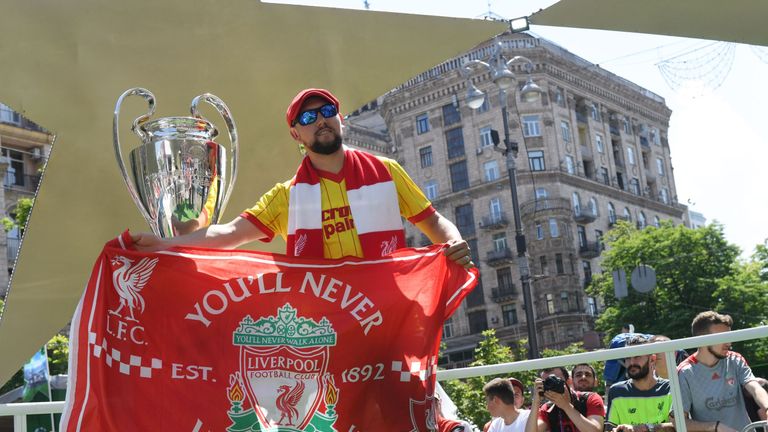 "Right now the airport in Kiev is very busy, we have to find a slot.
"From 870 persons, 720 are already happy - we will try to find a small plane to bring more than a hundred fans to Kiev.
"It is a mistake from the travel agency, who booked too late, and right now our airport is very, very busy."
Liverpool supporters were reportedly caught up in some trouble on Thursday night - Ukrainian police say "two foreigners suffered injuries".
Klitschko is hopeful the incident will prove to be an isolated one.
"More than 10,000 policemen are watching the safety of fans," he said.
"I hope we don't have some special situation in Kiev regarding safety.
"Every morning, every evening, we have a meeting with the police department, (about) what is going on.
"It is not easy, it is the first time to host such a huge event, and that is why we have an adviser from the Liverpool police department here and from the Madrid police department here."