Liverpool have broken the world transfer record for a goalkeeper in taking Alisson Becker to Anfield but how good is he? Adam Bate assesses the stats and speaks to two of the Brazilian's former goalkeeper coaches to find out what makes him such a special talent.
The story is familiar. A struggling goalkeeper, widely mocked, is replaced by a towering Brazilian who makes all the difference as his team wins the title. The move to swap Claudio Bravo for Ederson reaped spectacular rewards for Manchester City. Now Liverpool will be hoping that the decision to upgrade Loris Karius for Alisson Becker has a similar ending.
If there is a difference, it is that Alisson is even better. Brazil's number one at the World Cup, he is only a year older than his City counterpart but has 31 caps to his understudy's one. He arrives from Italy not Portugal, having been a sensation in Serie A. "The boy is a phenomenon," said Roberto Negrisolo, Roma's former goalkeeper coach, earlier this year.
"He is the number one of the number ones, the Messi of goalkeepers, because he has the same mentality as Messi. He is a goalkeeper who can define an era." Negrisolo did not stop there either, rejecting any comparisons with the precocious AC Milan youngster Gianluigi Donnarumma, preferring instead to liken the 25-year-old Alisson to Italy legend Dino Zoff.
Strong words but not out of keeping with the praise that was showered upon Alisson last season. Diego Simeone bemoaned his brilliance in denying Atletico Madrid, while Gianluigi Buffon marvelled at it, highlighting the confidence he inspires in team-mates. Iconic Brazil goalkeeper Claudio Taffarel sees him as Manuel Neuer's successor as the world's best.
What is the reason for so much hype? For Simeone, it was the last-gasp save from Saul Niguez that tipped him over the edge. For others, it was the stop to deny Bologna's Adam Masina the following month, one that was compared to Gordon Banks' famous save from Pele at the 1970 World Cup. Alisson boasts impressive statistics to support the eye test too.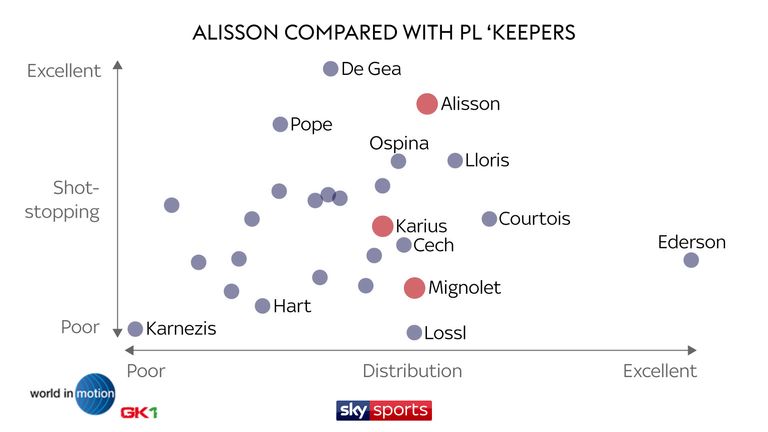 Seventeen shutouts in 37 games were not quite enough to justify the "Mr 50 per cent" moniker given to him by Gazzetta dello Sport in reference to his clean-sheet record but the underlying figures are strong. Analytics experts showed Alisson not only conceded far fewer goals than expected at Roma but that the same was true of his time at Internacional.
Those stats from Brazil are a reminder that he did not need to come to Europe to make a name for himself back home. He was already his country's best keeper even before moving to Roma in 2016. It was at Internacional, the club in Porto Alegre he joined aged eight, that Alisson embarked on his journey to becoming the world's most expensive goalkeeper.
Before he was a superstar, he was the chubby kid in training. Football's ugly duckling whose parents had to be persuaded to continue sending him to training because he could not get a game. He was too short to be effective in goal until a growth spurt in his teens changed everything. Alisson grew 17 centimetres in a year and his talent was truly able to shine.
The ugly duckling now had model good-looks. He even plays guitar. At 18, there was a modelling offer when spotted walking in the mall by a woman who worked for an agency. "I would rather be a goalkeeper," he said. Following his first game for Internacional, he was asked again if he considered himself beautiful. "My mother tells me I am," he replied.
Yes, Alisson has good genes. His brother Muriel is also a goalkeeper, a one-time team-mate now at Belenenses in Portugal. But the nurture argument is strong here too. Internacional was the club of Taffarel, who has since coached Alisson at international level, and Dida, the former Milan number one whose spot he inherited. Men with 192 caps between them.
It was Clemer, another famed Internacional goalkeeper and later his coach, whom he credits as an inspiration. "What I learned most from Clemer was this thing of living the game, of always being focused," he said. "That's what he most emphasised to me. Things go wrong when we are inattentive. If you live in the moment and are aware, things tend to work out."
But it was his first coach, the one who worked with him at the age of 13, who was Alisson's true mentor. Daniel Pavan was there through all of the staff overhauls at the club, the long-time assistant goalkeeper coach until landing the top job himself. He is still in touch with the player today and even last year Alisson sought him out to do extra training in the summer.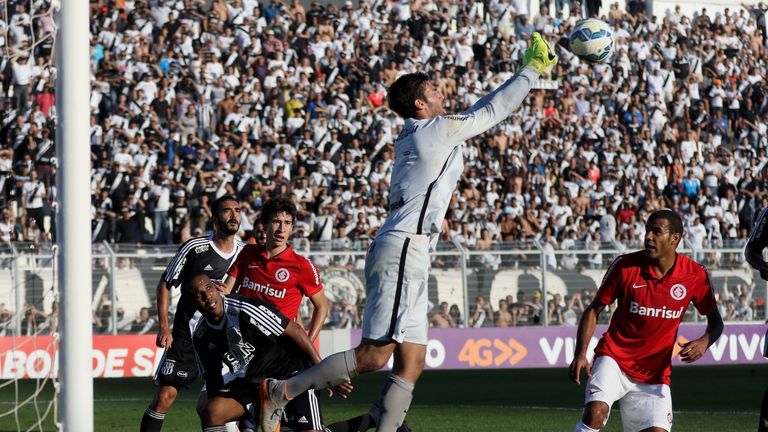 According to Pavan, despite the early height issues, Alisson's talent was never in doubt. "I was his coach for eight years in all and have known him ever since he arrived at Inter," he tells Sky Sports. "He has always been a very promising goalkeeper because of his exceptional technique. He learned everything easily and had a natural talent above the norm.
"From the beginning, Alisson had a strong personality as well. He was captain of the youth teams and was always the leader in the dressing room. At Inter, he was captain of the senior side when he was only 21 years of age. This personality, combined with his technique, has always been what separated him from the rest."
That chimes with the view of Rogerio Maia, the goalkeeper coach who has worked with Alisson at club level with Internacional and, most recently, with Brazil national team at the World Cup in Russia. For him too, it is clear that Alisson's mental qualities, as well as his physical ones, have helped him to reach the top of his profession.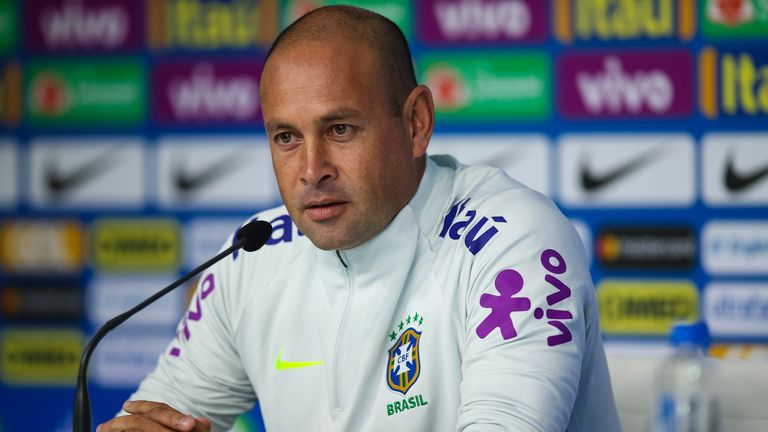 He is a goalkeeper with high levels of concentration and leadership skills.
"He is a goalkeeper with high levels of concentration and leadership skills," Maia tells Sky Sports. "He is a leader on and off the field, loved by the group. I believe this characteristic is inherent to great Brazilian goalkeepers such as Julio Cesar and Diego Alves who have also made a career in Europe. I have worked with all three and they are great professionals."
These are the personality traits that encourage his old coaches to believe that Alisson will be able to settle quickly into life in England. Here is someone who takes everything in his stride both on and off the pitch. "He is a very cold goalkeeper," adds Pavan. "I call him the ice man because of his coolness and his calm personality."
There are other encouraging signs too. Roberto Firmino is an international team-mate and Alisson also knows Mohamed Salah from their time at Roma. He was in touch with both before the deal went through. The chance to work with Jurgen Klopp is also thought to have been a factor. Born in Novo Hamburgo, both he and wife Natalia are of German descent.
But the biggest reason to believe Alisson will succeed at Liverpool is the best one. It is because he might just be the best one. The list of world-class saves is already long. One high to his right from Sampdoria's Gianluca Caprari stands out. Another high to his left from Taison against Shakhtar Donetsk was even better. He recovers quickly to save down low too.
But where he can really transform Liverpool is with his distribution. Few goalkeepers are as comfortable with the ball at their feet as Alisson, as shown by his penchant for Cruyff turns. He made three times as many dribbles as any other keeper in Italy last season - all successful - and completed more passes than anyone else too. Not all were simple either.
His long ball for Stephan El Shaarawy's opener against Inter in the San Siro was reminiscent of Ederson and so is his willingness to come off his line to deal with danger. Opta defines keeper sweepings as events where a goalkeeper comes off his line and wins the ball for his team. Alisson did it 41 times last season - more than twice as many times as anyone else.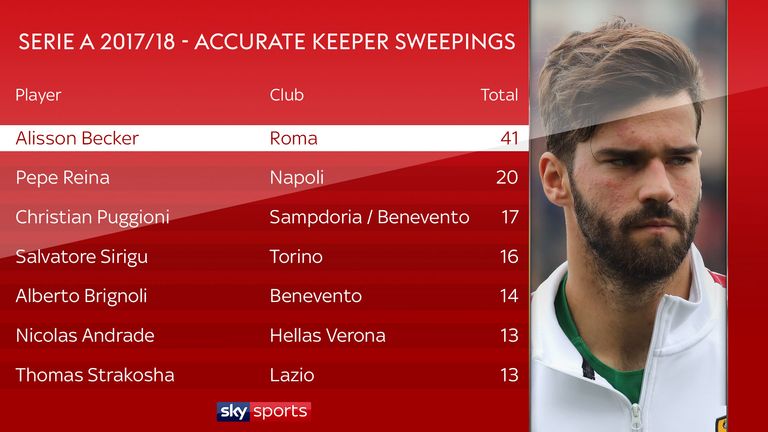 "He is a goalkeeper who has evolved and continues to evolve," says Maia. "I have no doubt he will adapt quickly to England and become even more valued there, as he was in Rome." Pavan agrees. "It is very hard to point out a weak spot in Alisson," adds his old coach. "He is a complete goalkeeper with a mastery of all the fundamentals of his position.
"Liverpool are one of the biggest clubs in the world and that is why he has chosen to play there. He performed at a very high level in the Champions League last season and he has everything required to grow even more in England. Everything is in place for Alisson to have a long and successful career at Liverpool."
Liverpool are getting a mentally tough goalkeeper, a leader for now and in the future. Someone who is good with his hands and his feet. A player who can do for Liverpool what Ederson did for Manchester City last season. The most expensive goalkeeper in the world. For an ever-growing number of admirers, possibly the best goalkeeper in the world too.
LFCTV is the only place to watch all of Liverpool's pre-season matches live, and hear first on new signings. Go to www.sky.com/lfctv to find out more, or go to Sky channel 425 and press red.