James Milner was expected to drop out of the Liverpool team this season but instead he has become more important than ever...
It is over three years now since the summer in which Raheem Sterling swapped Liverpool for Manchester City and James Milner went the other way. Sterling's success at City has come as little surprise given the vast potential that got him there, but did anyone truly believe Milner would go on to become Liverpool's most important midfielder?
Because that is the situation as Liverpool prepare to lock horns with his former side at Anfield on Sunday. Milner, the perennial utility man who played in every position except for the one he wanted at Manchester City, is now the heartbeat of a side whose Premier League title credentials look more convincing by the week.
Milner is relishing his central status at Liverpool, but for a long time it seemed he would not get it. In his first season, only 18 of his 28 Premier League starts came in central midfield. His second was spent entirely at left-back. Even last season, he started as many Premier League games on the bench as he did on the pitch.
Live Renault Super Sunday


The summer brought fresh competition for places in the shape of Naby Keita and Fabinho. Milner had shone in central midfield on Liverpool's run to the Champions League final, but his prospects of hanging onto his place looked slim in the wake of the transfer spending.
It makes his achievement in doing so all the more impressive. Milner has started eight games out of nine so far this season - all of them in midfield. He is the oldest member of the Liverpool squad at 32, but to watch him you would not know it. On the contrary, the drive and energy he has shown throughout his career is more apparent than ever.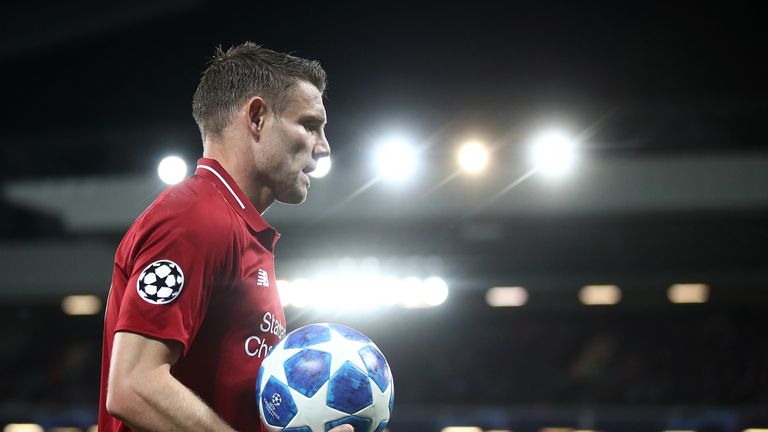 "With Milly for sure, age is no issue," said Jurgen Klopp in August. "In life, if you are 32 in any company in the world they would tell you to wait a few years then get a real job. In football, it's like you're already close to retirement. Some players can play until 36, 37 even 38, and because of his physical abilities I am pretty sure Milly is one of them."
Milner has become indispensable to Liverpool's pressing game. His engine allows him to cover more ground than any of his team-mates - he has topped 12km in five out of six Premier League starts so far this season - and he also ranks highly for ball recoveries, tackles and interceptions.
Those contributions are invaluable in a side built to capitalise on turnovers. In the Carabao Cup against Chelsea last week, for example, it was Milner's hounding of Cesc Fabregas and Cesar Azpilicueta which allowed Liverpool to steal possession in the build-up to Daniel Sturridge's goal. Ten days before that, he smothered Tottenham's midfield in the 2-1 win at Wembley.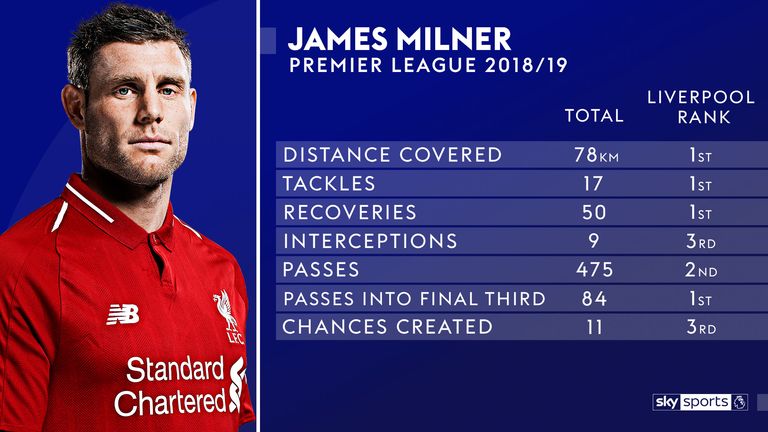 Milner is often lauded for those off-the-ball efforts, but it would be reductive to label him a mere workhorse. His stamina, versatility and determination are undoubtedly important qualities, but they alone do not explain why he is so highly valued by Klopp.
Perceptions shifted last season, when he provided more Champions League assists (eight) than anyone else in the competition, and he is proving similarly influential now. As well as winning possession more frequently than any of his team-mates, Milner sends by far the highest number of passes into the final third. His total of 84 so far this season dwarfs the next highest, which is Trent Alexander-Arnold's 54.
The service is invaluable for Mohamed Salah, Roberto Firmino and Sadio Mane. Milner's forward passing puts Liverpool on the front foot, and his delivery continues to create scoring opportunities, too. This season at Liverpool, only Salah and Andrew Robertson have created more chances. Milner has created almost as four times as many as any of their other midfielders.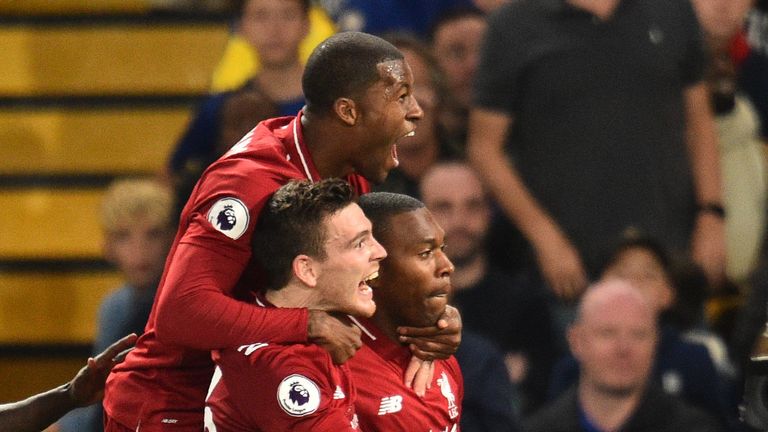 Liverpool will need Milner to continue in the same vein against Manchester City on Sunday and recent history provides reasons for optimism. In Liverpool's triumphant Champions League quarter-final against Pep Guardiola's side last season, Milner demonstrated his knack for rising to the big occasion with outstanding performances in both legs.
Milner could be seen snapping into tackles and closing down Kevin De Bruyne relentlessly in the first leg at Anfield, and he was instrumental in Liverpool's first two goals, too, first sliding the ball through to Mohamed Salah to finish, then winning the tackle which allowed Alex Oxlade-Chamberlain to drill home the second.
Milner embodied Liverpool's grit and determination in the return leg at the Etihad Stadium, recovering from a difficult start and putting his body on the line on numerous occasions. According to Opta, he made four blocks over the course of the 90 minutes. It was the second-most by any player in a single Champions League game all season.
On Sunday, of course, Liverpool's hopes of securing another victory over Manchester City will depend on more than just Milner. But three years on from his arrival from the Etihad Stadium, they head into their next meeting with his old side knowing few players are more important to them.
Watch Liverpool v Manchester City live on Sky Sports Premier League HD from 4.15pm on Sunday