Mohamed Salah's recent struggles in front of goal are a worry for Liverpool but their issues run deeper, writes Nick Wright.
Mohamed Salah's form is in the spotlight after he drew another blank in Liverpool's goalless draw against Everton on Sunday. The Egyptian has only scored once in his last six appearances. It is the first time in his Liverpool career that he has gone three Premier League games without scoring.
That statistic underlines just how prolific Salah has been since his arrival at Anfield in 2017. Even this season, when his performances have come under scrutiny, he has still netted 17 Premier League goals - second only to Manchester City's Sergio Aguero in the division.
But given the extraordinary standards he set for himself during his record-breaking 32-goal 2017/18 Premier League campaign, it still represents a considerable drop-off. After 29 Premier League games last season, Salah had scored 24 goals. That's seven more than he has now.
Missed opportunities
It is no coincidence that Salah's recent struggles in front of goal have coincided with Liverpool's poorest run of the season. In their last six games, Jurgen Klopp's side have taken just 10 points from a possible 18. Games which might usually have been settled by Salah have instead ended as draws - Sunday's Merseyside derby being the latest example.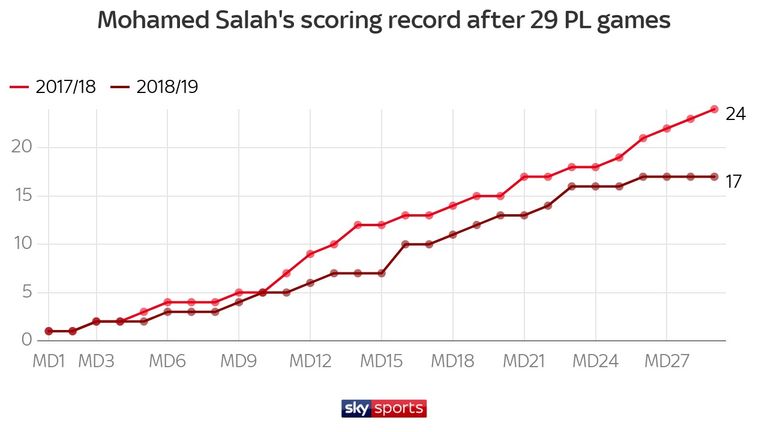 Salah spurned two excellent chances at Goodison Park. In the first half, he was denied by Jordan Pickford in a one-on-one. Then, after the break, his uncharacteristically poor touch allowed Michael Keane to make a recovery tackle in a similar situation.
"It's very rare that he goes through a run like this," said Jamie Carragher in the Sky Sports commentary box. "There's no doubt that in the last few weeks his touch and his play outside the box hasn't been the quality that you would expect."
Carragher was similarly critical during last weekend's goalless draw with Manchester United. "Every time the ball goes to Mo Salah he is losing the ball so Liverpool can't really connect with different people," he said. "It keeps falling down and they are getting done on counter-attacks."
Salah's confidence appears to have suffered in recent weeks and while it would be unfair to suggest he is solely culpable for Liverpool's recent stutter, his poor form has certainly come at a crucial time for Klopp's side. His record in the big games will be an added concern - especially with fixtures against Tottenham and Chelsea still to come.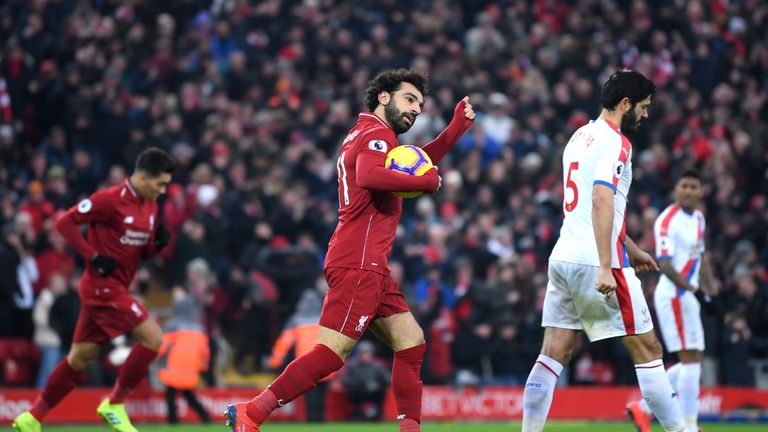 Indeed, in eight meetings against Liverpool's top-six rivals this season, plus two Merseyside derbies, Salah has only scored one goal - and that came from the penalty spot in the 5-1 win over Arsenal in December. It is a jarring contrast with last season, when he scored eight times in those fixtures.
Shot volume decreasing
Salah's overall strike rate has dropped from a goal every 90 minutes to a goal every 145 minutes in the Premier League, but intriguingly, a deeper look at the statistics does not paint a picture of dramatic decline.
Salah's shot-conversion rate has dropped from around 22 per cent to 18 per cent and he is averaging 0.6 expected goals per 90 minutes compared to 0.75 last season, but those differences are not as stark as his goal totals suggest they should be. His shot accuracy is in fact up on last season. His big chance conversion rate is almost identical.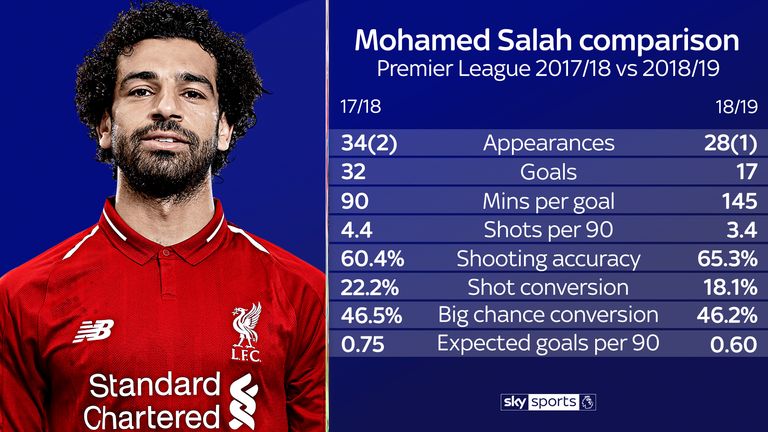 The bigger issue is that Salah is not shooting as much as he was. According to Opta, he has gone from averaging 4.4 shots per 90 minutes last season to 3.4 in the current campaign. It is a drop of more than 20 per cent.
The drop in shot volume raises questions not just of Salah himself but of the Liverpool team as a whole. Is he getting the right service? Are there deeper issues beyond his own performances?
Creativity question
Liverpool's outstanding points tally this season owes a lot to their defensive improvement. With Virgil van Dijk excelling in the centre of defence and Alisson Becker directing proceedings behind him, they have conceded just 15 goals in 29 games and kept 16 clean sheets.
At the other end, though, they are creating fewer opportunities. Last season, their top two creators were Philippe Coutinho and Alex Oxlade-Chamberlain, who averaged 3.2 and 2.1 chances created per 90 minutes respectively. But with Coutinho gone and Oxlade-Chamberlain injured, Liverpool have struggled to fill the creative void.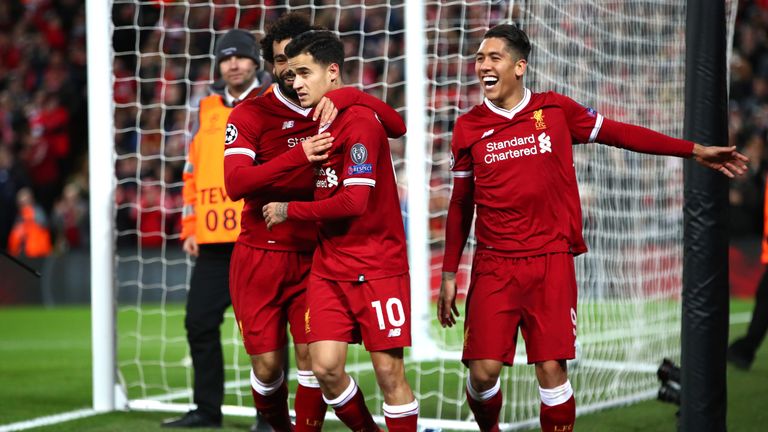 This season, their top creator is James Milner, who has averaged 2.1 chances created per 90 minutes, but next on the list is Salah himself on 1.9. There is a lack of creativity beyond that and it has had a knock-on effect on Salah. As a team, Liverpool have gone from taking 16.8 shots per game last season to 14.8 per game now.
"It's not just a problem now," added Carragher on Sunday. "In the final of the Champions League last season, you look at the set-up and they just lacked one player. They lost Coutinho and never replaced him. They tried in the summer [with Nabil Fekir] but they couldn't get him. Even if Liverpool win the league, I still think it's a position they will try to fill in the summer."
It is perhaps only then that Salah will hit the amazing heights of last season. His recent struggles are a worry and so too is his record in the big games this season. But the statistics indicate he is much the same player. For Liverpool, the issues in attack run a little deeper.