Liverpool put pressure back on Man City as Premier League title race goes down to the wire
Liverpool are back on top of the Premier League table, but will they stay there? Watch Manchester City vs Leicester live on Sky Sports Premier League from 7pm on Monday; Kick-off at 8pm
Last Updated: 05/05/19 5:39pm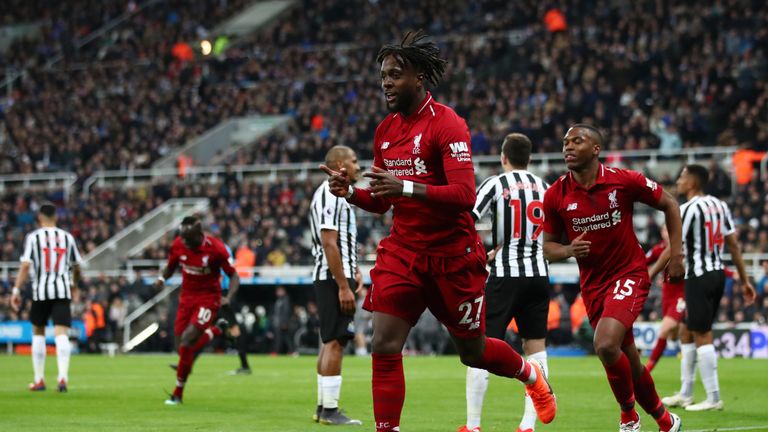 Liverpool clinched a dramatic 3-2 win over Newcastle on Saturday evening to move top of the Premier League table and once again put the pressure on Manchester City.
Newcastle twice fought back from a goal down at St James' Park, but Divock Origi's deflected header four minutes from time sealed an eighth consecutive Premier League win for Jurgen Klopp's side to keep the title race alive ahead of City's clash with Leicester on Monday Night Football.
An unlikely hero
He was only on the pitch because of Mohamed Salah's premature withdrawal - more on that later - but Origi certainly made his opportunity count. Liverpool appeared to be out of ideas as the clock ticked towards the final whistle, but when Matt Ritchie was adjudged to have fouled Fabinho on the right-hand side of the box, they knew they had a chance.
It was Xherdan Shaqiri who took it - albeit only after an intervention from Virgil Van Dijk - and Origi duly met his inswinging delivery with a flicked header which bounced into the net off Newcastle captain Jamaal Lascelles.
It may yet go down as an own goal, but it was still a vital contribution from Origi and it wasn't his first this season. The Belgian has featured sparingly - this was only his 11th Premier League appearance of the campaign - but he also decided the Merseyside derby in December, coming off the bench to score the winner in the dying moments.
As they stand
| Rank | Team | P | W | D | L | GD | Pts |
| --- | --- | --- | --- | --- | --- | --- | --- |
| 1st | Liverpool | 37 | 29 | 7 | 1 | 65 | 94 |
| 2nd | Man City | 36 | 30 | 2 | 4 | 68 | 92 |
How important those goals could yet prove in this thrilling title race remains to be seen, but what's certain is that Liverpool have pushed City all the way. They have now scored 24 goals in the final 15 minutes of Premier League games this season - five more than any other side in the division.
Origi embodies that never-say-die spirit as well as anyone.
Salah stars, then departs
Liverpool have already lost Roberto Firmino to injury - Klopp confirmed he was a doubt for Tuesday's Champions League semi-final second leg against Barcelona before this game - and now they may have to cope without Salah, too.
The Egyptian was visibly distraught when he was stretchered off following a nasty collision with Newcastle goalkeeper Martin Dubravka midway through the first half, and it was even more of a blow for Liverpool given that, until then, he had continued his recent run of excellent form.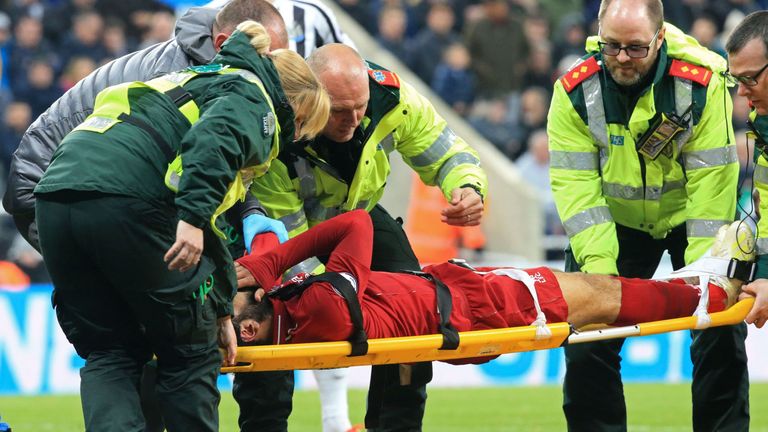 Salah was a menace to the hosts right from the start, when he could be seen plundering possession from Fabian Schar deep in Newcastle territory. His goal, smartly turned in on his weaker foot in the first half, was his fifth in five Premier League games and his 22nd for the season - taking him two clear of Sergio Aguero and Sadio Mane in the Golden Boot race.
It's now unclear, however, whether he will be available for the games against Barcelona on Tuesday or Wolves on the final day of the Premier League season. "We have to see," Klopp told Sky Sports. "He got a proper knock on the head. He watched the game inside, he was absolutely okay, but we have to do a further assessment of course."
Alexander-Arnold underlines full-back threat
This was not Liverpool's slickest attacking performance - far from it - but it was another game which underlined the importance of their marauding full-backs. Trent Alexander-Arnold set up Van Dijk's opener from a corner, and he was the architect of their second, too, picking out Salah with another excellent delivery - this time from open play.
"The beauty of an early cross like that is that those Liverpool strikers, with those two full-backs, know exactly what's coming in and when," Sky Sports pundit Gary Neville said. "They have delivered week in, week out, cross after cross into great areas and they do brilliantly from it."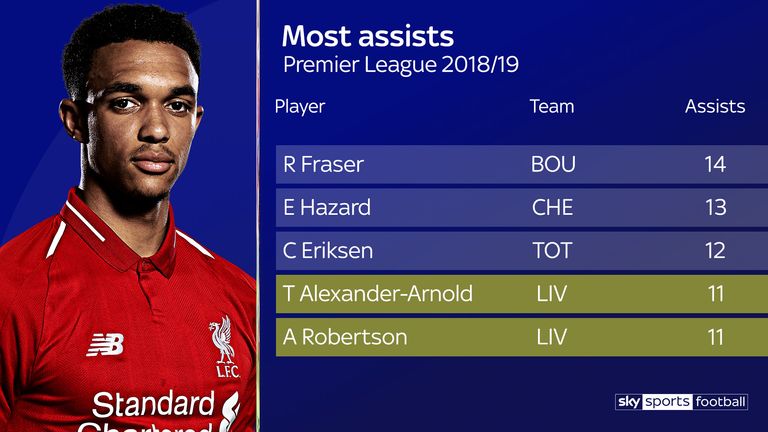 Alexander-Arnold was fortunate to escape punishment for his goal-line handball seconds before Atsu's equaliser, but his assists took him level with left-back Andrew Robertson on 11 for the season. No other Premier League defender has managed more than six. In fact, the only players to have registered more are Ryan Fraser, Eden Hazard and Christian Eriksen.
Will it be enough?
Liverpool were understandably buoyant at the final whistle. They are back on top of the Premier League and their points total of 94 is already the third-highest in the competition's history. But the reality is that it could all be in vain if Manchester City do not drop points either at home to Leicester on Monday or away to Brighton on the final day of the season.
Carragher: You only have one winner
"What this team are doing is extraordinary," Jamie Carragher said on Sky Sports. "The problem Liverpool has is that there is another extraordinary team involved in this title race.
"Liverpool are back on top with one game to go. It means it goes to the last day and it means City keep getting pushed and have to keep providing the answers. What these two teams are doing is remarkable and it's almost sad that one team will have to finish second. That's football. You can only have one winner."
Souness: Liverpool got away with it
"It was a leggy Liverpool," Graeme Souness said. "They were not at it, maybe for obvious reasons. Liverpool made hard work of it and it was a real slog for them tonight, but they've got away with it - just. Did they deserve to? I'm not quite sure. But it's game on.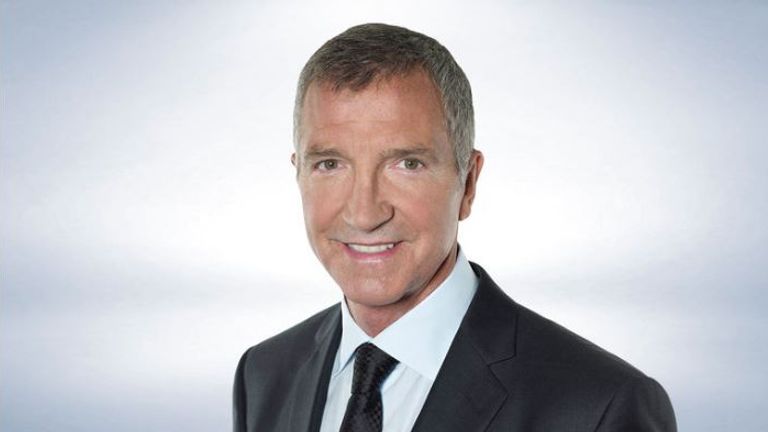 Jurgen Klopp will know, when he puts his head on his pillow tonight, that he escaped a bullet. He really did.
Graeme Souness
Neville: Monumental victory
"It was part-way through that second half when you thought, 'Here it is. Here's the moment where a team blinks,'"Neville added.
"You looked at that front three, with Salah going off and Firmino not playing, and you've got Shaqiri from Stoke last season, you've got [Daniel] Sturridge who was on loan at West Brom, you've got Origi who was at Wolfsburg, and you think it's a drop in quality.
"Then, out of nowhere, they get a goal. That is a monumental victory because Newcastle had them tonight. You need one of those on the road to a title. They desperately need Manchester City to help them in terms of dropping points, but they've kept them honest and that's the main thing."
Liverpool's clash with Wolves and Manchester City's game against Brighton will both be shown live on Sky Sports on the final day of the Premier League season next Sunday.