When can Liverpool win the Premier League title now?
Liverpool could secure Premier League title at Etihad on April 5 - if the suspension of English football is lifted by then
By Sky Sports Football
Last Updated: 13/03/20 12:58pm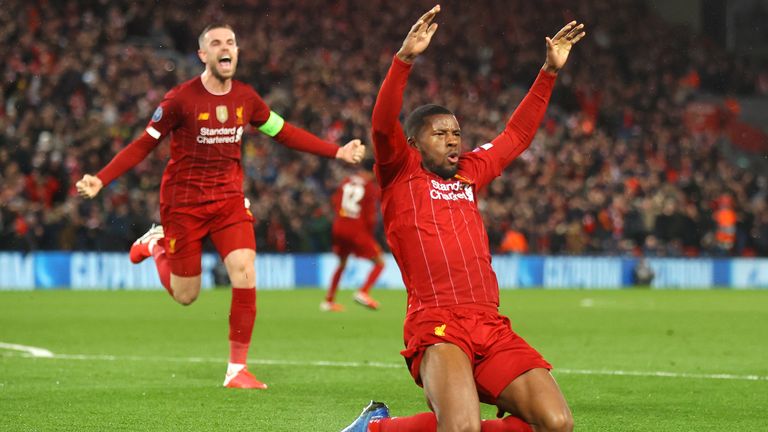 With Liverpool within touching distance of the title but the Premier League now suspended, do we know when they can win their first top flight in 30 years?
Here, we do the maths on the possibilities, and how they can win still lift the title against Manchester City on April 5, if the game goes ahead.
How have the postponements changed things?
Until Manchester City's game with Arsenal was cancelled on Wednesday, there was a chance that Liverpool could have won the title without kicking a ball, or if City picked up fewer than four points against the Gunners and Burnley on Saturday, the Reds would have secured the trophy with three points in Monday's Merseyside derby.
But now, with those games all postponed, the timeline has shifted. Domestic football has been put on hold until at least April 3, meaning Liverpool's games with Everton and Crystal Palace, and Manchester City's with Arsenal, Burnley and Chelsea will need rescheduling.
So when can Liverpool now win the title?
The joint statement released by the FA and Premier League said domestic football would be put on hold until April 3 "at the earliest" - so the fixtures of April 4 onwards are, as it stands, still due to be played.
Coincidentally, Liverpool are due to travel to second-placed Manchester City that weekend, and needing a six-point swing to secure the title, as things stand victory at the Etihad would be enough to hand them the trophy, live on Sky Sports on April 5 at 8pm.
Manchester City would then sit 28 points behind their visitors with nine games left - and unable to catch them regardless of when their other fixtures are re-arranged for.
Will the season definitely finish?
There have been questions raised - including by Sky Sports' own Jamie Carragher - about whether the Premier League season will reach a conclusion, but there has been no comment from the league or Football Association over whether 2019/20 is in jeopardy at this stage.
As it stands, fixture congestion may come into play with Euro 2020 scheduled to start on June 12, but the tournament looks likely to be delayed with UEFA due to meet on March 17 to discuss future options.
The points record of 100 (City 2017/18) could be smashed; Liverpool will have 109 points if they win every game.
The biggest points gap between first and second is 19 points (City 2017/18) - the gap now is 25. City need to better Liverpool's results between now and the end of the season by six points to protect that record.
Liverpool need six wins from their final nine games to beat the win record of 32 (City 2017/18).