Reds nowhere near
Patrik Berger has warned Liverpool fans that the current crop are 'nowhere near' good enough.
By Alex Dunn - Follow me on Twitter @skysportsaldunn
Last Updated: 19/06/12 4:32pm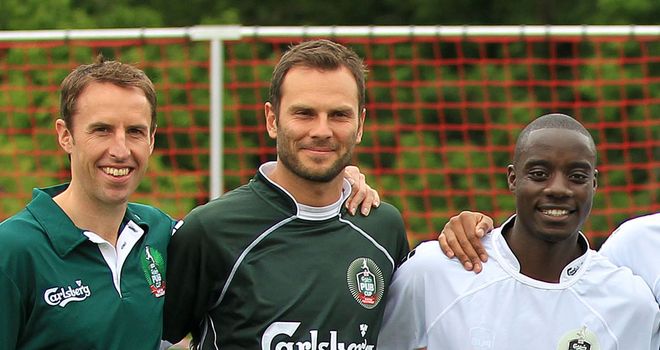 Former Liverpool favourite Patrik Berger has warned the club's supporters that the current crop at Anfield are 'nowhere near' good enough to mount a title tilt.
A season of transition looks in the offing for a Liverpool side that next term will be playing under their third different manager since Rafa Benitez left the club in 2010.
Brendan Rodgers has been entrusted with the task of getting back on track a Liverpool side that last season fell to their worst league placing since 1994, with Kenny Dalglish paying the price for finishing eighth with his job.
Berger, who made close to 200 appearances for his boyhood club, believes heavy investment must be made available over the summer if Liverpool are to have any chance of reliving former glories.
"They are far away from challenging, nowhere near in my opinion," Berger told Sky Sports.
"Hopefully I'll be wrong and they'll push the top teams for the Premier League title but I can't see it happening any time soon.
"A couple of years back they had (Fernando) Torres up front, then players like Peter Crouch and Robbie Keane in reserve, Craig Bellamy too.
"They used to have a big squad with quality players. Now they just have a big squad.
"These days when I see who is the on bench for Liverpool, I don't know who some of these guys are. It has to be different."
When pressed on which areas of the field Liverpool need to focus their spending on, he replied: "Everywhere and in every department.
"Do they have a goalscorer? No, they don't. In the middle of the field Stevie G is without question the best player I ever played with but they need two top class additions alongside him.
Spend, spend, spend
"I just think they need players, really world class players. Which at the moment, they don't have. They need at least one in every department."
Berger believes Liverpool's board will back their new incumbent with significant funds, but concedes only time will tell if Rodgers can replicate the success he enjoyed at Swansea on Merseyside.
"I think you need a special type of manager to be in charge at Liverpool but I wouldn't want to judge Rodgers as I don't know too much about him and the job he is going to do," he concluded.
"I was happy that Kenny Dalglish came back and initially he did quite well but at the end of the season the board have obviously made their decision. If this will prove to be the right decision, or not, will unfold next season
"The board believe Rodgers is the right man for the job and I suspect they'll give him money to spend, and time. That's the key thing, time."
Patrik Berger was part of the European Legends side that played the Carlsberg Pub Cup five aside winners at the Carlsberg Fancamp, Warsaw. Visit here to see highlights from the grand final and watch the Carlsberg EURO 2012 advert.