Ian Ayre says Anfield redevelopment will enhance Liverpool's transfer budget
Ian Ayre insists the planned redevelopment of Anfield will enhance the club's spending power within the transfer market.
Last Updated: 16/10/12 7:28am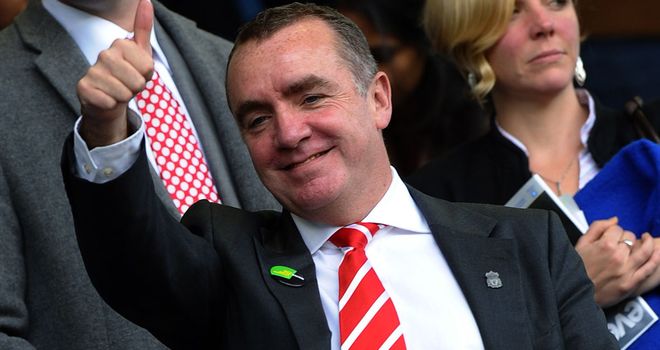 The club have confirmed their intention to remain at Anfield and redevelop the ground instead of pursuing plans to build a new home at Stanley Park.
And Ayre maintains that moving to a new stadium would not have made financial sense, with the club spending upwards of £300m yet only increasing match-day capacity by around 15,000.
"As we've said, the right solution is the right economic solution," Ayre told the club's official website.
"More so from it detracting from our spending in the transfer market, the whole point of doing this is to actually increase our revenues.
"If we look at our biggest competitors with a bigger capacity, like Manchester United, Arsenal, their matchday revenues are significantly ahead of ours.
"This whole initiative is designed to generate additional revenues so the ultimate solution has to be one that increases the overall output through the process rather than decreasing it."
Liverpool City Council have secured a £25m for the regeneration of the Anfield area, with a housing association also set to invest.
"We need a much-increased capacity and it has to be one that is right for the club going forward," Ayre told the Liverpool Echo.
"We could have achieved that in a new stadium but the cost of doing so would have been at least double what we expect to spend by staying put.
"We would have been making very big payments - servicing the loans involved in building a brand new stadium - for very many years into the future.
"That would have hampered our ability to spend money where we and the supporters want to see it spent: in buying and developing top players to allow us to continue to compete successfully at the highest levels in Britain and Europe."