Premier League: Steven Gerrard has backed Luis Suarez to win the Ballon d'Or
Steven Gerrard has backed Liverpool team-mate Luis Suarez to win the Ballon d'Or.
Last Updated: 10/11/13 2:52pm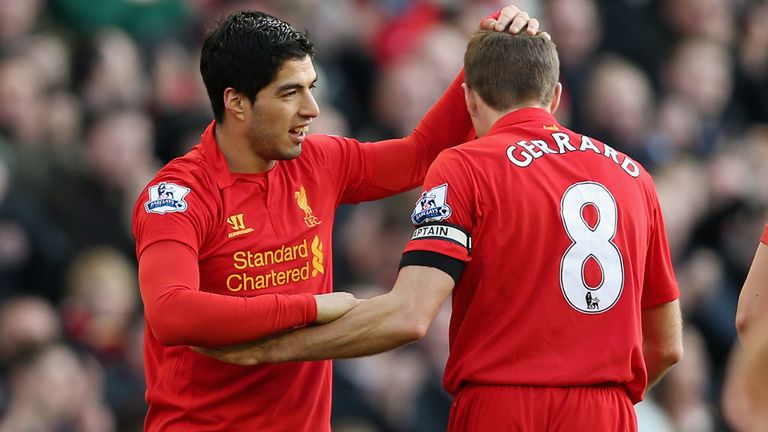 The Uruguay striker scored twice in the 4-0 win over Fulham to take his tally to eight in just six league matches he has played this season.
Nominations for the world player of the year apply to the calendar year so his tally for the Reds is 18 in 20 league games.
But the 26-year-old will not win the trophy as part of the criteria refers to "overall behaviour on and off the pitch" so Suarez's 10-match ban for biting Chelsea's Branislav Ivanovic counts against him.
That has not stopped Gerrard picking Suarez for one of the three votes all national team captains are given.
"I voted for him in my top three," said the midfielder.
"I asked if the rules can be that you can vote for one of your own players and they gave me the green light so he got one of my votes.
"I think everyone knows how much I rate him, I think we are very lucky to have him and we have to enjoy him while he's here.
"For me he is one of the top four or five players in the world for sure."
Saturday's win lifted Liverpool back into second place and lifted spirits after a disappointing defeat at leaders Arsenal last week.
"It was the perfect response," Gerrard told LFC TV.
"Earlier on in the week we were disappointed with our performances individually and collectively but the only way you can put that right is to bounce back.
"At home the onus is on us to take the game to the opposition. Every time we struggle at Anfield it is when we are slow out of the blocks and don't press aggressively."