Luis Suarez happy with 5-0 win over Tottenham after captaining Liverpool for the first time
Luis Suarez focused on Liverpool's 5-0 thrashing of Tottenham, rather than him being captain for the first time.
Last Updated: 15/12/13 6:57pm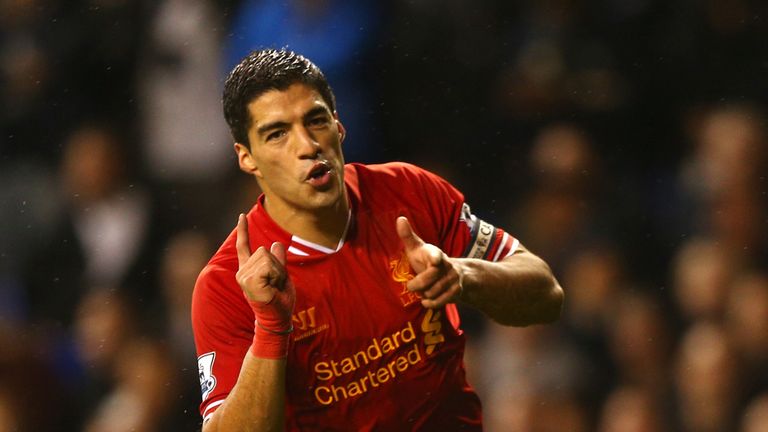 In the absence of the injured Steven Gerrard, striker Suarez was handed the armband at White Hart Lane and he responded by scoring twice and teeing up the other three goals.
The win lifted Liverpool back up to second in the table, just two points behind leaders Arsenal, and Suarez was happy with the performance.
When asked if it was any different being captain, Suarez told Sky Sports: "It was no different because, for me, the only captain here is Stevie.
"Today, I take the band, but I think we played very well and this is more important than the captain.
"I try my best on the pitch. I am a striker and I try every time to score. For today, the most important thing is the performance of the team."
Liverpool face Cardiff City at home next weekend before away games against title rivals Manchester City and Chelsea over Christmas, and Suarez felt it was important to open up a six-point gap to Spurs.
He added: "For the confidence, it's very good and we know in December we have big games now and we knew if we won today against Tottenham we are six points up on them.
"We have two very important games against Manchester City and Chelsea coming up."
Jordan Henderson was named man of the match and he was pleased to score his first Premier League goal of the season after making it 2-0 before half-time.
The midfielder said: "We knew we had to come here and put a good performance on, and get a good result. Thankfully, we've done that and I thought we played unbelievable first half.
"On a personal level, it was fantastic. I've had some chances in games and not scored, so I've been a little bit disappointed with that, so to get one and the performance as well I thought was fantastic."