World Cup: Liverpool striker Luis Suarez fears picking up knock which ends Brazil dream
Liverpool striker Luis Suarez admits to being 'scared' of picking up a knock which rules him out of the 2014 World Cup.
By Andres Garavaglia
Last Updated: 13/02/14 1:18pm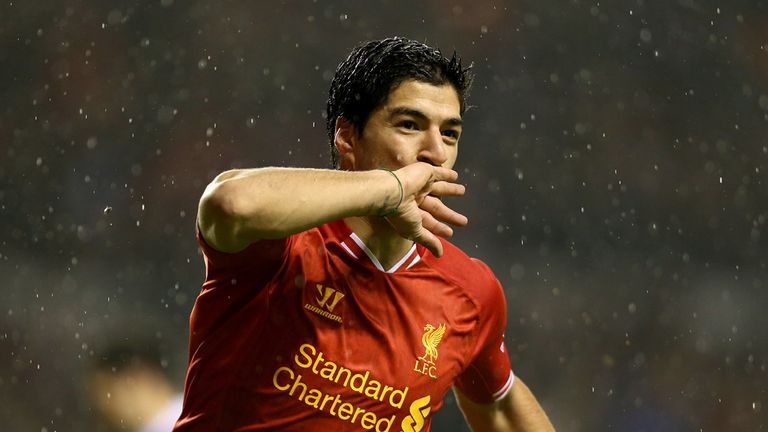 With Uruguay tipped to go well in Brazil, with the South American nations expected to lead the charge in their own back yard, Suarez is desperate to spearhead an assault on global glory.
His domestic form at present suggests he will make the trip as one of the most feared forwards in world football, and a strong contender for the Golden Boot award.
Suarez is, however, aware that one knock at this late stage could bring his dreams crashing down - with major doubt having already been cast over the involvement of potential stars such Colombian frontman Radamel Falcao and England winger Theo Walcott after they damaged knee ligaments.
Suarez told Sport 890 AM: "The truth is that I am scared of what happened to Falcao and Walcott.
"But you live in the present and you always give your best for your club - you can't be thinking about that all the time.
"It is a unique opportunity and we all want to be there, but I prefer to focus my mind on the English league. The moment to think about the national team will arrive later."
Suarez has also been speaking about his behaviour, which has got him into trouble in the past.
Grown up
He claims to have made only 'two mistakes' in his career and considers both of those episodes to be closed and focus to have returned to his efforts on the field.
The 27-year-old added: "Let me tell you, I've made only two mistakes in my career. My first was when I was playing for Ajax and I bit an opponent. My second was when I bit (Branislav) Ivanovic.
"Those two were my only two mistakes as a footballer.
"I said I'm sorry and that was all, end of story. I've nothing else to regret. All the other things were like a movie that people in England believed in.
"The case with (Patrice) Evra was all false. I was accused without proof. But that's in the past. I was sad at that moment, but I'm happy today.
"I have grown up. I have thought more about things before doing them.
"Now people in England can't talk about me because I'm not doing anything wrong. They have to talk about me only as a footballer."