Steven Gerrard is not to blame for Liverpool's problems, Brendan Rodgers has told Sky Sports.
The Reds' captain has come in for criticism as Liverpool, who just missed out on the Premier League title last season, have suffered a tough start to the new campaign, winning just four of their first 12 Premier League games.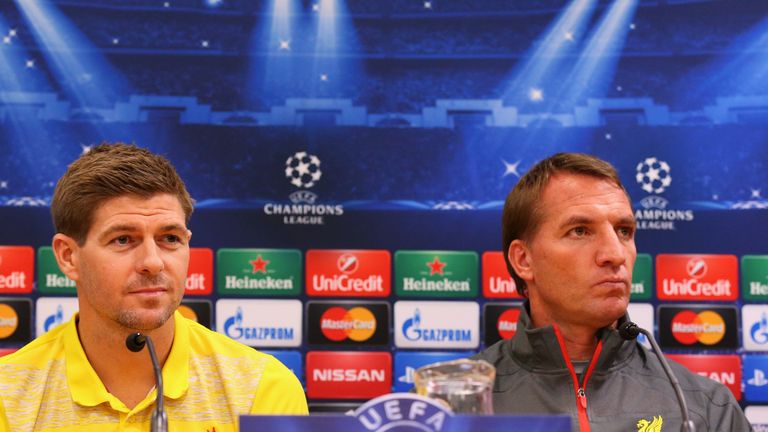 Steven Gerrard is still has a huge influence on the team.
However, ahead of his side's trip to Bulgaria to take on Ludogorets in a crucial Champions League game, Rodgers backed his skipper and says the former England captain will continue to play a key role for Liverpool this season.
"This is about the team," Rodgers said, referring to Liverpool's form.
"Steven has been an outstanding figure for me in my time here and, ok, we're looking at different areas of his game – he's not the Steven Gerrard he was 10, 12 years ago – but we've seen last year how instrumental he was in our climb towards the top of the table.
"He's been the lynchpin of this football club; he's carried this club lots of time on his own for the last 10 years. I think it's unfair, at this stage of his career, to be looking at him as the reason.
"He's a big reason as to why we are where we've got to over the years. If people are expecting the marauding player from 10 years ago, arguably one of the best players in the history of the Premier League, so fast, so strong, of course those days are gone. But he still has a huge influence on the team.
"It might not be as often – Steven will tell you himself he's maybe not able to play the three games in a week to the level we'd want – but [Liverpool's form] is certainly not the fault of Steven Gerrard."
Quality
The 34-year-old has contributed just two Premier League goals and one assist to Liverpool this season, however, Rodgers insists Gerrard's quality remains and he is not picking the player 'on sentiment'.
Instead, Rodgers puts Liverpool's problems down to a constantly changing defence and says his side need more solidity – but is adamant the Anfield outfit will improve as the season goes on.
"Steven and I have had long chats as to where he's at but I don't work on sentiment," said Rodgers. "I think I've shown that in my time here at Liverpool. It's nothing to do with sentiment.
Live UEFA Champions League


"When you're a manager you look at people who are preparing themselves every day of their lives that you can count on and bank on. Gerrard, every day of his life, he comes in, he prepares, supports me as a captain incredibly well and then I see him on the training field and I see his qualities and I see him in the games.
"We probably haven't had a consistent back four and as a team, in terms of our structure, we need far greater solidity for us to go and score the goals.
"We're not scoring the goals at the rate we have but it's a different team, we've got different players and it's my job to find those solutions.
"It's been a mixture of a lot of things, there's a lot less coaching time, more games. If we were to have carried on with the same group and only added a couple of players in the summer then those principles were in place.
"But we can't whine, we can't complain, we just get on with it. I trust in the group of players that as we go on and on we'll get better." 
Watch our extended interview with Brendan Rodgers via Sky Go, On Demand and the Sky Sports for iPad app now. 
Then watch Ludogorets v Liverpool live on Sky Sports 5 HD from 7pm on Wednesday.