Sky Sports football expert Jamie Carragher has criticised Liverpool winger Raheem Sterling for the way he has conducted himself over a possible new contract.
The England star admitted turning down a recent £100,000-a-week contract offer but he remains a Liverpool player until the summer of 2017.
Talks between Sterling and the club are now on hold and are set to resume at the end of the season.
Sterling gave his side of the story this week though, a move former Reds defender Carragher feels was ill-advised.
"For a 20-year-old and his agent to be taking on Liverpool FC in the public domain is a disgrace," Carragher said in his Daily Mail column.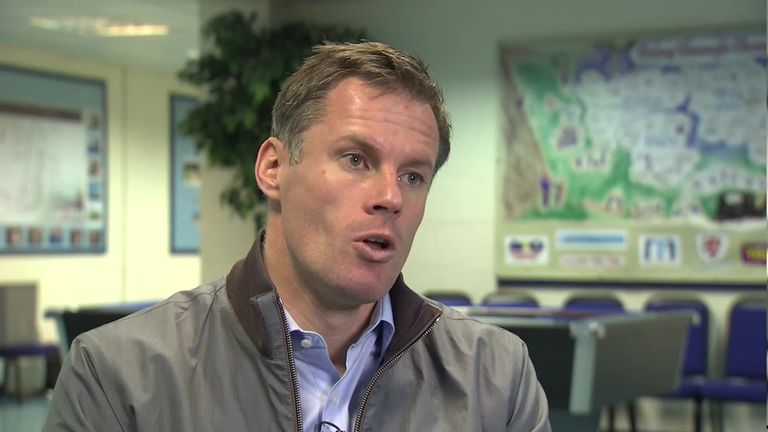 I have no issue about players maximising their earning potential but the agenda that is being driven from Sterling's camp is beyond a joke.
"I have no issue about players maximising their earning potential but the agenda that is being driven from Sterling's camp is beyond a joke.
"The only way any good could have come from the BBC interview was if Sterling had said he was going to sign a new deal. Anything else, as he has discovered, was always going to create a massive problem.
"They cancelled talks with the club but not with the media. If you don't want people talking about an issue, don't talk about it yourself."
Sterling has been linked with a possible move to a number of clubs over the summer, including Arsenal, and Carragher believes he was wrong to admit ahead of Liverpool's game with the Gunners that he was flattered by such interest.
Naive
"He was desperately naive to say such a thing on the eve of such a crucial game. He is also naive, as are his advisers, if he thinks Arsenal would guarantee him a regular place every week," added Carragher.
"What Sterling's camp are struggling to see is that Liverpool is the best place for him. Forget money for a minute. This is about football and his development. He will start the vast majority of games at Anfield. Would that be the case at Arsenal? No.
"He wouldn't play as a centre forward there ahead of Olivier Giroud or Alexis Sanchez. Being a No 10 would be out of the question, as he is not like Mesut Ozil or Santi Cazorla, which would mean a battle with Danny Welbeck and Theo Walcott to start wide right.
"If he went to Manchester City, he would be a squad player again. City play 4-4-2 under Manuel Pellegrini, which would mean him competing with Jesus Navas and Samir Nasri to start on the right.
"As for talk about Bayern Munich (Arjen Robben and Franck Ribery) and Real Madrid (Cristiano Ronaldo and Gareth Bale), he wouldn't get near either of those teams now."
Carragher feels Sterling's handling of the contract stalemate is out of character and is convinced his interests would be best served staying at Anfield.
"He is being perceived as flashy and cocky but that is not the young man I got to know. He was quiet, humble and eager to improve," he said.
"Liverpool and Rodgers are what Sterling needs at this stage of his career. He should realise this. And there is one change I would recommend he makes this summer - and it is not his football club."