Hector Bellerin has become one of the Premier League's finest attacking full-backs since his breakthrough last season. Here, Nick Wright examines his rapid rise from disillusioned Barcelona youngster to trusted Arsenal starter…
A video recently surfaced of Barcelona's Alevín A scoring a mesmerising goal on the training pitches of La Masia. The footage exploded on social media as football fans across the world watched and re-watched the extraordinary skill of Barca's pint-sized prodigies. It was the kind of scene Hector Bellerin might have been a part of not so long ago.
Bellerin joined Barcelona at the age of eight. He was regarded as one of the brightest talents in his age group as he made his way through the youth ranks, but even for La Masia's top prospects the first team can feel lightyears away. Bellerin had watched Cesc Fabregas flourish after leaving for Arsenal as a 16-year-old, so when same opportunity arose for him in 2011, he made the move to north London.
"It was hard, but I always say the train comes just once and you either take it or you don't," he told Sky Sports last month. "I took it and I am very happy with the opportunity Arsenal have given me and very happy to be in the position I am in today."
Bellerin's development accelerated in Arsenal's academy, where he was converted from a winger into an attacking full-back at Arsene Wenger's request. With his searing pace and immaculate technique, it soon became clear that the boy for Barcelona was destined for big things, and former Arsenal defender Martin Keown remembers a sense of anticipation surrounding the youngster.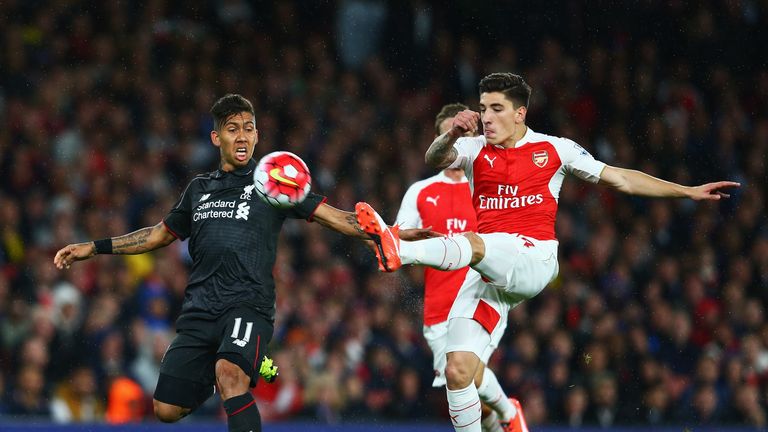 "Bellerin has been a real find," he told Sky Sports of the 20-year-old. "I went to the training ground a few years ago and [former reserves and head development coach] Terry Burton was working with the youngsters. He was doing some extra stuff with Bellerin because he said he thought he had a chance. He's been proved right."
Bellerin would later clock a faster sprinting time than Theo Walcott over 40 metres, and his marauding displays for Arsenal's U19s in the 2012/13 NextGen Series were a sign of what was to come. Bellerin set up Serge Gnabry for their winning goal in the quarter-final against CSKA Moscow, and he claimed two more assists as they were narrowly beaten by Chelsea in the semis.
Live Ford Saturday Night Football


Bellerin was mentored by Bacary Sagna as he began training with the first team, but his first real taste of senior football came with a loan move to Watford. His spell at Vicarage road was cut short in February 2014 following Gianfranco Zola's resignation, but the experience served him well and he returns to the club on Saturday Night Football as a key player in Wenger's XI.
A curtailed loan spell was not the only setback Bellerin had to overcome on his route to the top. His full debut against Borussia Dortmund at the Westfalenstadion 13 months ago could hardly have been tougher, and he was also withdrawn halfway through a galling defeat to Stoke City at the Britannia Stadium in December.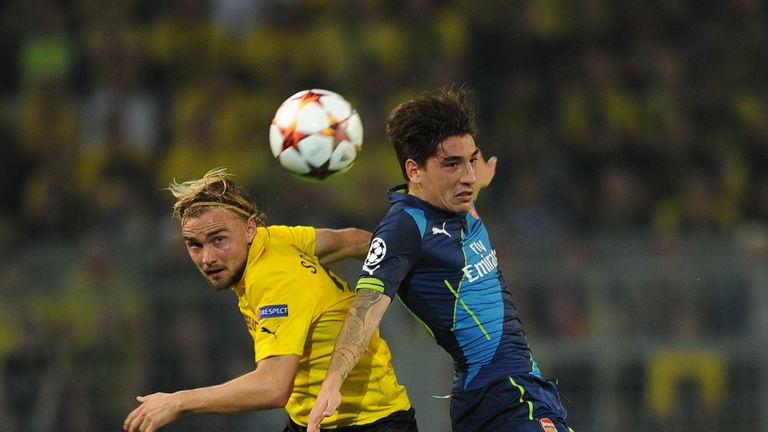 Many young players would have hidden away from the spotlight, but Bellerin kept his place and his determined response showed his strength of character. Sky Sports pundit Gary Neville described his progress as "massively impressive" after he shone in a 2-0 win at Manchester City in February, and his status as first-choice right-back was confirmed when he was picked for the FA Cup final despite Mathieu Debuchy's return from injury.
"Debuchy was a worthy No 1 last year so it was a really big decision for Wenger to put Bellerin in," added Keown. "It's very satisfying for the Arsenal academy to see him come through and do so well. He scored some really good goals as well which showed his composure. We know he's got terrific pace, and he defends really well too. The more he plays the more confident he becomes."
We know he's got terrific pace, and he defends really well too. The more he plays the more confident he becomes.
Bellerin has got better and better this season. He is still honing some of the defensive aspects of his game, but he looks more assured with every passing week, and his blistering acceleration helps him recover on occasions when he is caught out of position. It is at the other end of the pitch, though, where his impact has been most impressive.
Aaron Ramsey's deployment on Arsenal's right flank has been questioned by some, but it has certainly brought the best out of Bellerin. Ramsey's inclination to drift inside gives Arsenal's right-back the freedom to bomb down the flank when they have possession, and he has become a remarkably effective outlet.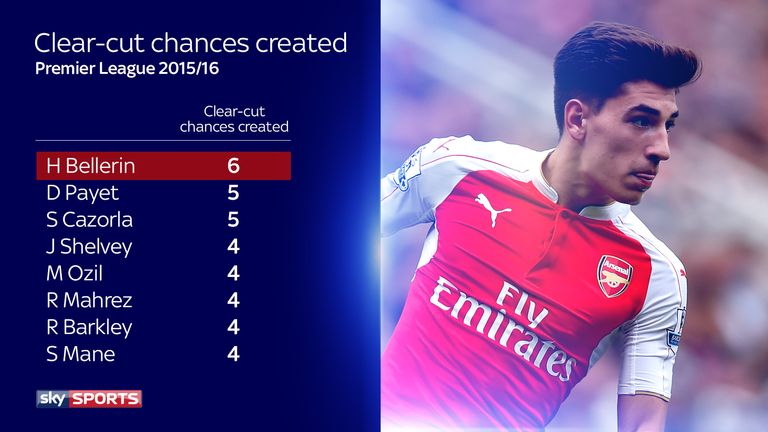 According to Opta, Bellerin has created more clear-cut chances (six) than any other player in the Premier League this season. The likes of David Silva and Fabregas fall well short of that number, and no other defender has created more than two. Indeed, it is only the wasteful finishing of Arsenal's forwards that has prevented him from racking up the assists too.
Clear-cut
Opta define a clear-cut chance as a situation where a player should reasonably be expected to score, such as a one-on-one or a close-range effort.
Bellerin has stamina as well as pace and defends with the same gusto as he attacks. The little Spaniard charges tirelessly up and down his flank, and Premier League tracking data shows he has run an average of 10.7km per game this season - second at Arsenal to Ramsey, who is widely regarded as one of the Premier League's fittest players.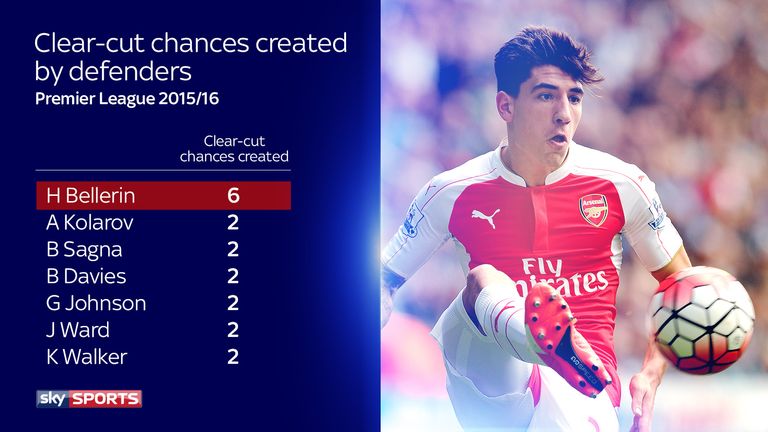 As attacking full-backs go, Bellerin is about as good as it gets in the Premier League. It is surely only a matter of time until he is called up to Spain's senior squad, and in Barcelona they are already cursing his departure.
"If there is one position we don't have absolutely covered by two players, it's right-back," Spanish journalist Josep Minguella wrote in Mundo Deportivo last season. "I shed a symbolic tear every time I see Hector Bellerin start for Arsenal, playing with composure and pace and even scoring goals. His departure was a pity."
For Arsenal, the rewards have been plentiful. Bellerin might be shadowing Dani Alves had he stayed at the Nou Camp, but he has fast-tracked his career in north London. As he said, the train only comes once. And you won't catch him when he boards it.
Watch Watford v Arsenal live on Sky Sports 1 HD from 5pm this Saturday