Former Arsenal and England captain Tony Adams picks his #One2Eleven on The Fantasy Football Club.
Adams, who picks a 4-4-1-1 formation, unsurprisingly selected most of his side from his former Gunners team-mates, where he spent his entire club career.
Who has made the cut? Let's find out...
The Fantasy Football Club - Merse Meets Tony Adams


GOALKEEPER: David Seaman
We have people like Peter Shilton and Pat Jennings, but I've gone for David Seaman because I see him regularly and he would kill me otherwise! He was like Pat and I have always preferred a calm goalkeeper who just goes about their business.
I cannot have a (Peter) Schmeichel who is screaming behind me as I think we would have clashed every two minutes, but we did make him look good by protecting him!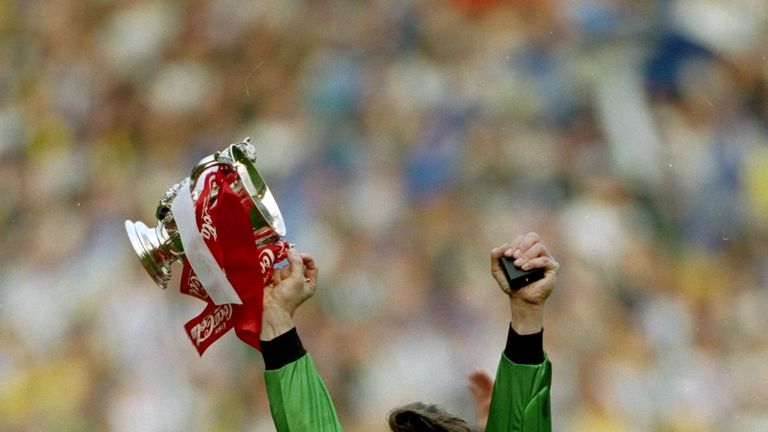 RIGHT-BACK: Lee Dixon
If we are talking individuals, I have got to go for Viv Anderson. If I am talking about a unit then it's Dixon. 
When he first came to the club he got forward a lot and put in a lot of crosses, then he developed with experience. He made himself a player in a similar way (to Gary Neville).
LEFT-BACK: Nigel Winterburn
The same again. You have Ashley Cole who I thought was one of the world's best, but I want to say Nigel because the sum of the parts is always going to be better than some of these individuals. 
It just shows that good club men with the right organisation can become great players. Stuart Pearce was very similar to Gary Neville and Nigel, they were good, honest strong full-backs that did fantastic jobs.
CENTRE-BACK: Steve Bould
It is so difficult to just win the ball and give it simple. There is an art in it and I was never like that as I wanted to go and score the goals and go into midfield and smash one in, I could just not stay there!
It was incredibly frustrating under George's era as I wanted to play and get involved in training, but no, I had to go and do my job and Bouldy did that. He would take the lead and I would float around.
CENTRE-BACK: Tony Adams
Can I just go Dixon, Bould, Winterburn just for longevity? Let's put me in as I just want to get over that with those four it is all about togetherness and the best back four I have ever played in as a unit.
So the sum of the parts is definitely better than the parts as I know individually even Viv, Kenny (Sansom) and Ashley Cole, Sol Campbell - you put them on their own, if you do a one versus one with Thierry Henry with these players, Thierry Henry is going to get past you. But I can guarantee you he would not get past the four of us, so Dixon, Bould, Adams and Winterburn!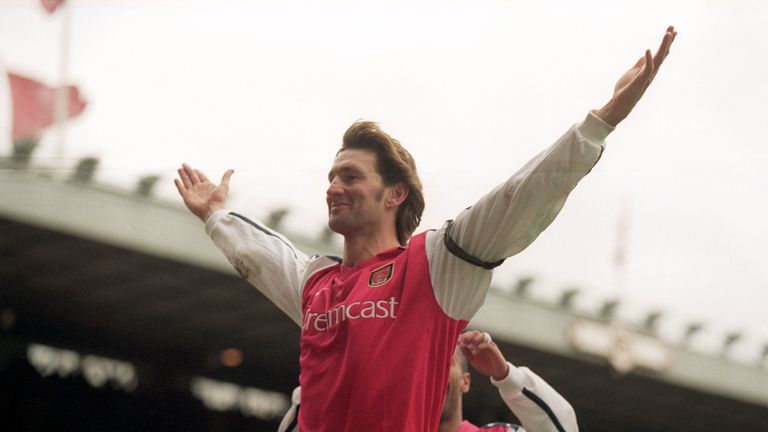 CENTRAL MIDFIELD: Emmanuel Petit
This is the easy bit. Petit could run all day, he was a strong boy and very good technically. You saw with his goal against Brazil in the '98 World Cup final that he was just so athletic and strong. With him in front of me it was literally just a cigar every day, no wonder I was running up the field scoring goals!
He played as a central defender at Monaco and he was just comfortable in every position. Having someone that strong in front of the defence stops so many goals.
CENTRAL MIDFIELD: Patrick Vieira
I'm going to go with Patrick with Petit because they brought out the best in me. They were the perfect balance and the perfect blend, they gave me magnificent protection and could also get forward, play and create goals.
Patrick took his time, then he grew in confidence and when you're winning things we were never going to suppress him. Even when he was getting sent off every week we never said a word to him!
He was a wonderful footballer: strong, 6ft 3in and you speak about both (Viera and Petit) in the same category.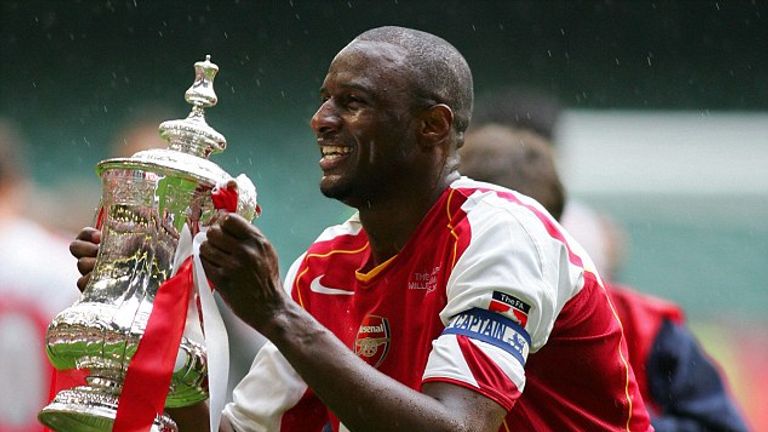 RIGHT-MIDFIELD: David Beckham
I really struggled with right-hand side players. I was thinking about putting (Glenn) Hoddle or Gazza (Paul Gascoigne) there but I've gone for David Beckham because of his delivery work rate for the team.
I want someone like him instead of Gazza because you know he's going to be there for 40 games a season delivering like that and working like that. 
LEFT-MIDFIELD: Robert Pires
I think he could run quicker with the ball than I could without it! He had an unbelievably low centre of gravity. He could just play and he's got the trophy cabinet. 
I said to him when he first came: "Listen, this is a tough league. You need application and training every day." He just took all that on board.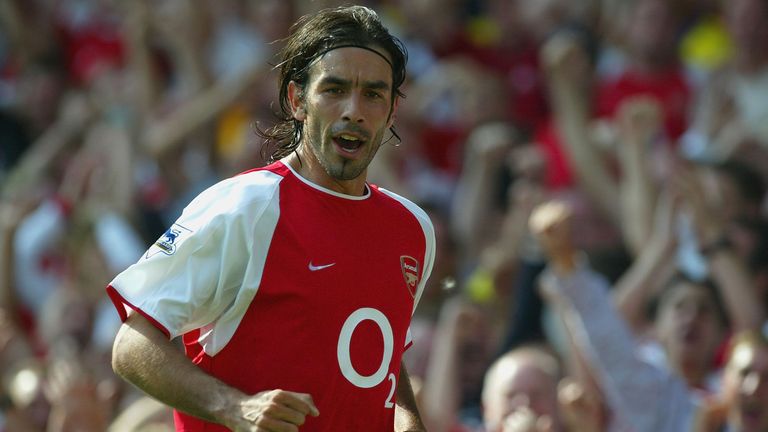 NO. 10: Dennis Bergkamp
Teddy (Sheringham) was underestimated I think, maybe because he was English. But I'm going to go for Dennis, I can't play without Dennis! 
The only grief I had with Dennis was just before we won the league in '98 and we were at Middlesbrough away and I said: "Look, with all the talent you've got and you've not won anything, doesn't that hurt you?" 
I could see it kind of did, and I think it got a bit of a reaction out of him. I do believe me and Bouldy in tackling and in training gave him a bit of tenacity that he needed. He needed to want it a little bit more, but he was tremendously gifted. 
STRIKER: Thierry Henry
You've got Alan Smith who got two Golden Boots and Ian Wright who also scored a hatful in a defensive team. Maybe if Wrighty was there in a different era he would have got more than Thierry Henry. 
I saw Henry before the '98 World Cup and he was playing left-wing, and even Arsene couldn't have seen what he would develop into as a centre forward.
Naturally because he played left-wing all those years he naturally slipped to that side and came up with that right-foot finish. It was always natural for him and he must have got about 50 goals just doing that move!
Watch Tony Adams on the Fantasy Football Club from 1pm on New Years Day on Sky Sports 5.