Lucas Perez will provide Arsenal with a vital extra attacking option, according to former Gunners striker Alan Smith.
Perez scored his first and second goals for the club in Tuesday's night's 4-0 win at Nottingham Forest in the EFL Cup.
With Olivier Giroud missing with a toe injury and Alexis Sanchez, who has been used as a centre-forward by Arsene Wenger this season, rested for the evening, Perez seized his opportunity to make his mark in the first team.
And Smith feels the performance of Perez, a £17.1m summer transfer window addition from Deportivo La Coruna, provided Wenger with an extra dimension to his attack.
"It was good to see him do well and it was good to see him causing damage through the middle," he said.
"On his debut he was drifting into the harmless areas but that might have been a confidence thing.
"The goals will certainly boost his morale. [Alexis] Sanchez has been playing as a false nine, so Perez definitely gives them another option.


"He's a strong boy, you saw that with the solo goal he scored. He won't get bullied and he's got a bit of pace about him.
"It's a contrast to what they had already and that's what they needed. He might be a late developer but he's a good option for Arsene Wenger."
Wenger himself praised Lucas' contribution - even if he did highlight the Spaniard's apparent over-reliance on his left foot.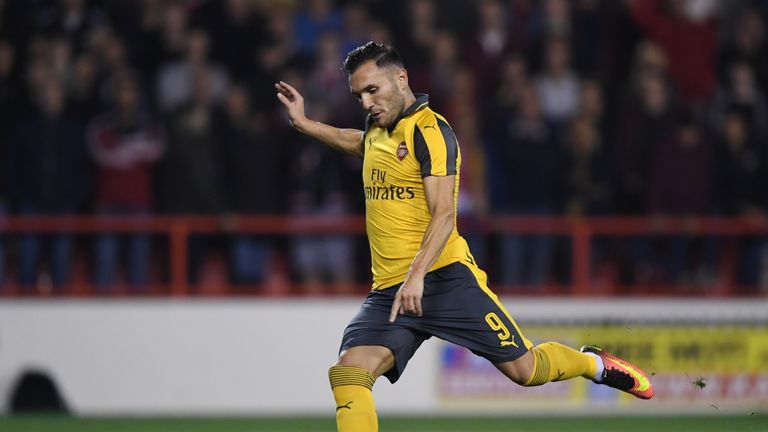 "He did well," Wenger said. "He's quick, he's determined. He uses well his left foot - a bit too much in my taste. He doesn't use his right enough. Overall he's like all the left-footed players, you know.
"But I like his second goal because he has shown not only technique but determination and fight for the ball and finishing and I like that. The part he played in the goal of [Alex] Oxlade-Chamberlain shows his awareness of other people and it is intelligent play."
Watch Man Utd v Leicester, the Ryder Cup and the EFL Cup as part of our three months' half-price offer.