Arsenal's struggle to create chances in their goalless draw against Middlesbrough highlighted the importance of Santi Cazorla, writes Adam Bate.
Perhaps Arsene Wenger had tempted fate with his programme notes. "Maybe the reason for us scoring freely of late is that we've been making more of our chances," he'd argued. "The final ball is better. Is that because our finishing is better? It's difficult to analyse at the moment, but what is for sure is that we score more goals. We score lots of goals."
On the occasion of his 67th birthday, the Arsenal manager should know by now that football can soon bite you and so it proved. Having scored in each of their previous 10 matches, notching up 29 goals in the process, the Gunners couldn't come up with one at home to newly-promoted Middlesbrough, a team now on an eight-game winless streak.
What's more, it could have been worse. "We could have lost the game," admitted Wenger. Indeed, Boro had by far the better of the opportunities with Alvaro Negredo and Gaston Ramirez both going close. Arsenal, meanwhile, barely forged a clear-cut opening - firing off just two shots inside the box to their visitors' eight.
Wenger pointed to the amount of possession his side had but much of it left Middlesbrough untroubled. Penetration was lacking. "We had 75 per cent possession but we did not always have enough pace and enough sharpness in our movement," he admitted. "There was not enough creativity today." He may as well have screamed out the name of Santi Cazorla.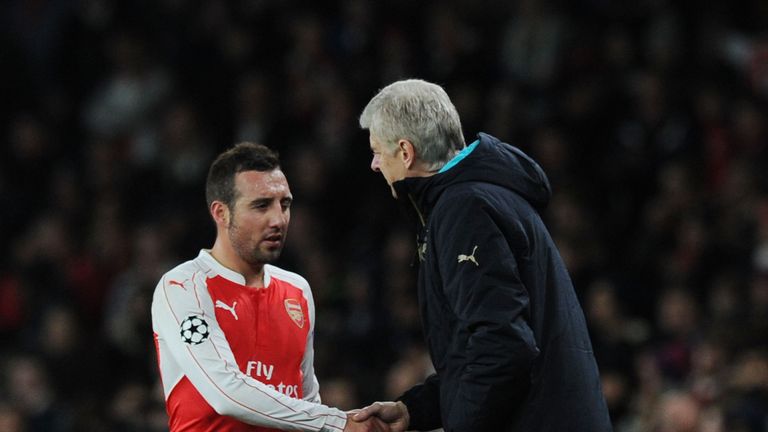 The Spaniard had started every one of Arsenal's six Premier League wins in a row but was missing on Saturday with an Achilles problem. It was the first time Cazorla had not been in Wenger's starting line-up since the opening weekend defeat to Liverpool. Even then, the team had scored twice in 15 minutes following his introduction as a substitute.
When asked afterwards whether Olivier Giroud might have made a difference, Wenger was keen to emphasise that his compatriot's absence was no excuse. But he made an exception when it came to Cazorla. "Of course, you miss always Cazorla," he said. "From deep midfield into the final third, with his pass he is always quick and accurate."
That was precisely the incision Arsenal lacked. Mohamed Elneny's metronomic distribution has its merits. He completed 73 of his 78 passes in the opposition half. Fellow sitting midfielder Francis Coquelin found a team-mate with 70 out of 75 passes in the Boro half himself. But neither man was capable of threading the ball through the lines like Cazorla.
When they tried to do it, things went awry. Early on, Coquelin attempted something more imaginative, dinking a delicate ball over the top, but it was easily cut out. He then overhit a sweeping pass, something he tried unsuccessfully once more when trying to find Hector Bellerin on the overlap just before the break. Cazorla's accuracy and ambition was missing.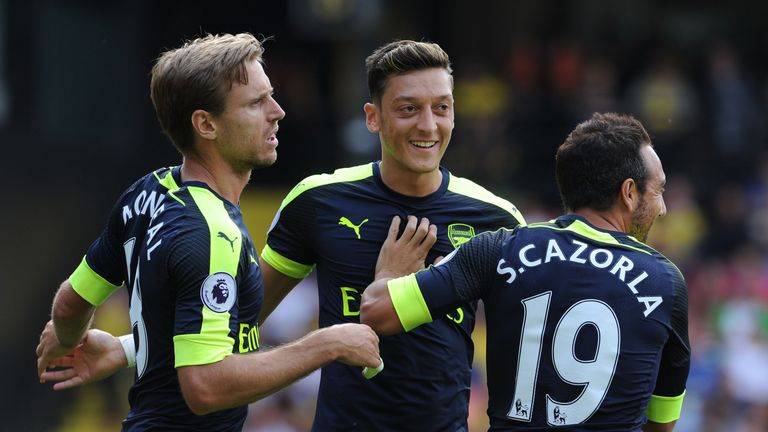 It was particularly an issue for Mesut Ozil. His link-up with Cazorla has been a long-time feature of Arsenal at their best. It's perhaps the most effective pass combination in the Premier League. Cazorla looks to feed Ozil regularly, progressing possession and putting Arsenal on the ball in dangerous positions time and time again with that fast pass into feet.
Arsenal - Best pass combinations 2016/17
| | | | |
| --- | --- | --- | --- |
| Santi Cazorla | Mesut Ozil | Hull | 28 |
| Shkodran Mustafi | Laurent Koscielny | Southampton | 27 |
| Santi Cazorla | Mesut Ozil | Chelsea | 26 |
In Arsenal's last away game against Burnley, Cazorla found Ozil on 23 occasions. In the home game prior to that against Chelsea it was 26 times. In the away win at Hull, Ozil received no fewer than 28 passes from his team-mate. It's a key passing lane and Cazorla has become an expert proponent of the pass before the pass.
In each of those examples, Cazorla to Ozil has been the most common pass combination on the pitch. Against Middlesbrough on Saturday, it was Shkodran Mustafi to Elneny. The second most? Elneny to Coquelin. Third most? Coquelin to Elneny. It's an indication of Arsenal's failure to develop their attacks without Cazorla in the side.
Arsenal - Best pass combinations v Middlesbrough
| | | |
| --- | --- | --- |
| Shkodran Mustafi | Mohamed Elneny | 18 |
| Mohamed Elneny | Francis Coquelin | 17 |
| Francis Coquelin | Mohamed Elneny | 16 |
An oft-discussed concern about Arsenal has been whether Cazorla's presence as one of the two deepest midfielders in the side is really strong enough to deliver a Premier League title, given the risk of being physically overpowered. However, here was a reminder of what he does bring. In fact, it's legitimate to flip the question on its head. Can they win without him?
In the past four seasons, Arsenal average 2.15 points per Premier League game with Santi Cazorla in the starting line-up compared to only 1.63 points without him – the difference between finishing first or seventh last season.
In each of the past four seasons, Arsenal's win percentage and points-per-game record is significantly inferior in Cazorla's absence. While averaging 2.15 points per game in the 85 Premier League games that he has started, Arsenal have picked up only 1.63 points per game in the 38 games in which he's not been in the line-up.
To put that into some sort of context, if those 38 games had come back-to-back last season it would have left Arsenal well out of the top four and instead level on points with seventh-placed West Ham. In contrast, the average of 2.15 points per game would have been enough to beat Leicester to the Premier League title.


All of which makes it extraordinary that the 31-year-old midfielder is out of contract in the summer. Amid all the talk of new deals for Ozil and Alexis Sanchez, the little maestro should not be ignored either. But before that, there are more imminent concerns. Getting Cazorla back to fitness is the priority now.
Asked when the player will return, Wenger could offer no guarantees. "I don't really know," he admitted. With huge games coming up against Tottenham and Manchester United next month, he can't return soon enough. For while Wenger might feel Arsenal's recent good form has been "difficult to analyse" he's now been given a huge clue. Arsenal need Santi Cazorla.
You can watch Premier League football, plus England's tour of Bangladesh and lots more on Sky Sports. Upgrade now and enjoy six months at half price!