Arsenal manager Arsene Wenger has ruled out entering the January transfer market to search for a replacement for the injured Santi Cazorla.
The Spanish midfielder was ruled out for three months on Thursday as he needs surgery on an ankle injury that has kept him out of action since the 6-0 Champions League win over Ludogorets on October 19.
But despite Jack Wilshere being out on loan at Bournemouth, Wenger is comfortable with his options in midfield and will not be seeking reinforcements.
"In midfield we have many players, but there's two reasons. We have the numbers in quality. Secondly, in January, you wouldn't necessarily find a Cazorla even if you wanted to," Wenger said.
"For me it's very bad news because with surgery you never know the date they will play again. 
"I try best to avoid surgery because it creates anxiety and rehab, in this case unfortunately we have come to that conclusion and now they tell me he will be out for at least two months but two can be three.
"Santi is desperate to play. Hes only happy on the football pitch. He wants to get out of that vicious circle of coming out and back in again."
"What's going wrong is that he has an inflammation at the back of his foot - no one knows where it comes from. He has been treated against inflammation. The injections have not got rid of it. The consultant decided to have exploratory surgery to see what is going on in there."
Speaking ahead of Saturday's trip to West Ham, Wenger also revealed that full-back Mathieu Debuchy has been ruled out for six weeks with a "severe" hamsting injury.
The France international made his first appearance for Arsenal in more than a year in the 3-1 win over Bournemouth last weekend, but was forced off after just 15 minutes and missed the EFL Cup quarter-final defeat to Southampton on Wednesday.
"It's a severe hamstring injury, six weeks I think," he said. "Look it's frustrating for me, but even more for him. He fights very hard, has exceptional attitude.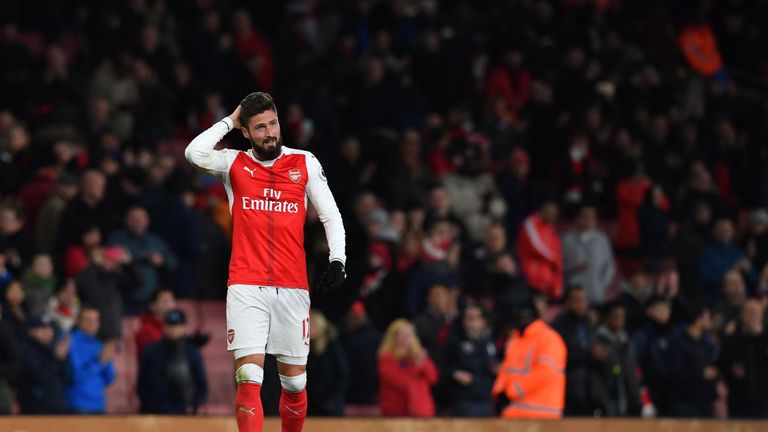 "He's very serious. Overall I think that he is absolutely disappointed. But he is as well a fighter; he will fight to come back."
Hector Bellerin, Danny Welbeck are definitely out this weekend while striker Olivier Giroud is a major doubt.
"I thought Giroud would be available, but the last news I got is that he might not be available tomorrow," added Wenger. "He will be tested today. But he will be available for Tuesday."
Upgrade to Sky Sports now and get 12 months half price. Hurry, offer ends December 4!