Arsenal's Santi Cazorla confirms ankle surgery a success
By Charlotte Bates
Last Updated: 08/12/16 5:49pm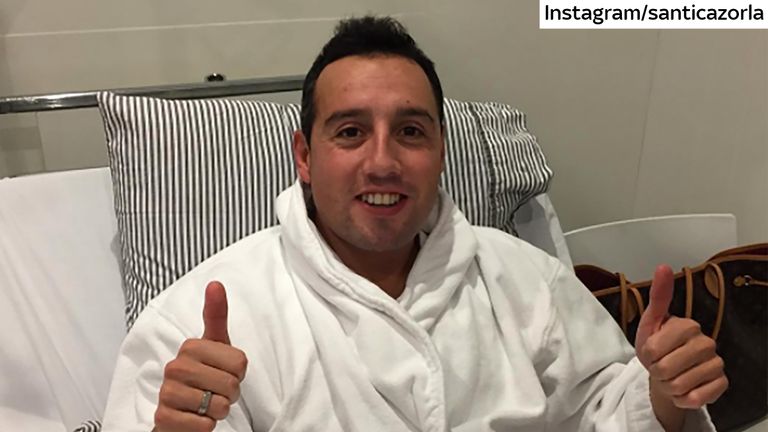 Arsenal midfielder Santi Cazorla has confirmed via social media that he has undergone a successful operation on his ankle.
The 31-year-old travelled to Sweden this week to receive surgery on the plantaris tendon in his right ankle, which has persistently troubled the Spaniard.
Cazorla has been sidelined since he was hurt an hour into the club's 6-0 Champions League win over Ludogorets on October 19.
Arsenal manager Arsene Wenger confirmed in December that the midfielder was likely to be out until March after opting for surgery.
But Arsenal supporters were given a boost after Cazorla posted a picture on Instagram from the hospital bed to reveal his operation went well and that he is on the road to recovery.
"Surgery done," he wrote on Instagram. "It was perfect! Looking forward to be back with you at #EmiratesStadium @Arsenal #countdown."
Despite Cazorla's injury, Wenger ruled out entering the January transfer market to search for a replacement midfielder.
"In midfield we have many players, but there's two reasons," Wenger said. "We have the numbers in quality. Secondly, in January, you wouldn't necessarily find a Cazorla even if you wanted to."
"Santi is desperate to play. Hes only happy on the football pitch. He wants to get out of that vicious circle of coming out and back in again."
"What's going wrong is that he has an inflammation at the back of his foot - no one knows where it comes from. He has been treated against inflammation. The injections have not got rid of it. The consultant decided to have exploratory surgery to see what is going on in there."