Eden Hazard inspired Chelsea's 3-1 win over Arsenal but was he given too much freedom by the visitors? Arsene Wenger could be paying the price for not paying enough attention to the opposition, writes Adam Bate.
"Here they give us much more information than they do at Arsenal, definitely. At Arsenal we don't really look at anything from the other team, we look at ourselves and that's it. Here, maybe two to three days before the game, we start looking at some videos, we know more or less the starting eleven that is going to play... we know nearly everything about them."
Cesc Fabregas was speaking in 2010 about the Spain side that went on to win the World Cup that summer. But his words no doubt apply to his new club Chelsea too. It was Fabregas who came off the bench to chip his old team-mate Petr Cech in Chelsea's 3-1 win over Arsenal at Stamford Bridge on Saturday and underline the gulf between the two teams when it matters most.
Antonio Conte obsesses over tactics. His great friend Fabrizio Ravanelli says he spends hours studying videos. Goalkeeper Thibaut Courtois admits it is not the best bit of the week on the training ground but acknowledges it is a necessary part of the preparation. In contrast, their opponents at the weekend looked like a side who had simply not done their homework.
"Have Arsenal been bad? No," said Gary Neville on co-commentary for Sky Sports.
"However, it just feels like the same. Not strong enough, not resilient enough, not powerful enough and not good enough ultimately to compete in a match of this nature in an important part of the season when they can apply a bit of pressure to their rivals. They have fallen well short."
And yet, for all the focus on Arsenal's failing mentality, it was their tactical deficiencies that were so striking at Stamford Bridge. With all the will in the world, Hector Bellerin could not outjump Marcos Alonso - especially when receiving an elbow to the face - but why was the wing-back allowed to wander unmarked into Arsenal's area in the first place?


Players were not tracked and it was far too easy for Eden Hazard and Pedro to pick up pockets of space. Tellingly, Pedro had more touches (43) than any other Chelsea player in the first half and Hazard had only one fewer. Arsenal had more possession and made more passes but time and time again Chelsea's dangerous duo were left free to break at speed.
Neither Bellerin's replacement Gabriel nor Nacho Monreal did what should have been their primary job. "You are almost saying with both full-backs that you are going to cause more danger to Chelsea than Chelsea are going to do through Pedro and Hazard," said Neville. "Imagine having that thinking and that thought process in a game of this nature."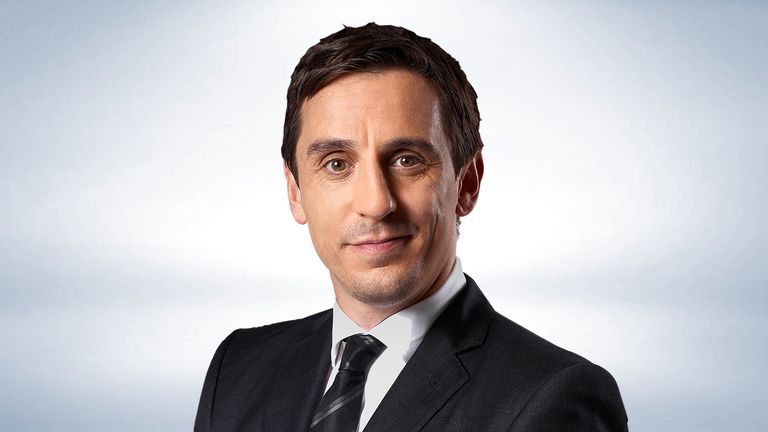 How can Arsenal in such a big game get themselves exposed like they are with the two centre-backs?
Speaking during the game, he explained: "We used to call it two and a half. One full-back goes forward, the other full-back has to be half in. You cannot have both fully committed to going forward. I think Arsenal should employ a two-and-a-half system with their full-backs because they are getting killed on this counter-attack."
Neville added: "The full-backs have been positionally very poor in terms of understanding the danger in the game with Pedro and Hazard. They are just set up to counter-attack on like you wouldn't believe. How can Arsenal in such a big game get themselves exposed like they are with the two centre-backs? They need to be more solid than that."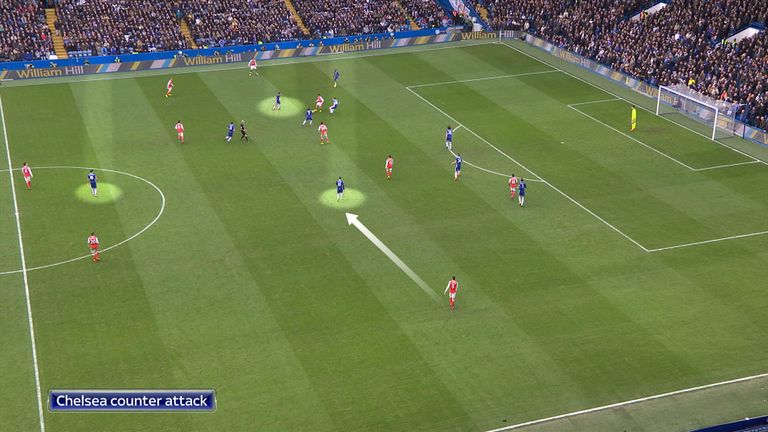 There was another warning in the opening moments of the second half when Laurent Koscielny was forced into a desperate tackle to stop Hazard running clean through. But there was nothing that the centre-back could do to stop the brilliant Belgian when he burst away from Francis Coquelin to double Chelsea's lead soon after.
The sight of Coquelin being shrugged off the ball and deposited onto the turf by Hazard was a defining moment. Again, it can be construed as a lack of desire but this is where mentality meets tactics. While Nemanja Matic and N'Golo Kante seemed instructed in the importance of stopping the counter-attack, for Arsenal it almost appeared optional.
Eden Hazard and Pedro combined touches at Stamford Bridge this season
| | | |
| --- | --- | --- |
| Dec 26th 2016 | Bournemouth | 146 |
| Feb 4th 2017 | Arsenal | 141 |
| Jan 22nd 2017 | Hull | 134 |
| Nov 5th 2016 | Everton | 122 |
| Oct 15th 2016 | Leicester | 117 |
| Aug 27th 2016 | Burnley | 101 |
"I would say that's game intelligence," Jamie Redknapp told Sky Sports. "The opposite of that is what Arsenal have done. I don't want to take away the beauty of the Hazard goal but Coquelin has to stop that counter-attack one way or another even if he pulls him down and takes the booking for the team. I think that shows the naivety of Arsenal in a nutshell."
It is the sort of naivety that leaves Arsenal set to miss out on the Premier League title for a thirteenth consecutive season. The sort of naivety that separates champions from also-rans. The sort of naivety that stems from the top and for which Arsene Wenger must surely now shoulder responsibility. The necessary tactical adjustments are just not being made.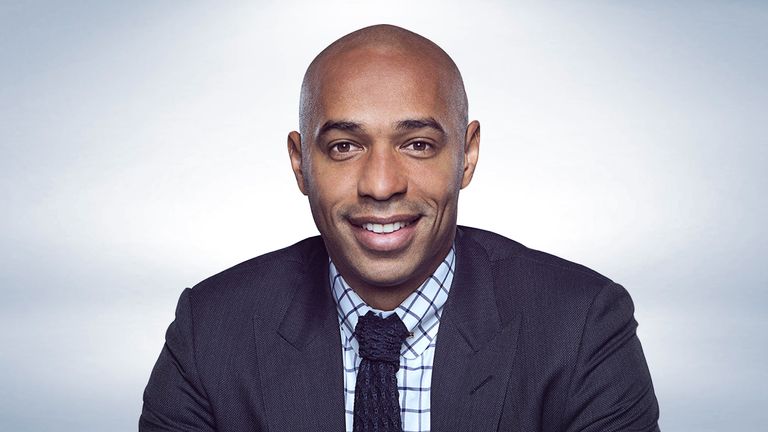 We knew exactly what to expect from Chelsea. You can't come here and play the way you play against a team like that.
"You can't come here and play the way you play against a team like that," said Arsenal legend Thierry Henry in the Sky Sports studio. "We knew exactly what to expect from Chelsea." Everyone knew what to expect. But did Arsenal put a plan in place to stop it? There was no evidence of that. The game did not even change after the break.
Hazard and Pedro showed their quality but it is impossible to shake the feeling that they were allowed to showcase it. The two men had more touches than any other Chelsea players prior to their withdrawal after 83 minutes. More touches than they have had against any opponent at Stamford Bridge this season with the exception of Bournemouth.
Most completed dribbles in a Premier League game in 2016/17
| | | | |
| --- | --- | --- | --- |
| Eden Hazard | Chelsea | Bournemouth | 13 |
| Adama Traore | Middlesbrough | Chelsea | 12 |
| Adama Traore | Middlesbrough | West Ham | 11 |
| Wilfried Zaha | Crystal Palace | Leicester | 11 |
| Eden Hazard | Chelsea | Arsenal | 10 |
| Raheem Sterling | Man City | Bournemouth | 10 |
There is an obvious correlation between opportunity and effectiveness. Man of the match Hazard completed 10 dribbles, his best effort of the current campaign aside from that Bournemouth game. Pedro created more chances than in any previous game this season. "Arsenal let you play," was Neville's withering verdict. "They just let you play."
It is seven years since Fabregas offered his own assessment on life at Arsenal. No league title has been won in that time and the only change is that, after back-to-back defeats, the risk of missing out on the top four is growing. When will Arsenal learn? Unfortunately for Wenger, it is difficult to see the signs that they ever will while he is at the helm.