Arsenal legend Charlie Nicholas believes Arsene Wenger has already decided that he will leave the Emirates beyond the summer.
Speculation surrounding the 67-year-old's future was cranked up with last week's 5-1 thumping at Bayern Munich and is only likely to rumble on with his contract expiring in the summer.
Wenger said at his press conference on Friday that he will not retire this summer, even if it means managing a club other than Arsenal.
With the Gunners looking set to exit at the last-16 stage of the Champions League for a seven successive season and expected to endure a 13th straight campaign without winning the Premier League, all eyes will be on Wenger in the Sutton United dugout on Monday night for their fifth-round tie in the FA Cup.
Cup success has eased the pressure in recent seasons but with a top-four finish far from secure, the Frenchman's future at the club has never looked more in doubt.
However, Nicholas believes Wenger is all but sure as to whether he will extend his 21-year stay at the club come the end of the season.
He said: "I think he's made his mind up and that it is done. He just looks like a man who has already admitted his time is up.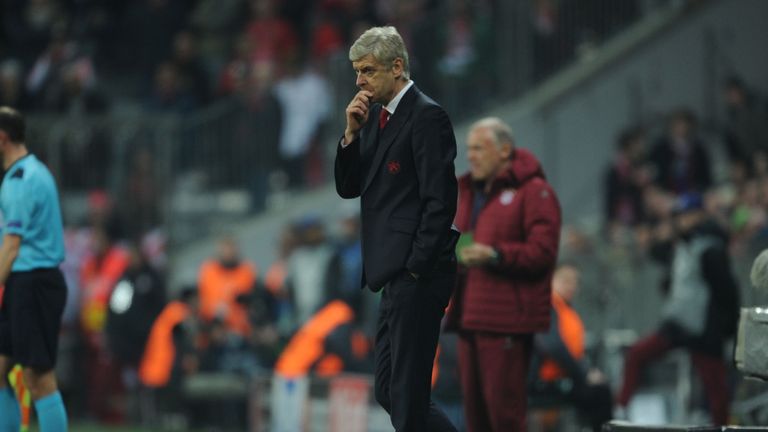 "The big factor he must be realising is that the players are not improving under him. He finally started spending the money and the team hasn't got any better.
"He's not getting the best out of Mesut Ozil, who you'd have thought would become a world-class player at Arsenal. It's only Alexis Sanchez who is really performing to his potential and he's looking around at his team-mates for help and isn't getting it.
"Things are getting poisonous now, for both his own health and the club, and I feel tremendously bad for saying it. I apologised last season when I said he should go but he knows it's time.
"I've never really heard him use the terms using the term 'nightmare' like he did after the Bayern game.
"He worries about everything and it's reflected in the mentality of the players. Jeff showed us a clip on Soccer Saturday where after 60 seconds he was out of the dugout and rubbing his hands and looking anxious. That said it all."