Few players divide opinion quite like Mesut Ozil, but are the criticisms of the Arsenal midfielder fair - or has he been made a scapegoat?
Ozil has been back in the spotlight this season, urging club legends to "stop talking and start supporting" after he came in for criticism during Arsenal's 4-0 thrashing by Liverpool.
Ozil will be under scrutiny again when Arsenal face Premier League champions Chelsea on Nissan Super Sunday, but is he really lazy? And do the stats suggest he goes missing in big games? We take a look.
Is Ozil lazy?
Laziness is one of the most common criticisms levelled at Ozil. The 28-year-old's body language can make him appear detached and disinterested, and his tendency to throw up his arms in frustration when he loses possession frequently causes consternation among fans and pundits.
Ozil addressed the issue towards the end of last season, saying: "Some people like me, some people don't. Some people look at my body language and think I don't care. But that's me. I won't change my body language or my style of play drastically anymore."
Arsene Wenger, meanwhile, insists Ozil's body language is deceptive. "He is a guy who works much harder than people think, but his body language goes against him sometimes," he said last season.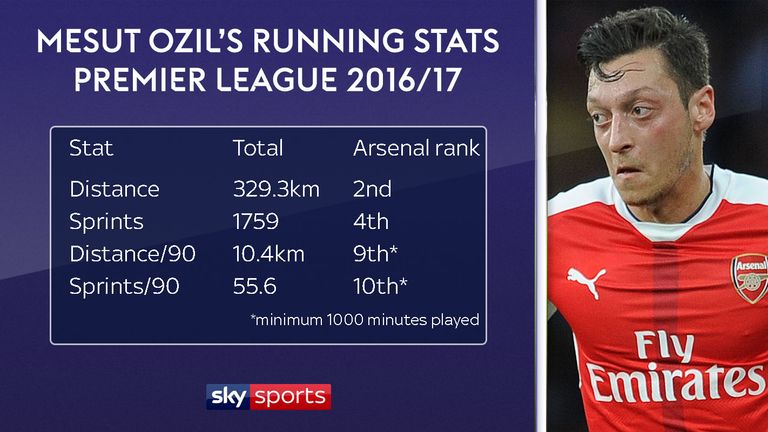 But what do the stats say? According to Premier League tracking data, Ozil covered 329km last season - second only to Nacho Monreal at Arsenal. His total of 1759 high-intensity sprints was only bettered by Monreal, Alexis Sanchez and Hector Bellerin.
The numbers become less impressive, however, when they are broken down on a per 90 minute basis. Ozil, who played 2847 minutes last season, actually ranked ninth for distance run per 90 minutes and 10th for sprints per 90 minutes among the 15 Arsenal players who played a minimum of 1000 minutes.
There are, however, notable caveats. Wenger deliberately gives Ozil less defensive responsibility than most of his team-mates, and his totals were probably affected by a heavy workload as well. Of Arsenal's outfield players last season, only Sanchez and Laurent Koscielny played more league minutes than Ozil.


Indeed, it is no coincidence that after a summer off to recuperate, his averages have risen from 10.4km covered per 90 minutes and 56 sprints per 90 minutes to 10.8km covered and 61 sprints in the new campaign.
Sanchez is also an interesting comparison. The Chilean is frequently lauded for his work rate and off-the-ball industry, but the tracking data shows he ran an average of 1.5km less than Ozil per 90 minutes last season. Perhaps Wenger has a point about his body language after all.
Does Ozil go missing in big games?
Ozil's poor display in Arsenal's 4-0 defeat by Liverpool reopened the debate over his big-game record. The German was singled out by Sky Sports pundit Gary Neville for his failure to track back in the build-up to Liverpool's second goal, and many supporters were similarly unimpressed.
Ozil was brought to the Emirates Stadium to help the bridge the gap between Arsenal and the Premier League's best, but memorable individual performances against the top six have been infrequent. He shone in Arsenal's 3-0 home wins over Manchester United and Chelsea in 2015/16 and 2016/17, but more often than not he has struggled to make an impact.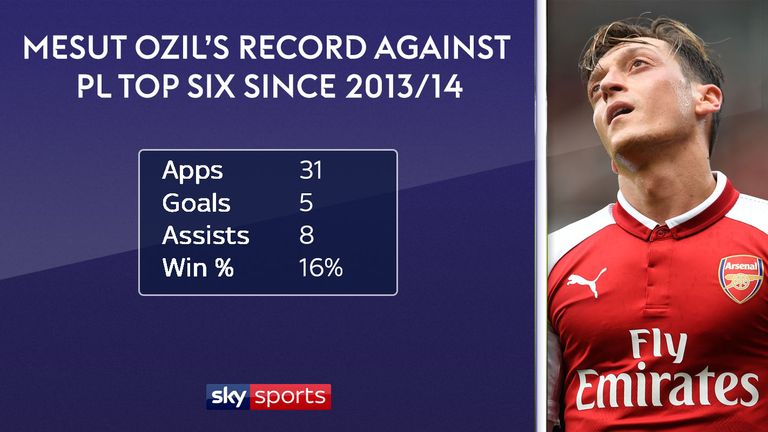 In total, he has scored five goals and claimed eight assists in 31 Premier League appearances against Chelsea, United, City, Tottenham and Liverpool. He cannot be held solely responsible for Arsenal's poor record in those games, of course, but a win percentage of just 16 per cent does not reflect well on a player who was supposed to take the club to the next level.
Arsenal supporters will also remember a string of disappointing showings in big Champions League games. Ozil was not the only player to struggle badly during Arsenal's 10-2 aggregate defeat to Bayern Munich last season, but his indifferent displays did little to dispel the notion that he shies away from taking responsibility in big games.
Does Ozil not do enough?
Martin Keown said Arsenal could no longer afford to "carry" Ozil after their 1-0 loss to Stoke last month, but is it right to suggest the German doesn't do enough to merit his place in the team?
His off-the-ball contribution may seem inadequate at times, but there can be no disputing Ozil's importance to Arsenal's attack. "At the end of the day his style is his style and what you measure with Mesut Ozil is the efficiency," said Wenger last season. "His basic quality is retention and the creation of goal chances."
Ozil certainly excels in those regards. Since his arrival in England in the summer of 2013, he has created more chances (401), more big chances (51) and provided more assists (42) than any other Premier League player.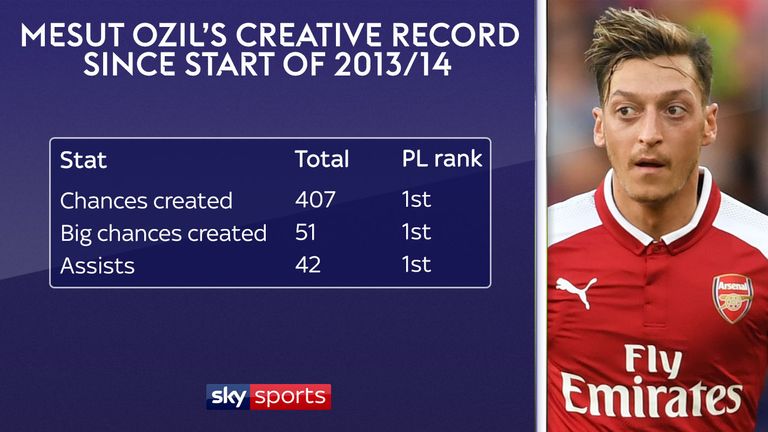 He was only one assist short of matching Thierry Henry's record for assists in a Premier League season when he registered 19 in 2015/16. In Arsenal's 2-0 win over Sunderland in May, he created the most chances in a single game (12) since Opta started taking records. Indeed, if it wasn't for wasteful finishing, Ozil's assists total might be far higher.
As well as possessing the guile to open up opposition defences with key passes, Ozil is essential to Arsenal's build-up play. No Premier League player made more passes ending in the final third than Ozil in 2016/17, and it's the same story so far this season. For all the criticism of his performances against Stoke and Liverpool, Ozil still ranks top for chances created with 15.
As for goals scored, Ozil has only reached double figures in one of his four full seasons at Arsenal. He admits it's an area of his game he needs to improve, but there is plenty of other evidence to show why Wenger regards him as an undisputed starter. The debate will continue, but now it's up to him to produce a big performance at Stamford Bridge on Sunday.