Arsene Wenger on title triumphs, key signings, painful defeats and more ahead of managerial record
Last Updated: 28/12/17 11:47pm
With Arsene Wenger set to surpass Sir Alex Ferguson's record for Premier League games managed, the Arsenal boss looks back on title triumphs, key signings, painful defeats, 'Pizzagate' and more…
Thursday's match with Crystal Palace, live on Sky Sports Premier League, will see Wenger move level with Ferguson on 810 Premier League games as a top-flight manager.
The 68-year-old will then become the outright leader on 811 when Arsenal travel to West Brom on New Year's Eve, also live on Sky.
Ahead of this marquee moment, the man himself looks back on his time at Highbury and the Emirates, which has produced three Premier League titles and seven FA Cups so far…
October 1996
Wenger's first game in charge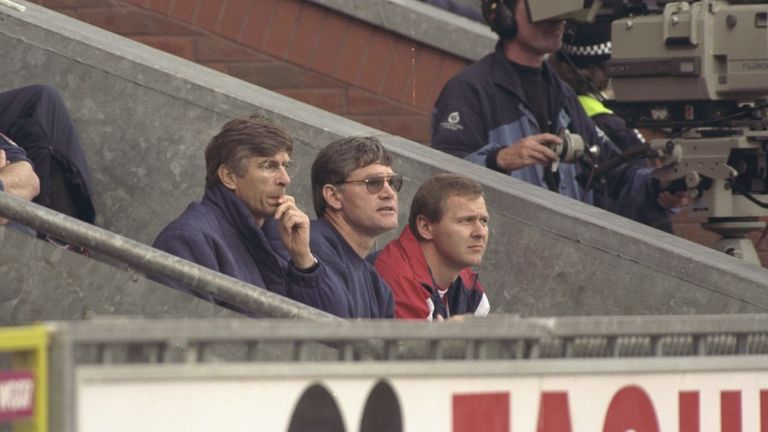 "My first game at Blackburn. There's a young Pat Rice and Gary Lewin next to me! And me thinking, 'What's going on?' there, certainly looking a bit lost.
"It was a happy experience because we won the game."
September 1997
Ian Wright breaks Arsenal's goalscoring record
"Ian Wright had all the qualities to be an idol because he was determined, enthusiastic and a very efficient finisher.
"But he was also an extrovert, who had a heart and would show his feelings and could communicate with the fans. He was a star."
May 1998
First Premier League title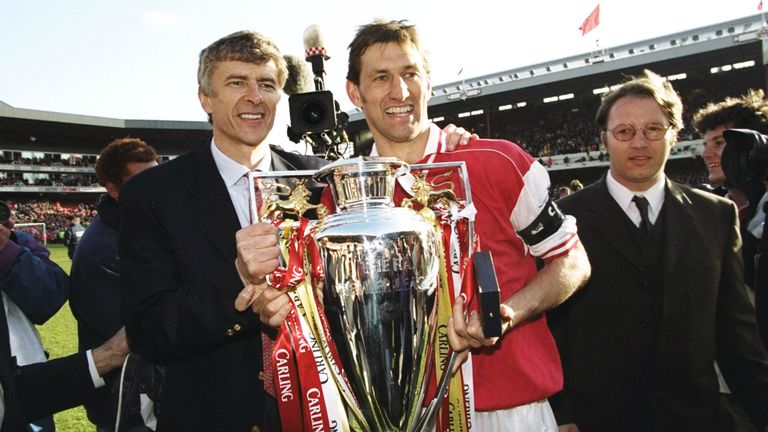 "My first trophy, with Tony Adams, who when I came over I didn't even know who to face, but he was an exceptional defender, a special personality as well.
"You have respect for people who do well for the club because basically, to be a manager, you have to put your destiny in the hands of the players. That demands a special trust.
"One of the characteristics of a manager is not to experience that as a negative, but as a positive. These were people, you know the back four, when they told you we would win on Saturday, they were able to stand up and do it."
August 1999
Thierry Henry signs from Juventus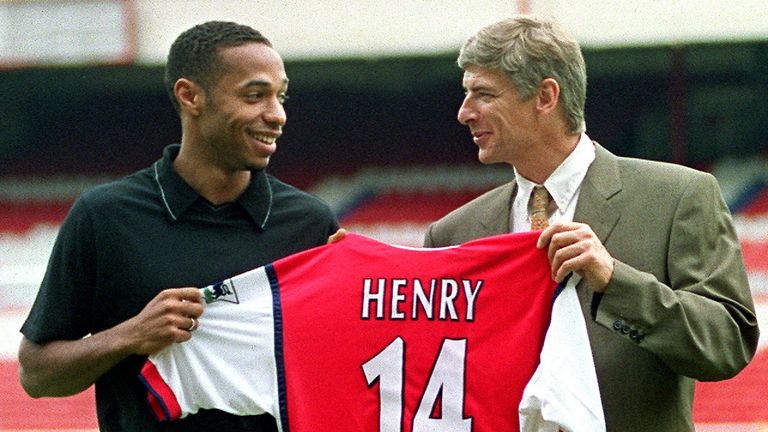 "I think that was 1999. A top signing for the club, with Patrick Vieira just before. Henry became a huge success.
"He was intelligent, extremely talented, focused on football and completely motivated. He's still in the game, working for you! That shows how passionate he was about the game. All that you dream to have when you're a football player.
When asked to rank Henry among Arsenal's greatest under Wenger: "No you don't do that because it's like in your family, I ask do you prefer this son?
"Was he one of the most talented? Certainly, yes. But who is the best of the best? Can you compare a defender to a striker? Your heart is always bleeding when you have to rule some others out."
July 2001
Sol Campbell signs from rivals Tottenham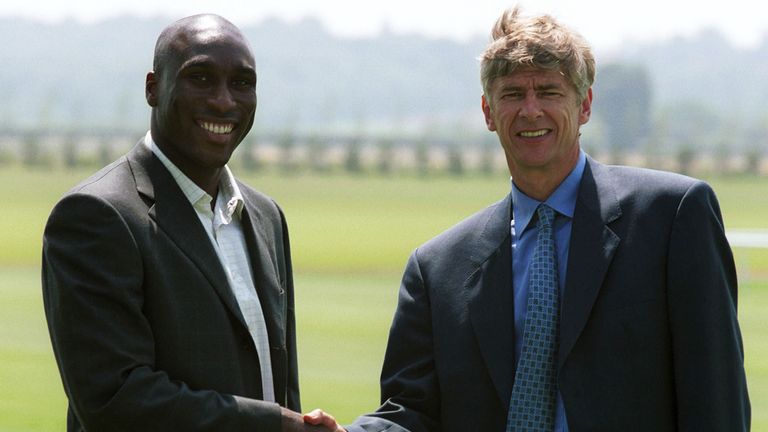 "It was very quiet at the beginning, between me and David Dean. We kept it quiet until this handshake basically.
"I felt sorry for him after that, because he was treated badly sometimes, and Sol is a very sensitive man and intelligent man. He was a huge signing for us."
May 2002
Arsenal do the Premier League and FA Cup double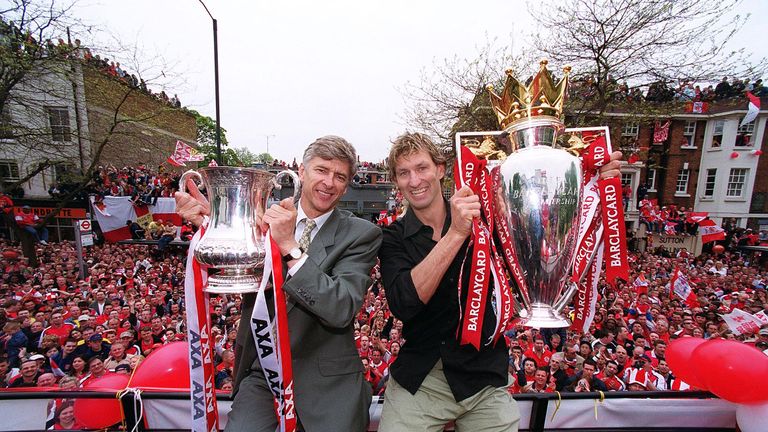 "It was a special season, you realise after. When you win it you think it's normal, but you realise after to win the FA Cup and the Premier League is a very difficult achievement.
"Behind that you have everything here. You have the huge support of the crowd, which shows the size of the club."
September 2003
Ruud van Nistelrooy's missed penalty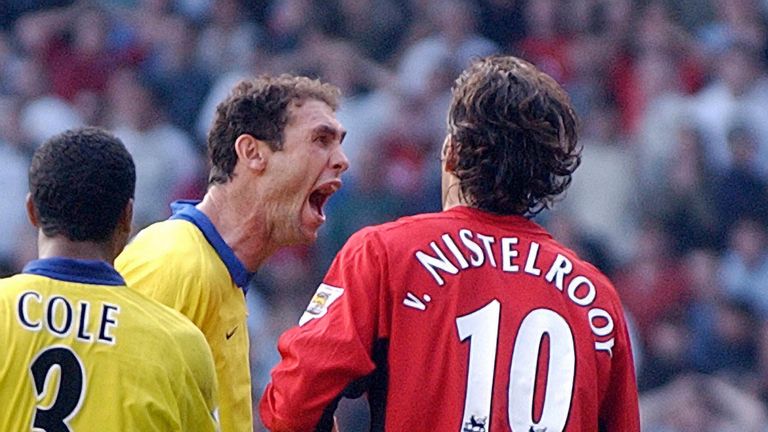 "The next image is Martin Keown at Man United, with Van Nistelrooy, who got a penalty and missed it.
"That shows the motivation level that was in this team."
A bit out of character the way Keown reacted? "No. It was completely him! He was a bit embarrassed for his kids at school. But overall, I think it reflected his real character."
April 2004
Win league at White Hart Lane before going season unbeaten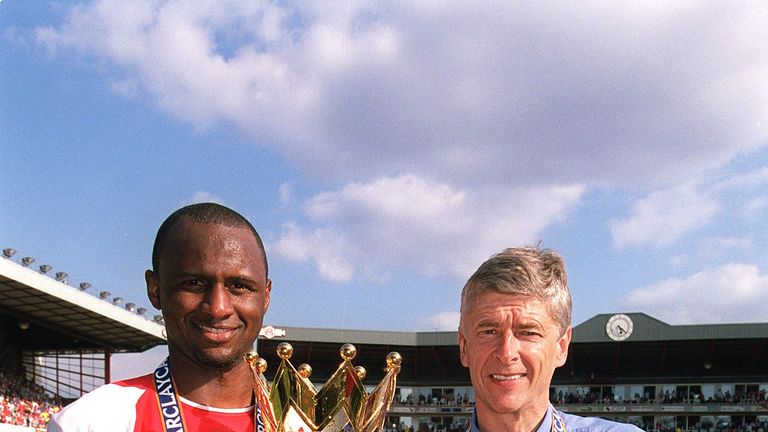 "To go through a whole season unbeaten is something really exceptional. This team was special.
"They were not conscious of the importance of not losing after we were champions with five games to go. I pushed them really to go for it and not lost a game until the end."
September 2004
Unbeaten run ends against Man Utd at Old Trafford - followed by 'Pizza-gate'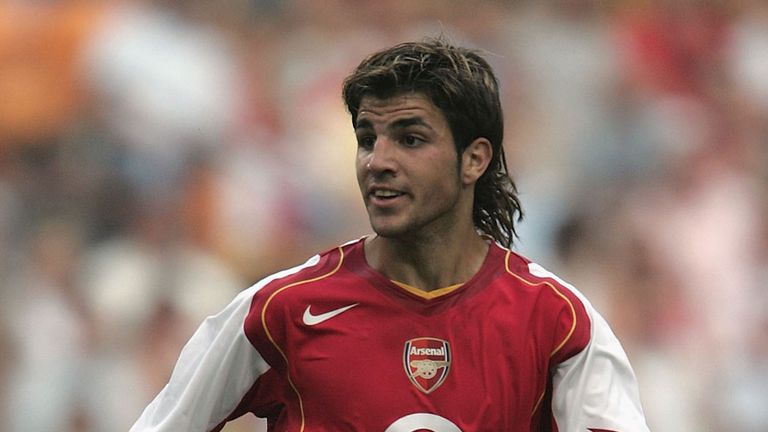 "49 games [unbeaten]. This was the 50th - 'Pizza-gate'. Bad refereeing on the day, we were really unlucky, because when [Fredrik] Ljungberg went through he was stopped by Rio Ferdinand [and nothing was given].
"It was a battle and to be fair it was a good game. United played well, we played well. If at the time you could lose it in some way, it was at Old Trafford.
"It was a fight after the game, yes. It was a brawl in the corridor, you know Old Trafford is not big and it's quite tight. Cesc [Fabregas] threw the pizza somewhere, I don't think he wanted to throw it at [Sir Alex] Ferguson! But by coincidence it landed on Alex.
"From then, this was a real pain. We were at a peak, and suddenly we came down to earth. We were unbeatable and suddenly you feel vulnerable again. It was difficult to pick the team up after that."
May 2006
Last game Highbury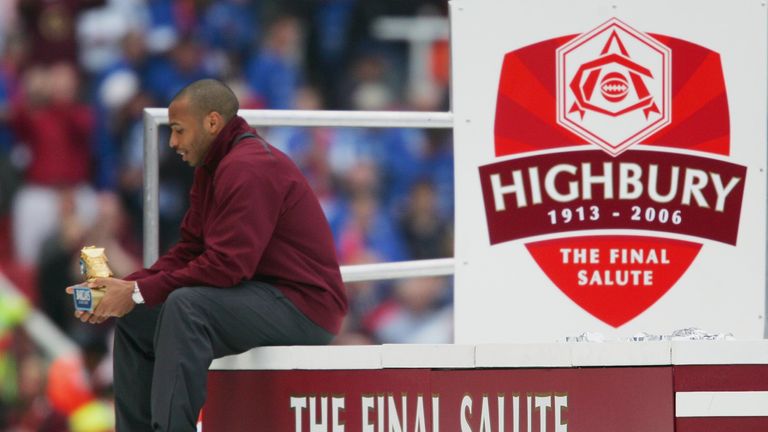 "A very emotional day. There's a special soul at Highbury, because every stand is different to the other one and it was built as the club grew.
"I knew every corridor there. There was a special spirit inside Highbury, but it's difficult to recreate. It's emotional because everything was special there. You didn't expect the football stadium there. You turned down the road and oh, it's here, you know.
"It's the symbol that a club grew in the middle of a population. Overall, that's what football has to be. Live in the middle of the city and become a football club, have the support of the local people and Highbury was that."
May 2006
Champions League final defeat to Barcelona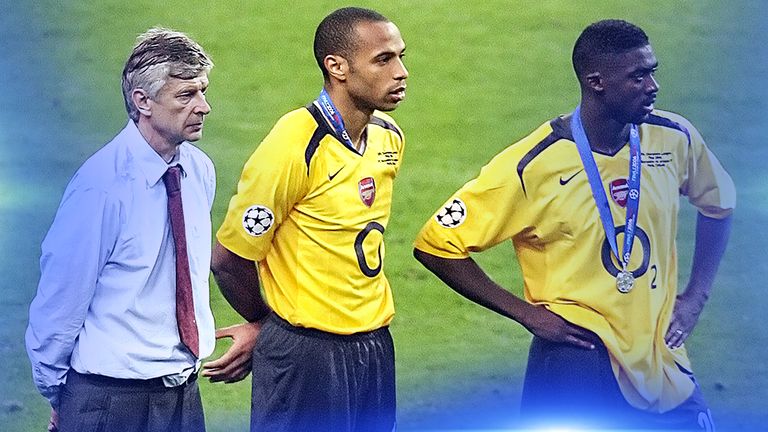 "Very painful experience, because Jens got sent off at the start of the game. We played against Barcelona and we had not conceded a goal in the whole campaign. And we were 1-0 up until 13 minutes to the end, with 10 men, against Barcelona, and we lost 2-1.
"[Samuel] Eto'o and [Juliano] Belletti scored. Overall it was a painful experience because to play with 10 men, and not have the luck to play a final 11 v 11, against Barcelona, was a very painful experience."
August 2006
The Emirates Stadium opens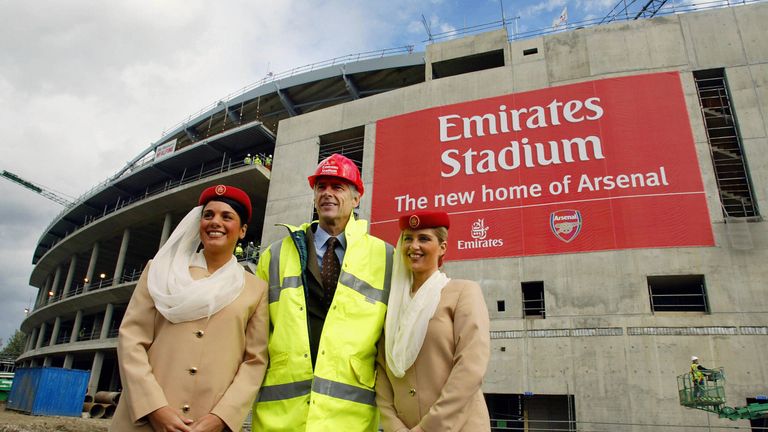 "Here starts a new era, because you open a new stadium, we had big debt, a lot of money to pay back and to accept we had less resources available. It was the most difficult period after I started there.
"We had to fight with the top teams. Chelsea came in with a lot of money, two or three years before, Man United remained strong, Man City came in as well, Liverpool fought back, Tottenham come in, and there starts a period for us with less resources.
June 2007
Henry leaves for Barcelona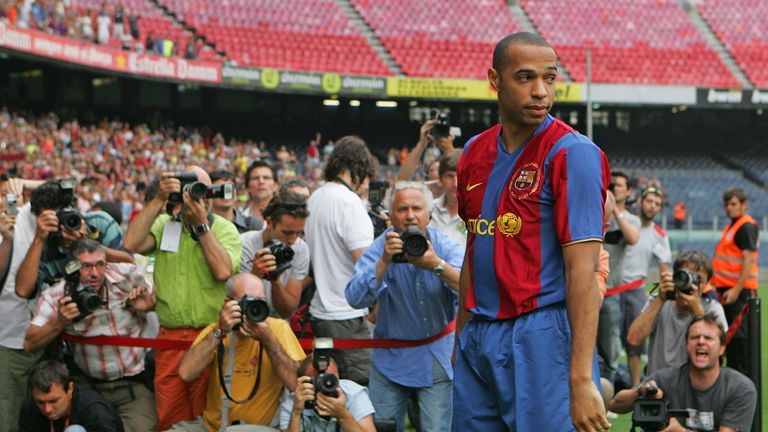 "He told me, 'Look, we have a young team, we cannot win the Premier League. I'm 31, I need to go, I need to win, and I cannot wait for the young players to be good enough.'"
August 2009
Sent to the stands at Old Trafford
"A great photo, oh yes! I look like a supporter in there! Firstly, nobody knows why I was sent off, not even the referee.
"Secondly, nobody knew where I had to go! Because at Old Trafford you sit already in the stands."
August 2013
Mesut Ozil signs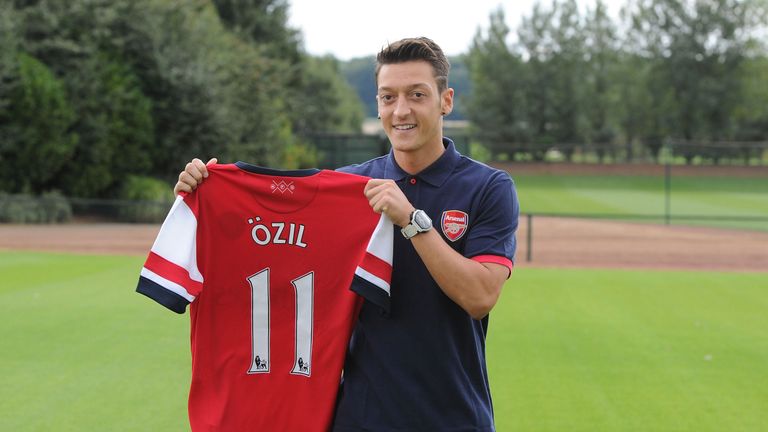 "That's the start of a period where you had some more money again. We had gone over the difficulty to make money, and we were more comfortable again. That's the first signing."
2014, '15, '17
Hat-trick of FA Cups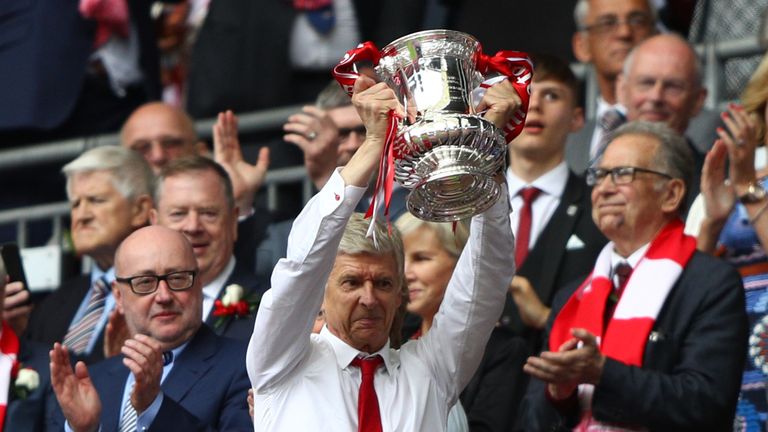 "You know for a while we were in the Champions League but people said, 'You don't win trophies anymore!'
"I'm very proud of [the FA Cup wins], especially last year - to knock Man City out in the semi-finals and win against Chelsea in the final. We won the Charity Shield every time as well. It makes us the record winner of the FA Cup, I had the luck to win it seven times, so you need to be extremely lucky to be able to do that in your career."
January 2017
Olivier Giroud's scorpion kick
Best goal you've seen in your years at Arsenal? "Giroud? The most unexpected. I've seen some great goals, but this is the most unexpected because you think, 'That's a bad cross', but with Giroud, he manages to find a way to score even in the most unusual way."
2018?
"What does that hold? That's the answer we have to give, starting on Saturday.
"With luck, I got confidence off people at the club, and that is difficult to keep for such a long time. I was also spoilt with quality players. If I give myself one merit, maybe it's that I work very hard. I dedicated my life completely to this job."