Arsenal handball decision would have been 'more informed' by VAR, admits PGMOL
Last Updated: 02/01/18 3:11pm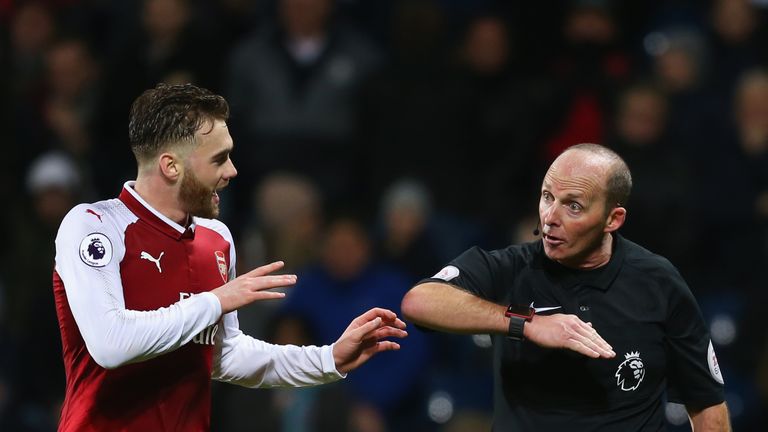 Mike Dean would have made a "more informed decision" when awarding West Brom a late penalty against Arsenal if video assistant referees (VAR) had been in use at the Hawthorns, Sky Sports News has been told.
Dean awarded a controversial 89th-minute penalty when Calum Chambers was penalised for an alleged handball.
A PGMOL (Professional Game Match Officials Limited) spokesman has told Sky Sports News that VAR would have provided a more revealing reverse angle of the incident, which would have shown Chambers was trying hard not to handle the cross from Kieran Gibbs.
They said: "The angle from which Mike Dean saw the incident made it look like Calum Chambers was attempting to handle to ball.
"If VAR had been in use, Mike would have made a more informed decision. He would have had the chance to see the reverse angle which shows the Arsenal defender was trying hard not to handle the ball."
VAR will be trialled in around 20 games between now and the end of this season.
The EFL has confirmed VAR will be in use for both legs of the Carabao Cup semi-final between Arsenal and Chelsea in January.
The system will be used for the first time in a competitive club match in England on January 8 during the FA Cup third-round clash between rivals Brighton and Crystal Palace.
VAR is already in use in Serie A and the Bundesliga and was trialled for the first time in England during the November international friendlies against Germany and Brazil at Wembley, without ever being needed in play.
FIFA president Gianni Infantino has said he hopes VAR will be implemented for the 2018 World Cup in Russia, following successful trials at the 2017 FIFA U20 World Cup and 2017 FIFA Confederations Cup.