Mesut Ozil became the fastest player in Premier League history to reach 50 assists during Arsenal's 3-0 win over Watford on Super Sunday, bringing up the milestone on his 141st appearance for the Gunners.
The playmaker hit the half-century in the eighth minute of the Emirates Stadium encounter, with his looping free-kick headed home by Shkodran Mustafi for Arsenal's 1,000th home goal of the Premier League era.
Ozil beat the assists record previously held by Eric Cantona, who made it to 50 in 143 appearances for Leeds and Manchester United during the 1990s.
In total, 35 players have reached the milestone. Arsenal legend Dennis Bergkamp was the third-quickest, achieving the feat in his 146th appearance, with Cesc Fabregas (165 appearances) and David Silva (166) making up the rest of the top five.
Manchester United's Ashley Young (192) is the only other current player in the top 10, behind David Beckham (170), Thierry Henry (174) and Nolberto Solano (178) and ahead of former Liverpool man Steve McManaman (197).
Ozil's assist was his eighth of the season in the Premier League and came just a few days after he set up both goals in Arsenal's 2-0 win over AC Milan in the first leg of their Europa League last-16 tie at the San Siro.
"He's a quality footballer," said Jamie Redknapp in the Sky Sports studio.
"When the ball is at his feet you never know what's going to happen, but you always know he can find the right pass.
"When he gets on it and you give him a little bit of time to play, he can manoeuvre the ball so well."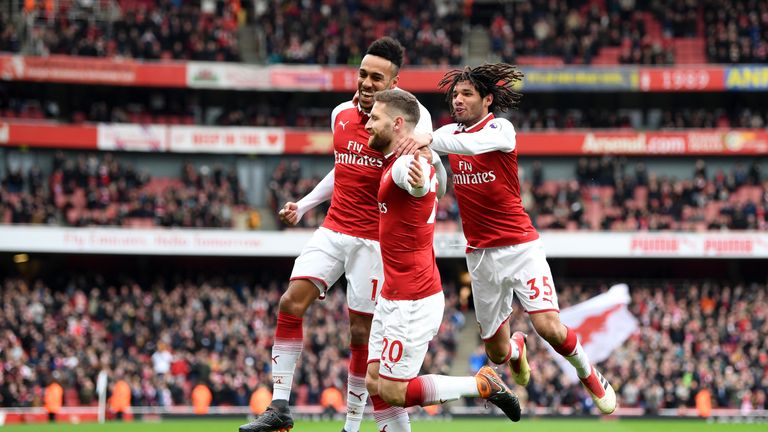 Ozil did not add any more assists to his tally against Watford but it did not matter. Henrikh Mkhitaryan set up Pierre-Emerick Aubameyang for Arsenal's second, with Petr Cech saving Troy Deeney's penalty before the former Borussia Dortmund pair combined again for Arsenal's third.
Ozil will be aiming to assist the Gunners again when they welcome AC Milan to the Emirates Stadium on Thursday.
See the full list of players to have reached 50 Premier League assists below.
Players to have reached 50 Premier League assists
| | | |
| --- | --- | --- |
| M Ozil | 11/3/2018 | 141 |
| E Cantona | 18/1/1997 | 143 |
| D Bergkamp | 6/5/2000 | 146 |
| C Fabregas | 26/9/2009 | 165 |
| D Silva | 29/8/2015 | 166 |
| D Beckham | 1/4/2000 | 170 |
| T Henry | 15/8/2004 | 174 |
| N Solano | 14/3/2004 | 178 |
| A Young | 26/2/2012 | 192 |
| S McManaman | 10/1/1998 | 197 |
| D Drogba | 20/4/2011 | 198 |
| D Anderton | 19/8/2000 | 202 |
| M Le Tissier | 14/4/1998 | 206 |
| T Sheringham | 9/5/1999 | 215 |
| J F Hasselbaink | 20/11/2004 | 218 |
| R Giggs | 11/8/1999 | 221 |
| R Van Persie | 2/11/2013 | 241 |
| W Rooney | 16/1/2010 | 245 |
| Andrew Cole | 12/1/2002 | 255 |
| S Malbranque | 17/10/2009 | 278 |
| A Shearer | 13/10/2001 | 279 |
| N Barmby | 11/4/2009 | 317 |
| S Gerrard | 16/12/2008 | 319 |
| J Milner | 14/5/2013 | 325 |
| D Yorke | 17/1/2004 | 326 |
| F Lampard | 17/9/2006 | 339 |
| P Crouch | 21/12/2013 | 340 |
| S Downing | 15/9/2014 | 345 |
| D Duff | 10/12/2012 | 361 |
| D Murphy | 27/4/2011 | 377 |
| L Baines | 15/4/2017 | 379 |
| K Davies | 6/11/2010 | 386 |
| G Barry | 11/12/2010 | 416 |
| P Scholes | 21/11/2009 | 424 |
| E Heskey | 25/4/2009 | 434 |