Arsenal's win over Watford is important, says Arsene Wenger
By Oliver Yew
Last Updated: 11/03/18 5:21pm
Arsenal boss Arsene Wenger hailed his side's spirit and declared their 3-0 victory over Watford as an important one as the Gunners look to end the season on a high note.
The Gunners secured their first Premier League win in four games to continue their recovery from a disastrous run of results.
Despite returning to winning ways at AC Milan on Thursday night, Wenger's side went into the game on a barren league run, but goals from Shkodran Mustafi, Pierre-Emerick Aubameyang and Henrikh Mkhitaryan wrapped up a fairly comfortable win over the Hornets, who had a second-half Troy Deeney penalty saved by Petr Cech.
And Wenger felt it was an important win for his side as they look to rebuild their confidence.
"We got the win today and overall it was important to show consistency," the Frenchman told Sky Sports.
"We knew before the game that physically it might be a bit difficult but we had a good spirit. The spirit helps to get through these periods and overall that will contribute to the confidence as well.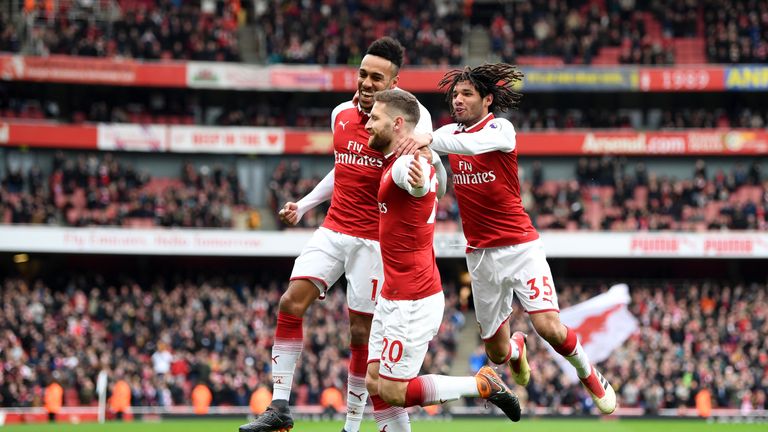 "In the first half unfortunately we couldn't take our chances and then we were under threat. Watford came back strongly in the second half but we did well with set-pieces and got the second goal after Petr Cech made a great save on the penalty.
"Overall it's a convincing win and an important one. We had a disappointing period and our supporters suffered like we suffered.
"Our job is to perform, to stick together in difficult moments and to get the fans back on our side again."
Cech's penalty save was his first since joining Arsenal in 2015 and it helped him secure a landmark 200th Premier League clean sheet.
And Wenger piled on the praise for his goalkeeper and his "remarkable" achievement.
"The record is absolutely remarkable," he said.
"It shows fantastic motivation and a fantastic desire to always be the best. It also shows remarkable intelligence because without remarkable intelligence you don't last in the game, because you have to deal with so many different problems.
"Congratulations to him."
Watford captain Deeney questioned Arsenal's attitude after his penalty helped Watford come from behind to beat the Gunners in the reverse fixture in October, but this time the visitors were eventually well-beaten.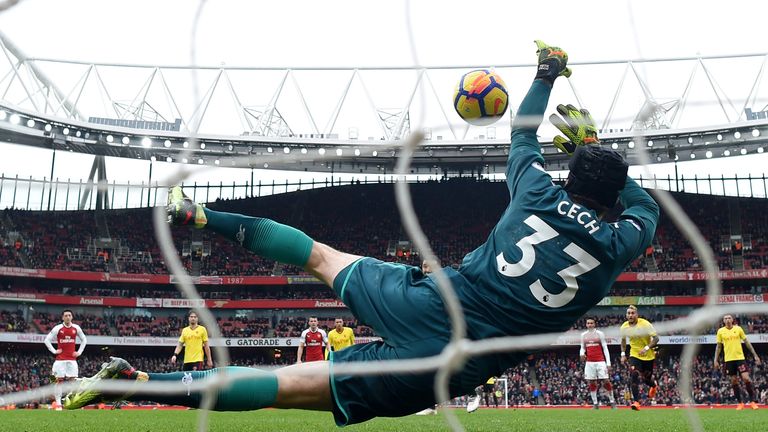 Wenger once again refused to be drawn on Deeney's comments, claiming his side were firmly focussed on winning the game.
"Ideally you always want to be respectful and humble," he said when asked about Deeney's comments. "They are the values of sport.
"Sometimes in the modern world it's not always easy because words are taken out of context. I don't really know what he said. I told you before the game that for us the desire is to win the game no matter what people say."