Why are Arsenal fans staying away? Paul Merson, Alan Smith, ArsenalFanTV's Robbie Lyle and more discuss
By Oliver Yew
Last Updated: 19/04/18 2:57pm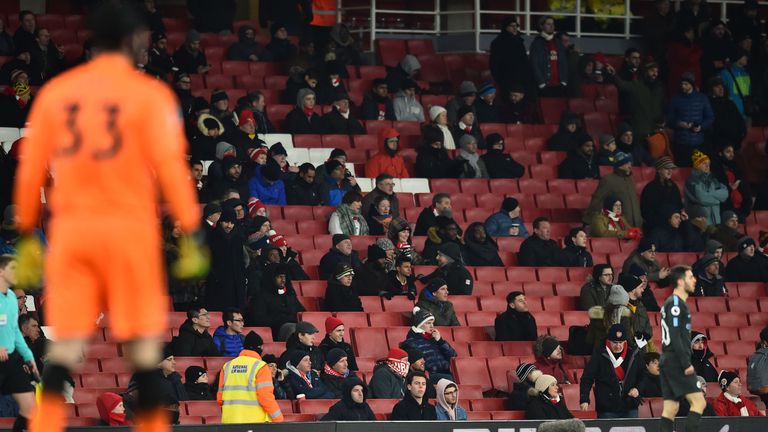 Seeing empty seats at the Emirates Stadium has become the norm in recent months as Arsenal's Premier League campaign meanders to its conclusion, but why are the fans staying away?
Attendances at Arsenal's home league games have dwindled since the Gunners' 3-0 defeat to Manchester City at the start of March, with many season-ticket holders opting to skip games against Watford, Stoke and even the Europa League quarter-final clash with CSKA Moscow.
But what are the reasons for the supporters' absences?
Ahead of Arsene Wenger's side's match with West Ham, which is live on Sky Sports Premier League on Super Sunday, skysports.com asked former Gunners Paul Merson and Alan Smith, Islington Gazette's Arsenal reporter Layth Yousif, Gunnerblog's James McNicholas and ArsenalFanTV's Robbie Lyle for their views...
The players aren't good enough
PAUL MERSON: Did you watch the first-half of the game against Stoke in their last home game? That's the reason why! The performances just haven't been good enough. The fans are paying top dollar and they haven't got top-dollar players on the pitch. Too many of them are nowhere near good enough to play for Arsenal Football Club.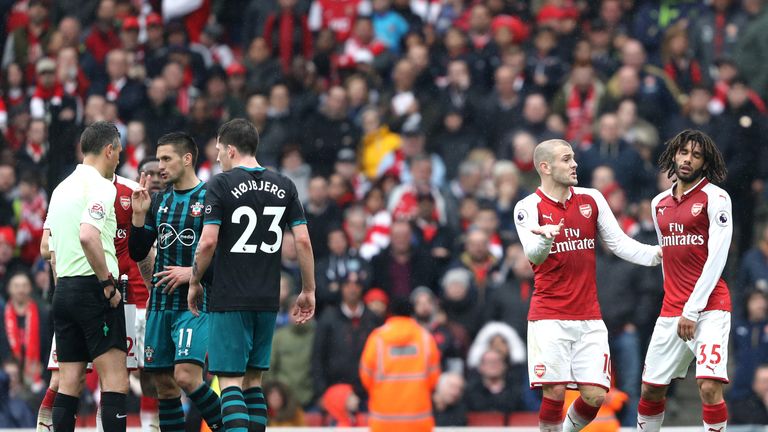 This team can beat these teams like Stoke at home, but the fans are making their point by staying away. That's always dangerous for managers and clubs. I know they've sold season tickets, but it isn't good. It's been very rare to see the Emirates half empty.
You would have to ask the fans for the reasons they are not going but they do pay a lot of money. When Arsenal played at Highbury, they had 38,000 fans and it was £50 a ticket. They had Thierry Henry, Dennis Bergkamp, Robert Pires, Emmanuel Petit, Patrick Vieira, Marc Overmars, Sol Campbell, Lauren, Jens Lehmann - I've just reeled off however many world-class players. Then they move to a stadium with almost double the fans, and almost double the amount to get in nearly, and if you can name three world-class players that play for Arsenal now you've done well. So what's happened? I really worry for Arsenal at the moment, but then on the other hand, if they win the Europa League, it's a great season.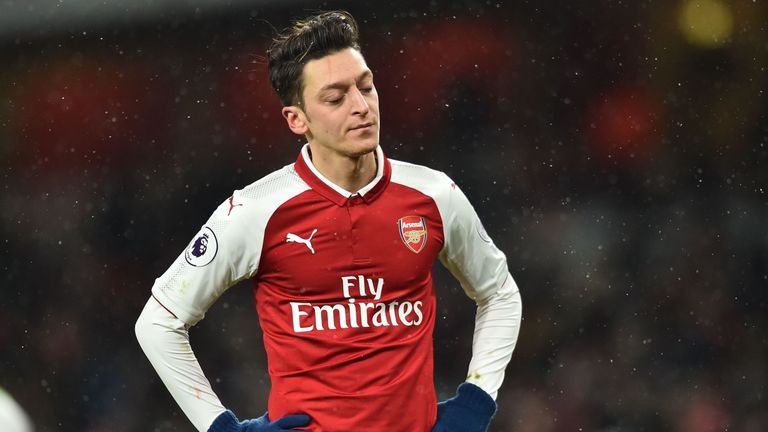 The fans are fed up
ROBBIE LYLE: I think there's a lot of apathy. The fans are just fed up and they've had enough. They've seen a lot of the same problems continue year-after-year and at the moment they are voting with their feet.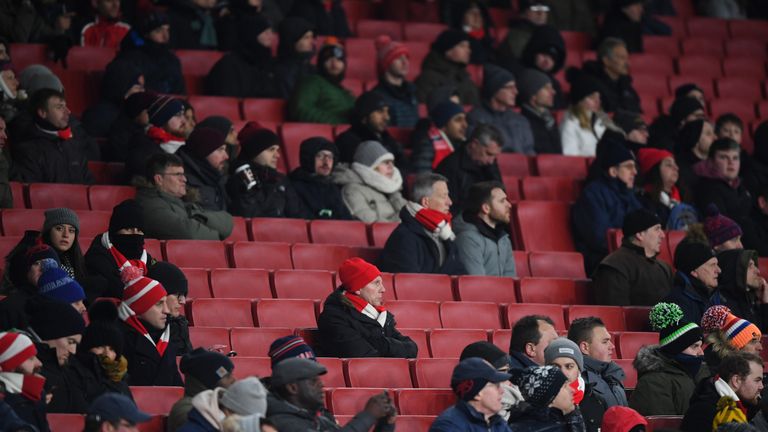 The people that are staying away are the season ticket holders. There are some circumstances like having a lot of Sunday kick-offs but having said that, over previous years we've had games in the League Cup that have still sold out. Every game was sold out and you couldn't get a ticket for love nor money. The empty seats show there is definitely a problem and it can't be ignored.
I personally don't like people staying away. I think you should be there and always try and get behind your team, but I do understand it. There are plenty of fans thinking they haven't seen the changes both on and off the field that they've wanted and they feel like they're being ignored when they raise these issues.
I think Wenger's time is coming to an end but I also think it's time for the owner of the club, Stan Kroenke, to stand up and start addressing things. There needs to be more than just a change of manager to sort this. There needs to be a change of attitude at the club. To be totally honest, I'm not sure the manager will go this summer but if he does they need to bring in somebody who will get the fans back on side. At the moment there's no connection between the club and the fans and that has to be addressed.
Wenger's the issue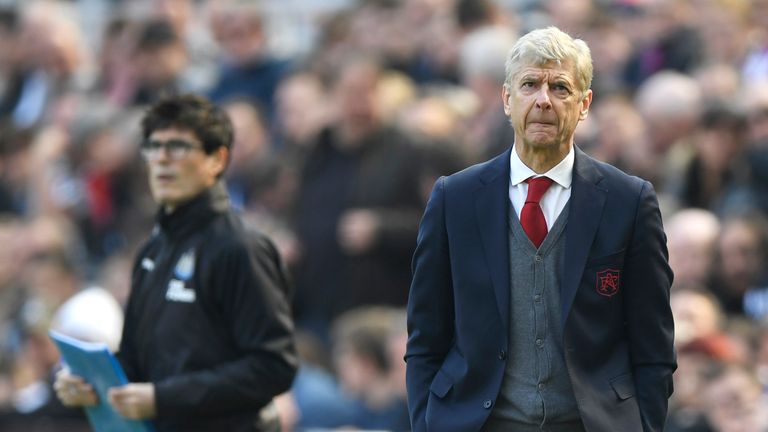 LAYTH YOUSIF: I think people have generally had enough of Wenger. They've had enough of underachieving in terms of challenging for the Premier League title and the Champions League. When the club moved from Highbury in 2005 the fans were effectively told a lie. They were told the club were moving to the Emirates to compete with the top clubs in both England and Europe, but that hasn't happened and a lot people are furious about it.
A lot of people look at Arsenal fans and say they are not loyal fans. People say they expect silverware but no Arsenal fan I know, and I've been going for 35 years as a fan and a journalist, expects silverware. What they do want to see is progress. They pay some of the highest ticket prices in the world and they want to see progress, but there just hasn't been any under Wenger.
There's no anger there from the fans any more. There is resignation because they are so fed up. In the last 12 years the club has regressed so much and the fans have gone through the whole range of emotions. If Wenger goes after all this time there will be such a release of emotion and then excitement about a new man coming in. It almost doesn't matter who the new man coming in is but just the fact it's not Wenger will reinvigorate the fans and bring them back to the Emirates.
The club is stale
ALAN SMITH: There's a lack of enthusiasm generally from the fan base. Obviously the team are not going for anything significant in the league so nobody can really get excited about games which will decide who finishes fifth, sixth or seventh.
There's a lethargy there and it has surprised me to a certain extent. I expected it in the league but when CSKA Moscow visited the Emirates in the Europa League I thought people might turn up but they didn't really even show up for that. That just goes to show the feeling of the fans at the moment, they are not happy with the situation.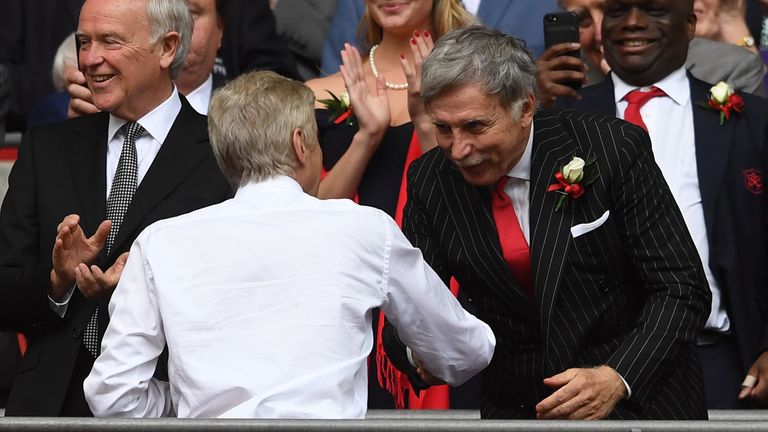 I know there are a lot of people being asked to renew season tickets at the moment and I think most will because my impression is they feel change is coming in the not too distant future. However, the club is in limbo as the fans wait to see what happens to the manager and what direction the club takes in the future.
The manager issue is the main one because yes, there are deeper issues, but a big part of that is Stan Kroenke's relationship with the club and his willingness to stick with Wenger. The fans just feel it is all a bit stale at the club and there's a lack of ambition.
Tired of the same story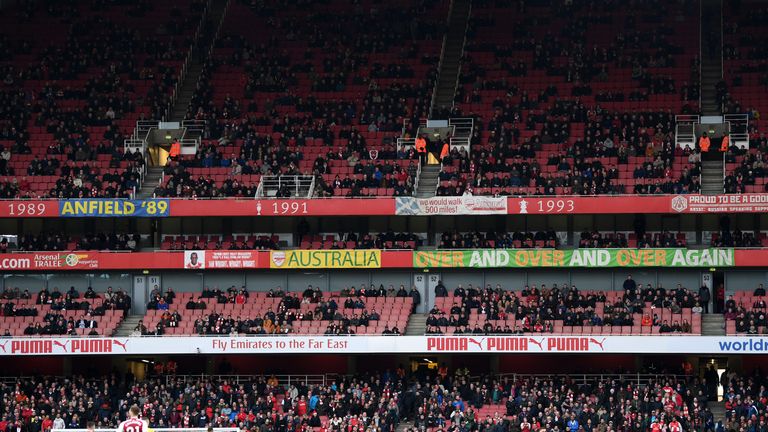 JAMES MCNICHOLAS: If you look at last season there was so much protest and so much anger but this time the absence of the fans is quite a passive protest. I actually think it's a more harmful one than the banners and the chanting because it's indicative of apathy.
The empty seats will have more of an impact higher up the club because it's a message the board can't help but see. What's interesting about it is that it's not a financial message because most of these tickets are already sold, however, the empty seats are damaging for the club's brand, especially at a time when they are looking to negotiate a new kit deal and find a sleeve sponsor. The thousands upon thousands of empty seats is not a great look for the club.
A big part of Wenger's problem is that the fans are just tired of the same story and the same flaws every season. If there is a change in manager there'll be so much curiosity because of the novelty of that situation. People will want to see how that new man gets on so the first few home games will be full to the brim. Whether that lasts is a different matter. If things go a bit David Moyes at Manchester United, it's possible the same kinds of problems could resurface, however, a sprinkling of novelty will reignite a lot of people's interests.
Comment below to get involved in the debate, but please adhere to our House Rules. If you wish to report any comment, simply click on the down arrow next to the offending comment and click 'Report'.