Henrikh Mkhitaryan could make his return from injury in Arsenal's Europa League semi-final against Atletico Madrid on Thursday.
The 29-year-old suffered knee ligament damage during the first leg of the Gunners' quarter-final win over CSKA Moscow but is nearing a return to action.
"Mkhitaryan is running again," said Arsenal manager Arsene Wenger.
"He has to progress in the next three of four days to see how much intensity he can have in his training sessions. Next Thursday is the earliest date for his return."


With Arsenal 14 points behind fourth-placed Tottenham, Wenger says the Europa League is now their "biggest priority" and describes their semi-final against Atletico as "vital".
Asked if Arsenal need to win the Europa League in order for their season to be classed as a success, Wenger replied: "It would be better, yes. We have a big opponent in Atletico Madrid and it's absolutely vital we beat them, progress to the final and have a chance to win the competition.
"But it is a big obstacle in the semi-final, a big hurdle. Atletico Madrid are seen as the favourites to win the competition but I believe that at our best, we can beat them."
While Wenger retains hope that Jack Wilshere will sign a new contract, he remains unsure whether Santi Cazorla's deal will be renewed.
The Spaniard's long-running Achilles injury, which nearly saw his ankle amputated due to serious infection, has kept him out of action for Arsenal since October 2016.
"I haven't seen him since the League Cup final," said Wenger. "He has gone back to do his rehab. The last I heard is that he is doing very well.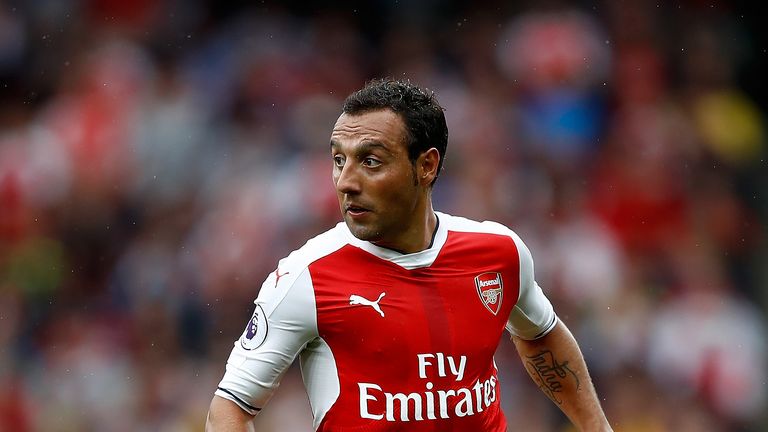 "I hope he will come back before the end of the season to have a check-up and see where he stands.
"I never spoke about it in press conferences because he was not the subject of the day but we have missed him a lot. He is an exceptional football player and overall it is very sad what happened to him.
"Can he play at the top level again? I hope yes but I don't know."