A downbeat Arsene Wenger was frustrated by missed opportunities as Arsenal were beaten in the semi-finals of the Europa League by Atletico Madrid.
Atletico won the tie 2-1 on aggregate after Diego Costa's goal secured a 1-0 victory in the second leg.
Arsenal were guilty of spurning several good chances in the first leg at the Emirates and also failed to take any of their openings in Madrid.
"We missed something in the final third because we had plenty of opportunities," said Wenger, who is leaving at the end of the season.
"You look at the chances we created in the two games, the least you can say is we can be very frustrated. In the first game the tie should be over, then the second game in the first half we had plenty of opportunities but we always missed something with the final ball, even in the second half.
"I am like the team, very sad and very disappointed. Overall very frustrated too because when you go out of a competition and you have the performance in 180 minutes that we had it's very difficult to take."
Defeat means Wenger will end his 22-year spell as Arsenal manager without any silverware in his final season and without the club in the Champions League next year.
But he said: "There are some good ingredients in our team and they will bounce back, they have the quality and with the right additions in the summer the team will compete next year.
"I am very sad to leave the club with that exit. I will take some time to recover from that and then see what I do with myself in the future, I have no plan at the moment."
While he was frustrated by Arsenal's missed chances, Wenger also praised Atletico's defence, saying: "They are a team who defends well.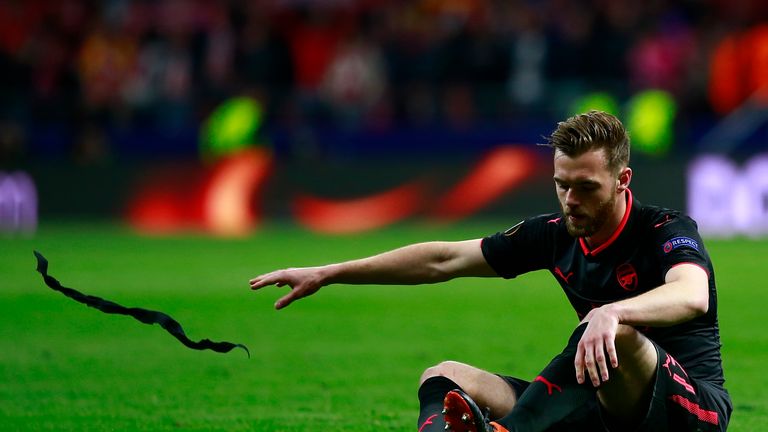 "We were a bit unlucky a few times and Gabi is happy to stay on the pitch as they broke a few counter-attacks and it took the referee a while to give a yellow to Gabi in situations where we could have been very dangerous. But overall they are a clever side who defends well, [Diego] Godin tonight saved five or six balls on crosses in amazing positions, they have great defenders."
Meanwhile, Atletico boss Diego Simeone praised the contribution of match winner Diego Costa, who only returned to the club in January.
"Costa came here in order to be important and decisive," said Simeone.
"We needed an angry striker up front and a team needs that, we work with intensity and we live off the mistake we can force our rivals to make.
"He came to play alongside the other strikers we have and he is very important for us. We want people who know we are very demanding and that we are always going to be pounding on them."