Rafael Benitez has no doubts that new Arsenal head coach Unai Emery will be a success in the Premier League.
Emery has recovered from back-to-back defeats to Manchester City and Chelsea in his first two Premier League games, with wins against West Ham and Cardiff lifting Arsenal to ninth in the table.
A concern for Arsenal fans is that Emery's side have conceded eight goals in four games and are yet to keep a clean sheet.
However, Benitez - who enjoys a "very good" relationship with his compatriot - feels a period of transition is natural under a new manager.
Speaking ahead of Arsenal's visit to St James' Park on Saturday, Benitez said: "Hopefully, at least, he will need one more week to do what he is trying to do.
"But I think he is a good manager and he is trying to do something that, in another country, sometimes it is not easy to change things.
"But we are talking about Arsenal. Arsenal was a very good team and a team that used to pass the ball and play football, normally, on the floor.
"So I think that Unai is trying to do similar things and maybe improve a little bit some aspects that they needed to improve.
"But it was a good team and at the moment it is a good team with a new manager but they will be at the top of the table for sure."
Live Renault Super Sunday


Both Benitez and Emery are former managers of Valencia, and the Newcastle boss believes they have similar footballing philosophies.
Asked to assess Emery's style of play, Benitez said: "He is a good manager that likes to have his team organised. The way he is playing is very similar to what we were doing in Valencia or even in Liverpool.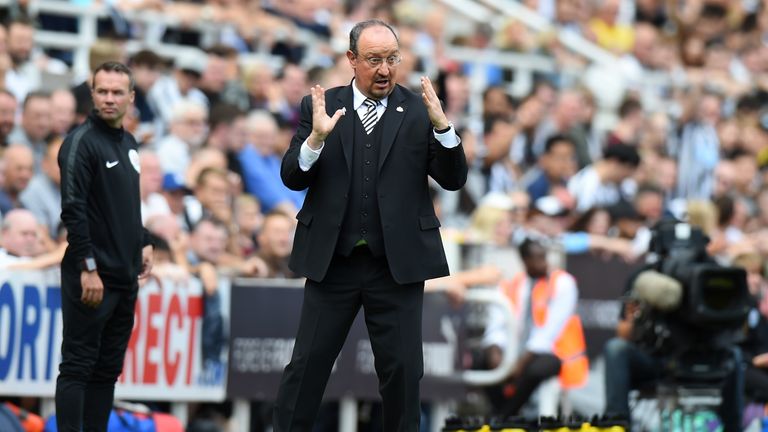 "The way he is playing is very similar to what we were doing in Valencia or even in Liverpool."
"The team is organised and pressing, and when you have the ball, passing the ball and trying to play as well as you can.
"The difference is obviously you have a team that used to do that but maybe could have some balance in defence.
"He is trying to do that, he is trying to find this balance, while at the same time keeping the offensive mentality."