Marco Silva unhappy at 'clear offside goal' as Everton lose at Arsenal
Pierre Emerick-Aubameyang in offside position for Arsenal's second goal in 2-0 win
By Gerard Brand at The Emirates
Last Updated: 24/09/18 12:00am
Marco Silva says Arsenal's second goal in their 2-0 win over Everton was "clearly offside", and insists his side deserved more.
After Alexandre Lacazette scored a fine opener at The Emirates on Super Sunday, Pierre-Emerick Aubameyang's goal moments later should have been disallowed for an offside.
Everton had created most of the chances before Lacazette's strike, and Silva felt aggrieved to have come away from the game with nothing, but accepts the mistake from the officials.
"It was offside. At this level, with these mistakes from the referee, it put our team in that condition as well.
"The second goal is clearly offside. It is really frustrating, and I tell you why. In that moment we had just one player in our box, it is too clear for the assistant.
"It was two or three against one, just Jonjoe Kenny inside the box. It is clear where he is, and where the player who scored is.
"It is clearly offside. For me it is a little bit strange, but OK, mistakes are made, I make them as well, and the assistant and ref they can make them as well."
Everton impressed in the early stages, with Richarlison and Theo Walcott's pace causing Arsenal problems, and Silva feels the swing of the game changed with Lacazette's superb goal against the run of play.
"The result didn't reflect what both teams played during the match. I think we deserved more. We came here to play and challenge the opponents. In the first half we created clear chances.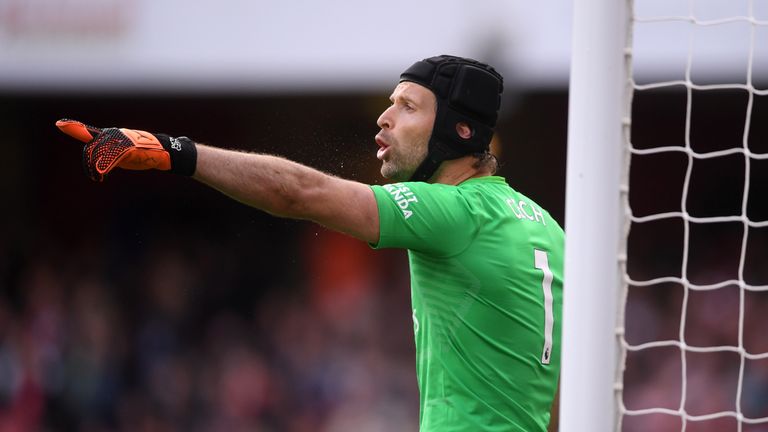 "Petr Cech was the best player on the pitch, clearly. We didn't deserve this result, our team worked hard to achieve a different result.
"It is a disappointing result for us. But it is football. We created three, four, five clear chances to score. In one detail, a great moment from Lacazette, it changed a little bit the game."